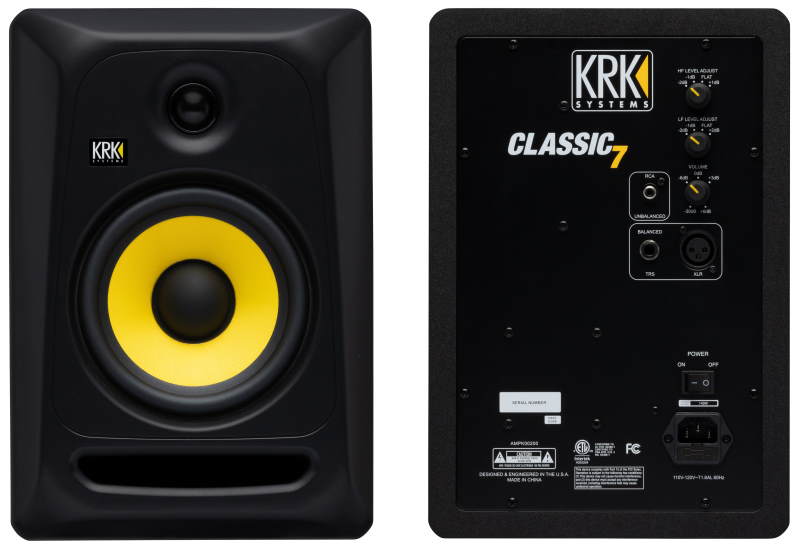 A familiar sound, now in a 7″ monitor at an unbelievable price
Review by David Blascoe
A familiar face is back with the KRK Classic 7. KRK has extended the Classic line to include 7″ and 8″ options along with the original 5″ model. While it's essentially the third generation ROKIT recommissioned, the Classic monitor's streamlined features and lower price point make this an appealing choice for anybody looking for a no-frills, great-sounding studio monitor that has stood the test of time. Editor Paul Vnuk reviewed the ROKIT 5 G3 in our December 2013 issue, so it's about time we got our hands and ears on the Classic 7.
Lucky 7
The Classic 7 is a 73W bi-amplified (Class A/B, 48/25) active studio monitor with a 7″ glass aramid composite woofer and a 1″ textile soft dome tweeter. It has a frequency response of (+/- 3dB) 47.5 Hz  – 34.5 kHz, a peak SPL of 102dB, and an input impedance of 10 K ohm (balanced) or / 7 K ohm (unbalanced).
Blast from the past
The Classic 7 has a more straightforward back panel than the current ROKIT G4 series, with no LCD screen, internal DSP or multiband EQ. Instead, it has the tried-and-true layout of knobs for high- and low-frequency adjustments, and a volume level control. This means no learning curve or menu diving, just subtle tweaks to optimize the monitors in your particular space. I found I was able to keep the EQ completely flat with no issues at all in my room.
How do they sound?
After an initial burn-in period, I listened to some songs that I am very familiar with. From David Bowie to Billie Eilish to The Fugees to Beethoven, I was met with the sound quality I have come to expect from KRK. I was impressed by virtually every aspect of the Classic 7. The low-end thump of Eilish's 'Bury a Friend' was rich and deep—no subwoofer needed. The sound design at the beginning of David Bowie's 'Slip Away' sounded wide and detailed. I have nothing negative to say about the sound of the Classic 7. It's hard to argue with these time-trusted bold, beautiful sonics.
Shootout
I was right in the middle of wrapping up a mix for an artist I'm currently producing when I received the Classic 7 for review. It was perfect timing for me to dig into their sound, as I had been previously tweaking and mixing this song on my personal ROKIT 7 G4 monitors (reviewed March 2021). I was looking forward to a bit of a friendly head-to-head showdown. The big difference I noticed immediately was, the Classic 7 had a slightly more prominent and crisp high end to my ears, compared to the silkier highs on the ROKIT 7 G4. The soundstage is noticeably open and wide on the ROKIT 7 G4, while the Classic 7 presented a more focused and centered image. The low end was virtually identical on both models, with the ROKIT model reaching a tad lower. Both sound great, and it didn't take long for my ears to get used to the Classic 7 and what it has to offer. The differences are slight, and both sets sound great.
Can't go wrong
What more can I say? There is a reason you see these iconic black and yellow monitors in studios everywhere. Both professionals and amateurs love the sound and the reliability of KRK, as do I. They just work. They sound good, and they look distinct. Offering the Classic models at a lower price point than the current ROKIT G4 is sure to attract a whole new group of people into the KRK world.
Price: $199
More from: krkmusic.com