A one-stop shop for amp, cabinet, and effects simulation
Review by Alex Hawley
Overloud makes software for recording musicians, such as the GEM studio plugin series, guitar and bass tools, and more. TH-U, the company's respected amp simulator (previously TH3), recently received a massive upgrade. It's packed with new features, such as the SuperCabinet IR processor, Rig Player, Amp Tweak, and more. With a plethora of amp simulations available on the market, TH3 was always a quiet achiever, perhaps a bit under the radar but packed with versatility and pleasing tones. The new TH-U evolution amps it up a bit (sorry, had to), and I was especially excited to dive in with the new SuperCabinet IR processor, which makes use of the new Fluid Convolution technology.
Overview
TH-U includes a mix of amp modeling and amp capturing technology, with 89 guitar amps and 50 cabinets, four bass amps and cabinets, 77 pedal and rack effects, and 18 microphone models. The user interface is easy to use, and comes with a huge range of presets to get you up and running.
Rig Player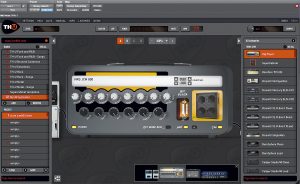 Rig Player is a new component of TH-U that actually models complete guitar and bass rigs, including the nonlinear and dynamic responses of the amplifier, cabinet, preamp, microphone, and room sound. It incorporates a proprietary technology called R2M (Rig to Model). The R2M process is done in-house at Overloud and there are a fair number of expansion packs already available. Overloud offers rig expansion libraries from a few partners as well, such as Choptones, The Amp Factory, Big Hairy Sounds, and Live Ready Sound.
In use, I found the Rig Player models to be responsive and lively. There's a JCM 800 model from Slate that I found particularly inspiring (with some finesse). At first, I thought it was missing a bit of clarity, as I found the top end to sound slightly muffled and smeared, especially next to the hardware Marshall I play through all the time, but I dialed it into a much more familiar place in short order by adjusting the onboard EQ and presence settings. I love the Blackstar HT 40 Clean Modern model for cleaner tones; it serves as a great pedal platform amp that allowed some of the simulated pedals and studio effects to shine.
All Rig Player models come with cabinets, but these can be bypassed in favor of any other model, such as a custom SuperCabinet setting. I felt the Rig Player models globally responded in a natural and dynamic way, making them quite fun to play and record through! To me, Rig Players are a gateway; once you spend some time with them, diving into the robust library of expansions becomes inevitable.
SuperCabinet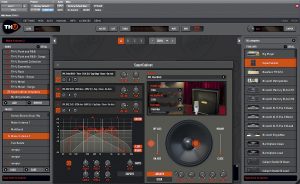 The premium license of TH-U includes the new SuperCabinet IR processor, accessible within the TH-U plugin. SuperCabinet is a powerful IR processing tool that comes with a massive collection of IR profiles. In addition, it runs on the new Overloud Fluid Convolution technology, which reduces CPU load and artifacts while increasing realism.
SuperCabinet allows you to select and customize the speaker, microphone (including placement), preamp, and power amp type (solid state vs. tube). On top of that, you can stack up to four different IRs at once while adding EQ, panning, and stereo depth settings; all Overloud IR libraries are phase aligned for easy layering. Once you have a custom setting you like, it's possible to export the profile as a new IR file as well; that way, you can easily load it onto your favorite hardware and take it on the road.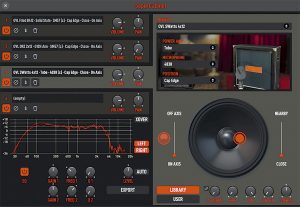 More advanced tone shaping is possible with the multi-band mode, which essentially provides the flexibility to designate different IR profiles for specific frequency ranges. For example, a 4×12 closed back for chunky low-mid response can be paired with a 1×12 open-back cabinet with an Alnico Blue speaker for the top-end response. I found that when using multi-band mode, the stereo control opens up the sounds in a natural way. The stereo knob gives an extensive range of width. Pushed to extremes, it feels like a double-tracked guitar with a surprisingly natural response. I usually avoid 'fake stereo'-type effects, as they typically sound phasey to my ears, but I felt the stereo widening in SuperCabinet to be musical sounding—an easy way to get huge tones!
Amp Tweak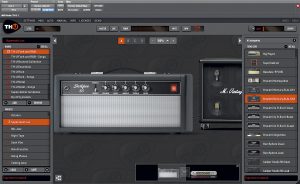 Amp Tweak is another new feature that allows you to change the pre and power tubes of a particular amp model, as well as simulate the action of a variac. Made famous by Van Halen, variacs are designed to lower the supply voltage to the amp, which can radically change the sound. There's typically a sweet spot somewhere in the neighborhood of 90V – 100V that yields warmer, thicker, and more saturated tones. While it can be dangerous to do with real tube amps, it's a neat inclusion for TH-U to further tweak the modeled amp sounds.
In Use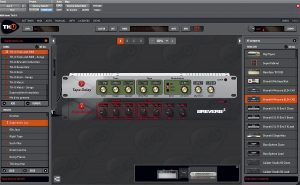 The biggest issue I had with the one-stop shop amp simulation sandbox is staying focused! I tend to get lost in the options (in a good way) and sometimes forget what I set out to work on in the first place. For that reason, TH-U is an addictive tone machine that is both deep and approachable. Of the new features, I
enjoyed getting deep with SuperCabinet. Playing a real amp head combined with a load box into SuperCabinet is a great way to record silently into your DAW.
I found the workflow to be straightforward in TH-U. You can easily drag and drop to add new elements into the chain or create a parallel signal path. The modeled pedals can be controlled via MIDI and assigned to controls on your pedalboard. For example, if you have an expression pedal, it can easily control the emulated wah pedal in TH-U for more expressive performances.
I was doing my tests with Pro Tools, but an iOS version of TH-U is also available. TH-U iOS can share presets back and forth with the desktop version and runs the same audio engine with no compromise in audio quality.
Over and out
TH-U is a powerful ecosystem comprised of both amp modeling and emulation. If you are in the market for realistic and responsive DI guitar tones, then TH-U is a strong contender. There will be something for every guitar or bass player with the expanding library of additional rig models, IRs, and emulations.
Price: $299
More From: ilio.com/overloudthu