An extraordinarily comprehensive compact mixer with bountiful connectivity!
Review by Bill Stunt
Fresh from KORG is a new series of hybrid digital/analog mixers comprising the SoundLink MW-1608 and MW-2408. The designs are the handiwork of Greg Mackie and Peter Watts. Greg more or less invented what we now know as the compact mixer, and Peter spent almost two decades at Trident Audio. The duo set out to design a mixer that combines high-quality digital effects and utilities with the hands-on responsiveness and sound of an analog mixer. The result is a very tidy, flexible, feature-rich package that will find a welcome home in a wide variety of venues. Beyond the inputs count, the feature set of each mixing desk is identical. I've been giving the larger MW-2408 a good workout in my studio.
By the book
It's not often that the first thing I mention in a review is the manual, but this one rocks on several fronts. It concisely covers operation, offers primers on basic audio principles and practices and even includes a Zombie Apocalypse diagram—yes, really! For users who might want to bypass the tutorials, the mixer's unique functions are highlighted in red in the table of contents. Well done.
Back to front
All connections other than headphone outputs and a handy stereo mini-jack input (input 24/25) are located on the back panel.
Sixteen XLR mic inputs are connected to Peter Watts-designed HiVolt mic preamps. There are twenty-four 1/4" line inputs, XLR and 1/4" outs for mains, 1/4" outs for monitors, eight 1/4" group outputs, and four XLR aux outputs. There's also a pair of secondary 1/4" headphone outputs located on the aux 3 and 4 outputs, and finally, a stereo USB in/out.
Mix it up
The well laid out top panel features input gain pots for the preamps. The mono inputs have 100 Hz highpass filters and a Peter Watts-designed one-knob compressor. The EQ section on both mono and stereo channels has fixed 12 kHz high and 100 Hz low filters. On the mono channels, mid frequencies are sweepable from 250 Hz to 5 kHz. The stereo channels have fixed bandwidth controls for 250 Hz and 2.5 kHz.
Each channel has four aux sends. The first two are pre-fader—ideal for monitor mixes. Aux 3 and 4 are switchable pre- or post-fader. The aux sends are followed by a single FX send routed to the internal DSP engine. All channels have an LED-equipped pre-fade listen button.
Each channel also sports a pan pot, LED-equipped mute, and routing assignment buttons. The mutes can be grouped, and groups can be saved, edited, and recalled—a feature you won't find on many mixers in this price range or size. The faders are 10mm ALPS—they feel
robust and smooth, as do the rotary pots.
Master section
The master section features rotary faders and after-fade listen buttons for the aux outs. There's also a pair of rotary faders for the aux 3 and 4 'Musician's Phones' outputs on the back panel. These allow you to blend in more or less of the main mix to the aux 3 and 4 mixes. You can tweak or matrix
those aux mixes without having to mess with every single mix element—again, a feature almost unheard of in a mixer in this price class. Notice a theme here?
There are four faders for the subgroups, each with L/R and PFL options. You also get FX return and L/R Main output faders and a rotary fader and assignment switch for talkback level and routing. There's a 12-step level meter with an LED that indicates whether you're metering the L/R Main or PFL levels. Finally, there's a 'Break' switch that mutes all the inputs at once.
Digits on digital
The digital side is dominated by a small LCD screen, an encoder knob, and a small collection of buttons for data entry and navigation.
You can apply digital EQ, dynamics, and feedback suppression individually to the main and aux 1 and 2 mixes. The digital FX section includes a variety of nice-sounding reverbs and delays. There's also a useful collection of digital utilities. Along with a spectrum analyzer, you'll find sine wave, white and pink noise generators, and slow and fast frequency sweep tools—all super useful for sussing out a venue or for ringing out mains and monitors. Digital conversion is handled by Velvet Sound A/D—D/A converters.
No waiting for the bus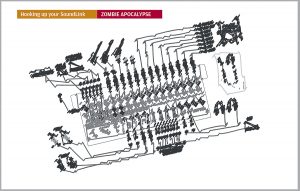 The MW-2408 is a joy to use. The mic preamps are super quiet, neutral-sounding, and provide boatloads of headroom. With an input impedance of 3k ohms and oodles of gain to play with, you can get a clean pickup with a wide variety of microphones, including dynamic and passive ribbon microphones.
The one-knob compressor on the mono channels works surprisingly well. Modest settings result in effective and unobtrusive gain management. Higher settings achieve a more aggressive but still pleasant effect. The ratio, attack, and release settings have been well calculated; they worked well for me on a range of vocals and strummed / fingerpicked acoustic guitars.
The analog EQ section is musical sounding—the fixed frequencies are well chosen. This isn't surgical EQ, but it's more than adequate for sculpting frequencies and doing gentle sweetening. I've convinced myself that I hear a touch of the 'British sound' in the signal path—possibly influenced by my knowledge of Peter Watts' tenure at Trident.
Sophisticated routing
For me, the routing is the star of the show. The MW-2408 is a true 8-bus mixer offering tons of routing options for both live and studio work. The four aux busses provide a ton of monitoring functionality that again works equally well for live and studio installations. The musician's headphone matrix is brilliant and will be a real time saver in the studio.
The Peter Watts-inspired digital EQ and dynamics sound great and make quick work of dialing in front of house and monitor mixes. The mute groups and bus assignments help get things organized for a multi-act performance or a sophisticated corporate presentation. Little touches like PFL and AFL monitoring everywhere sweeten the deal.
The feedback suppressor gets a special mention. There's no setup involved; you just turn it on. Once engaged, it dynamically monitors and applies appropriate notch filters to the selected outputs. Live gigs have been tough to come by this year, but I did create a quasi-live setup in my tracking room with multiple mics and a pair of loud monitors. Switching the suppressor off and on quickly revealed just how effective it is.
Studio and stage
While the MW-2408 has many digital features, it's not a digital mixer or a multi-channel interface. Its USB connection to and from your DAW is stereo only, and you'll need an additional multi-channel interface to make full use of the eight busses. I paired the MW-2408 with an 18X8 Focusrite interface for testing. I could easily (and happily) do a modest-sized band recording with this setup. It would make an excellent portable recording rig.
I can see both the MW-1608 and the MW-2408 being a very attractive option for many use case scenarios. The built-in effects, mute groups and monitoring flexibility would be most welcome in a small to medium club, performance space or house of worship. Everything you need in terms of mixing, routing, and processing FOH sound is right there in a tidy, easy to use package. Its clean sound, full-featured bus routing and monitoring capabilities make it well suited for tracking projects in a studio too.
Summing it up
For anyone looking to step up their recording game by adding a first mixer, the Korg SoundLink line would be a fine place to start. The MW-1608 and MW-2408 package great-sounding preamps and EQ, sophisticated routing found on high-end consoles, and robust DSP, making them a tough combo to beat.