MAXimize your studio
Review by Alex Hawley
Total Studio 3 MAX is an enormous collection from IK Multimedia packed with everything you need to elevate your music creation. It includes 60 separate virtual instruments, 14,600 sounds, mixing and mastering plugins, and more. IK Multimedia offers three different bundles: Total Studio 3 SE (slightly slimmed down), Total Studio 3 MAX (on review today), or you can get the complete software package bundled with a pair of iLoud MTM monitors for $999.99. Having reviewed the iLoud monitors in the past (September 2019 issue), that seems like an attractive deal for anyone looking to get up and running in a hurry with a very capable rig. Not only does Total Studio 3 MAX include all of the flagship IK software products, but it includes all of the expansions for those as well. It's a truly fantastic and massive collection, so let's dive straight in.
AmpliTube 5 MAX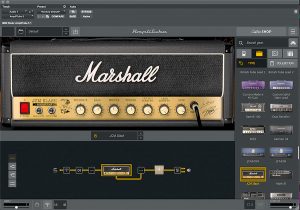 I've used AmpliTube for years, but I've never had the complete collection at my disposal. AmpliTube is a go-to for guitarists and bassists when they need realistic amplifier modeling. It features a total of 400 amps and FX, with over 2,500 artist presets to get you rolling. Some new features include a freely configurable signal flow section and a completely re-measured cabinet section for more realism and depth.
We have reviewed many AmpliTube versions and expansions in past issues, most recently the Brian May Collection (July 2020) where I enjoyed channeling my inner Killer Queen! May's tone is faithfully represented, and I thought some of the presets and harmonizers provided some instant Queen guitar tones that were addictive to play through.
Miroslav Philharmonik 2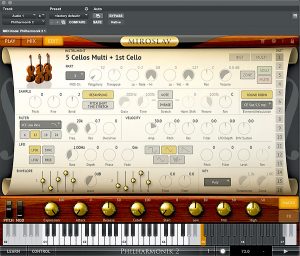 A longtime flagship product for IK, Miroslav Philharmonik 2 is a complete orchestral sample collection with truly expressive sound. It comes with over 2,700 instruments: strings, woodwinds, brass, concert grand piano, and more. TS3 MAX also includes the Orchestral Percussion sample pack, which covers loops and hits, for a wide range of percussive instruments.
I've used a fair number of symphonic virtual instruments, and Philharmonik 2 is among the easiest and most musical that I've tried. The sounds are very responsive and dynamic, with realism and depth. There is a range of articulations, dynamics, and patterns available. The only drawback I encountered during my tests is high CPU usage, but that's an understandable tradeoff for a library of this caliber. It's tough to stop playing!
SampleTank 4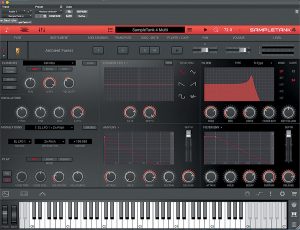 Another IK software staple, SampleTank 4 is designed to be every musician's music creation station. From idea inception to execution and tone shaping, SampleTank 4 is a production powerhouse. TS4 MAX includes all the expansion packs for SampleTank 4, which is saying something!
As a newcomer to the ecosystem, the sheer amount of sounds and customization is overwhelming at first. However, the layout is straightforward to pick up on, and then it's off to the races. I found the integrated Groove Player window to be particularly interesting. It can be set up as an arpeggiator, strummer, or phraser (which plays short phrases at the touch of a key). This is a great idea starter to start building around!
I particularly enjoyed the Cinematic Percussion library. As a post-production sound designer, I found the drum hits and risers come together quickly to add impact to a piece. Plus, it has the first instance (that I've seen) of a Waterphone virtual instrument! Great textures for scoring music to picture.
Syntronik Deluxe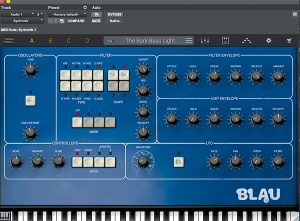 Another flagship IK Multimedia collection, Syntronik Deluxe is what synth dreams are made of. With 22 synths
recreating the sound of 44 legendary hardware synths and string machines, Syntronik covers it all. The collection totals 80GB of content, with over 2,600 instrument
presets and 120,000 samples. To say this is a deep well of synth exploration is an understatement. There are five new members in the Syntronik Deluxe family: VCF3, Memory-V, M-Poly, SH-V, and Modulum.
It's easy to get lost in the collection—I found the abundance of synth models to be a vibe setter for many different uses. 'Stranger Things', anyone?
Hammond B-3X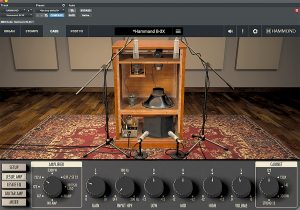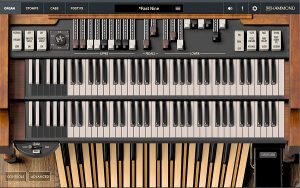 Hammond B-3X is a brand new IK Multimedia offering, representing the very first official virtual Hammond B-3. It was developed closely with Hammond and Suzuki. It aims to deliver all of the soul, passion, and vibe that Hammond is known for, with a high degree of realism, detail, and depth.
I found the Hammond B-3X to be incredibly immersive—it feels raw and authentic, even down to the electromechanical details. The 'Stomp Box' section features a classic Tube Screamer-style OD, a BOSS CE-1-style chorus/vibrato, and more. The 'Cabs' section allows complete customization of the Leslie amp and cabinet (including speed and mic distance), and a comprehensive Post FX section provides final tone shaping.
MODO DRUM / MODO BASS
MODO DRUM is a unique virtual instrument that uses a physical modeling synthesis engine combined with sampled sounds to create compelling drum tones. It offers ten drum kits, eight rooms, and 1,400+ MIDI grooves across various genres and time signatures. When Editor Paul Vnuk Jr. reviewed MODO DRUM in the January 2020 issue, he wrote: "MODO DRUM sounds excellent, especially the kicks, which sound ideally localized for psychoacoustic realism." I tend to agree with Paul's take, especially with the 'Black Oyster' kit; I love the boomy 60's kick sound with its tight snare—tons of great percussive tones and grooves to work with here!
MODO BASS is a physically modeled bass virtual instrument. It delivers realistic and accurate performances that model the entire process of playing bass— it's more than just a simple sample-based instrument. As a guitarist, I love the combination of MODO DRUM and MODO BASS. Together, they deliver a great-sounding rhythm section for songwriting and home production purposes.
T-RackS 5 MAX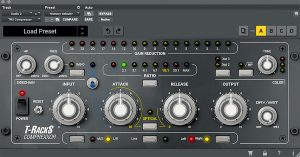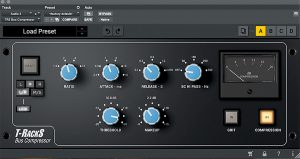 T-RackS 5 MAX is a bundle of 38 high-end processors, including compressors, limiters, equalizers, reverbs, and more. Many of the included processors are modeled after analog studio classics, such as the Black 76 Limiting Amplifier and Vintage Tube Compressor Model 670—any guesses on what those are inspired by?
I was impressed with the sound quality from the plugin bundle as a whole; it has a nice blend of transparent and colored options to work with, and genuinely serves both mixing and mastering realms. I enjoyed getting to know the Sunset Sound Studio Reverb plugin, which includes models of the rooms, plates, chambers, and booths from the iconic studio. The various rooms sound convincing on the drum bus to add life to dry recordings. Check out Paul Vnuk's Sunset Sound Studio Reverb review in the June 2020 issue for more.
Lurssen Mastering Console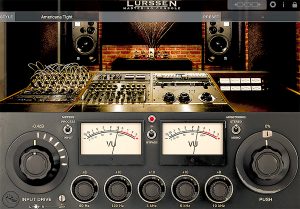 Lurssen Mastering Console is an easy-to-use mastering tool created in collaboration with Mastering Engineers Gavin Lurssen and Reuben Cohen. It's designed to recreate the baseline processing chain used at Lurssen Mastering, Inc. Depending on which genre you have selected for your source material, the plugin acts as a set-and-forget workflow; the only parameters you can manually adjust are amplitude for a fixed 5-band EQ, the threshold for the compressor and De-Esser, and the makeup gain. The two main knobs include input gain and 'Push', which controls the global amplitude for the 5-band EQ.
I was slightly disappointed by the lack of tweakability here. The 'Chain' view displays a signal flow involving multiple equalizers and compressors. Still, nothing can be manually controlled (outside of the previously mentioned threshold and makeup gain). That said, the Lurssen Mastering Console provides a punchy sound that does a nice job in making its source material louder and fuller. It's a great fit for those new to the dark arts of mastering and need something quick and easy to help lift a mix bus.
ARC System 3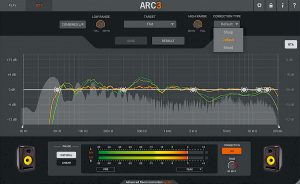 ARC System 3 is designed to measure your room acoustics (with any supported measurement microphone, such as the IK Multimedia ARC MEMS mic) and make adjustments in master bus plugin.
I was a bit skeptical that shortcomings in my physical environment could benefit from a software solution, but my results with ARC System 3 were quite eye opening. It has its limitations, of course, but it did help manage the low end in my home studio. I wrote a full in-depth review of ARC System 3 software for the November 2020 issue if you'd like to read more.
MixBox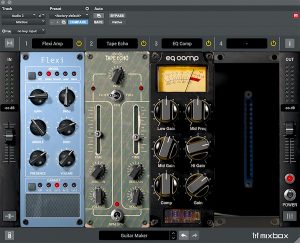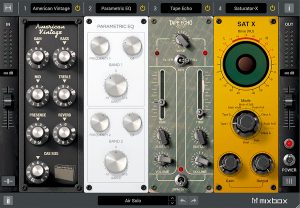 MixBox resembles a 500 Series rack unit that houses up to eight modules at once. There are 70 effect modules on tap that cover everything from guitar amp emulations and channel strips, to dynamics processors, modulation, and more. Derived from T-RackS, AmpliTube, and SampleTank algorithms, MixBox delivers inspiration in a compact and convenient mixing tool. It can be used within a DAW, or standalone.
I found it works great to have one on each submaster: drums, bass, guitar, vocals, and so on. It adds some color depending on which modules you have loaded up, and treating each submaster provides great tone control and glue in the overall mix. The more obvious modulation effects sound great on individual guitar tracks as well, and it's handy that each module has its own wet/dry mix and volume control.
Wrap-up
IK Multimedia's Total Studio 3 MAX bundle is a ridiculous value. The only tricky part is carving out enough space on your system to install everything. For that reason (unless you have a massive internal SSD), I would highly recommend going with the hard drive delivery option. The sounds are incredible, and I was only able to scratch the surface of what's possible in the space here, so look for in-depth reviews of some of the individual components in future issues. These tools can quickly become a part of your writing, editing, mixing, and everything workflow—there's no doubt about that!