Why choose between vintage and modern when you can have both?
Based in Baton Rouge, La., United Studio Technologies started in 2018 with a mission to build classic microphone reissues with no compromises. At the time of writing, United currently offers two models: the UT FET47 and the UT Twin87, the later is on review today. Inspired by the iconic Neumann U 87, the UT Twin87 sets itself apart from other clones on the market with a unique twist. We'll look at how the UT Twin87 stands on its own and how it stacks up against its inspiration.
Two for One
The UT Twin87 is a twin-circuit, large-diaphragm condenser microphone. It's designed to recreate vintage and AI variants of the legendary Neumann U 87. There is no shortage of U 87 clones or remakes on the market, but United is the first to combine both circuits into one microphone. It's not accomplished with a simple EQ filter, either. UT Twin87 is designed with two separate circuit topologies that you can switch between on the fly. Each circuit polarizes the capsule according to the original models, capturing a truly authentic approach for both designs.
Authentic Components
UT Twin87 is made with high-quality components, including a proprietary large-core, custom-wound output transformer. It's notably larger than the output transformer found in Neumann models, which United says was a decision to enhance low-frequency dynamic response and avoid any design bottlenecks.
The capsule is K87 style with a custom 24k gold-sputtered dual-diaphragm / dual backplate design. It also features WIMA film capacitors, metal and carbon film resistors and hand-selected transistors.
One thing that caught my eye is the head basket shape. Rather than the classic tapered edges of the U 87 head basket, the UT Twin87 employs a bit more of a generic circular shape. This is likely to avoid design patent infractions, but United measured and reproduced the actual mesh gauges from the original 60s U 87, which accounts for some of the sound signature.
Another exciting aspect United designed into the UT Twin87 is the true-cardioid mod. When the mic is set to cardioid mode (it has the option of omni or figure-8 as well), it bypasses the pattern select circuitry altogether and decouples from the rear diaphragm of the capsule. United claims this technique yields a "cardioid function that is slightly hotter, more pure, and boasts a better signal-to-noise ratio."
In Use
I find it most valuable to evaluate microphones, especially those designed in the image of studio icons, on their own before making any direct comparisons. I am deeply familiar with the sound of the U 87, but I put that reference to the side until I had a chance to get to know the sound of the UT Twin87 first. I tested both circuits on voice, acoustic guitar and grand piano.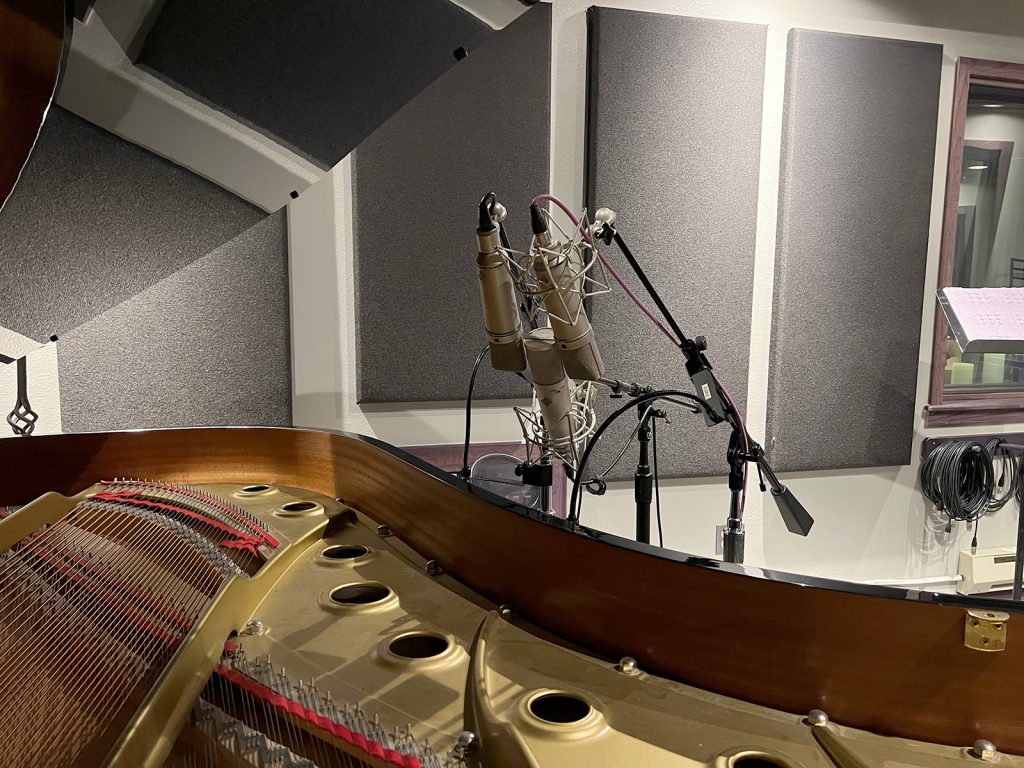 Modern Edge
The modern circuit on the UT Twin87 has a bright and forward character. It can cut through mixes like a hot knife through butter, with balanced mids, a top-end sheen, and a tight bottom end. An edge to the upper midrange contributes to its ability to cut through the mix, around 5 or 6 kHz, giving it a polished sound for voiceover work, pop or hip-hop vocals.
The modern setting also lends itself nicely to grand piano. I only had one for testing, so I couldn't try any stereo miking techniques, but placing it a few feet back from middle C captured a balanced image of the entire piano. It yields a high degree of detail and doesn't need too much shaping to drop into a full mix. In some cases, like acoustic guitar, I found the brighter character a bit distracting and sought a bit lower-midrange energy and vibe, for lack of a better term. But that's where the vintage circuit comes in …
Vintage Workhorse
The vintage setting is slightly warmer, much smoother, and more forgiving than its modern counterpart. I found its character to be more well-rounded for various sources. On acoustic guitar, it sounds full and balanced through the midrange and has a smooth and natural top-end. This was the story for every source I tried—that is why I view the vintage setting as more of an all-around workhorse compared to the modern setting that definitely lends itself more for specific applications.
Shootout!
If anyone is in the market to fill the shoes of an 87-style microphone in your locker, you probably want to know how the UT Twin87 stacks up against the real deal. I had the opportunity to put it side-by-side against both vintage and AI variants of a Neumann U 87 and recorded a range of sources.
The modern setting vs. the U 87 AI model has a noticeable difference in the top-end, with the AI sounding a touch richer with a bit more body. Keep in mind that this is a brand new UT Twin87 recorded next to a well-loved U 87 AI (with hours of daily use for 10+ years, so it's well broken in by this point). The difference is subtle on piano and guitar, but on voice the difference presents itself more clearly. The character is certainly in the neighborhood but not so close that I was able to trick any fellow engineers in a blind listening test at the studio.
I found the vintage setting next to the vintage U 87 to be a much closer comparison. Both microphones offer a smooth and balanced response on just about every source you throw their way. Much like its vintage counterpart, the vintage setting yields a robust body with a natural-sounding top-end that doesn't sound over-emphasized.
Closing Thoughts
If you need an 87-style microphone in your locker, the UT Twin87 certainly fits the bill for both modern and vintage flavors. For my personal preference, I'd leave it on the vintage setting for most sources and only call upon the modern circuit for pop or hip-hop vocals. But having the option adds flexibility in the studio, and if you are drawn to brighter-voiced microphones, then the modern setting might be just what you're looking for! United put much care and research into this design. The build quality is superb and would serve anyone as a reliable and versatile large-diaphragm condenser. Plus, when you consider the price, it's like getting two mics for the price of one, especially taking into account the cost of its inspiration.
Price: $699
More from: unitedstudiotech.com