Little Plate finally gets a new Super-sibling
Review by Paul Vnuk Jr.
About five years ago, Soundtoys released the great sounding, simple-to-use Little Plate classic EMT 140 plate reverb. Typically as it had done with Little PrimalTap, Little Radiator and Little MicroShift, this seemed to be a nod to the imminent release of a bigger version. However, the fuller-featured "Plate" never arrived…until the 2023 NAMM Show, as Soundtoys announced Soundtoys version 5.4 with the new SuperPlate plugin!
SuperPlate Party
Much like the Soundtoys EchoBoy delay, SuperPlate places multiple plate reverbs into a single plugin and offers a curated history lesson of rare classic mechanical plate reverbs.
In addition to the Classic 140 (EMT 140 – 1957), you get Goldfoil 240 (EMT 240 – 1970), Audicon (The Plate – c. 1971), Stocktronics (RX4000 – 1978) and E. PLATE III (EchoPlate III – 1982).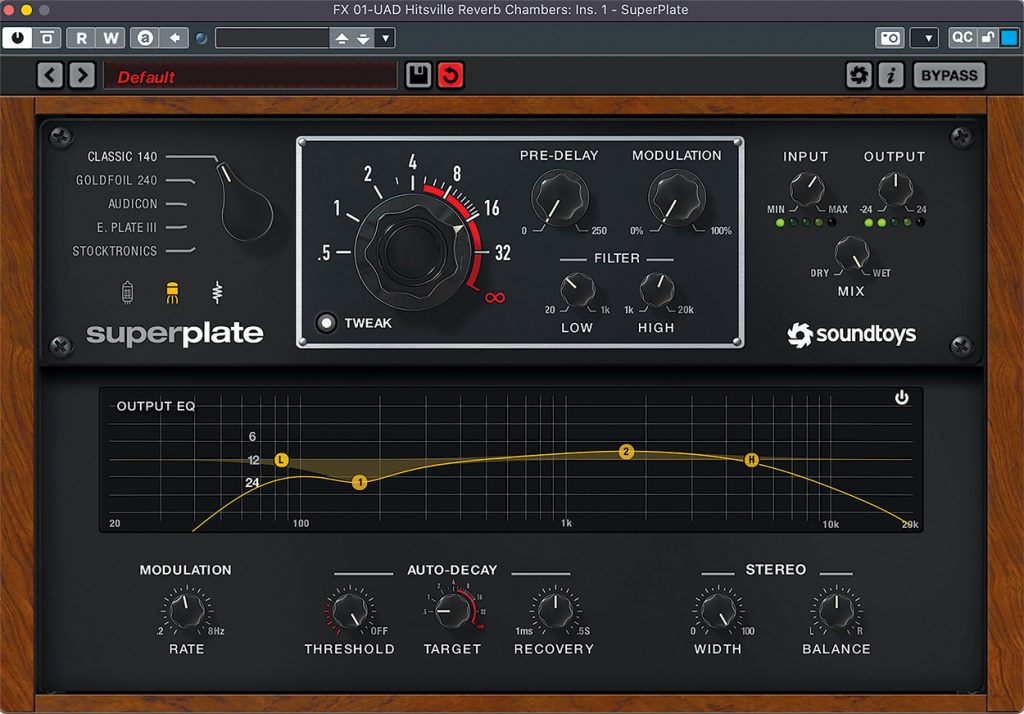 Vibrating Metal
A plate reverb is a tensioned sheet of metal. When audio passes through, it is picked up by transducers and a preamp resulting in a particular, smooth metallic reverb sound.
Most models had a maximum 4–5 second decay that could be physically dampened down to shorter times…and that was the end of the capabilities. Any level control and equalization happened at the mixing desk, and any pre-delay resulted from a separate delay device. SuperPlate conveniently adds all of the above into the plugin with some added modern features.
The Super Tour
SuperPlate starts by choosing one of the five reverbs described earlier. Next, pick your input stage from Tube, Transistor or Direct. Driving the tube stage—modeled on the original EMT V54 preamp—offers a thick, saturated drive. The transistor-based EMT 162 preamp is more gritty and clipped with a built-in compression circuit.
A set of Input, Output and Mix knobs lets you drive and blend your reverb sound.
Time
A large damping/decay knob offers the .5 to 5-second decay typical of a hardware plate up to a massive 32-second decay and finally to ∞. You get 0 to 250ms of pre-delay plus a modern modulation parameter that adds a modulated chorus effect to the decay tail.
Tone
There are a pair of Low (20–1,000 Hz) and High (1–20 kHz) shelving filters, but this is just the start. Clicking the Tweak button opens a bottom panel with a full EQ display that adds click-and-drag adaptive low and high bell-curve EQ bands. Here you will also find a modulation rate control (.2–8 Hz), Stereo Width and Balance controls, and Auto-Decay.
Duck This
Auto-Decay offers a uniquely implanted ducking feature with Threshold and Recovery controls (1ms–.5S) and a Target control that mimics the main decay knob. You can set the reverb decay to bounce between a shorter or longer target range when the threshold is hit and then back to the primary setting at a rate controlled by the recovery dial. This can add constraint or exaggeration based on the strength of the incoming signal.
In Action
SuperPlate offers a lot of sonic shaping, and any of the reverbs can be meaty, lush and resonant, or thin and wispy. They can add quick short ambiance or be long, deep and ambient. I like that all of your decay, EQ and modulation settings remain the same as you dial between the reverb models. You can also smoothly automate any of the controls in your DAW, opening up even more sound-design-like possibilities.
Five Shades of Verb
Classic 140 is the fullest and most lush, with a swimming metallic depth you have heard countless times on albums throughout the decades. Moving to Goldfoil 240, the sound is slightly darker, with a faster dissipation of its initial mid-metallic bloom. The Audicon loses the mid-metallic bloom altogether and has a gorgeous bright scattered lingering sizzle—akin to a sizzle cymbal on a drum set. The E. Plate III is tonally reminiscent of the Classic 140 but smoother and more controlled, with a hair more openness to its decay. Finally, the Stocktronics is the brightest of the bunch, with the least lows and mids. It is a great choice when you want some clear, unimposing plate space in a mix.
Final Tails
More than just a plate reverb plugin, Soundtoys SuperPlate is more like a plate reverb factory that offers a broad range of tonal colors, depths and uses that can be quickly and, most importantly, artistically sculpted for any source or mix.
Price: $149
More From: soundtoys.com