A pair of powerful, passive mic partners
Review by Paul Vnuk Jr.
Seventeen years ago, Audio Engineering Associates (AEA) introduced a microphone preamp purposely designed for ribbon microphones, logically called The Ribbon Pre or TRP for short. The latest entries in the line are the third-generation TRP3 and the EQ-equipped RPQ3. Let's look at both.
Why a Specific Ribbon Preamp?
When the TRP was released in 2006, many mic preamps topped out at an average of 55dB of gain. This was fine when using a ribbon mic to record a cranked guitar cabinet or super-loud vocalist. For moderate-level sources, this typically
meant pushing the preamp to the top of its gain range, usually introducing a healthy level of noise into the signal path.
The TRP tackled this by offering an impressive 83dB of clean gain. Over time, the line would include the two-channel 1/2-rack TRP, the 500
Series RPQ500 and the two-channel 1U 19″ RPQ. As each model evolved, we would see the introduction of phantom power (allowing the units to be used with all microphone styles), EQ, high-pass filter options and more.
Third Time's a Charm
In the October 2022 issue, I reviewed the 500 Series TRP500, the first of the three generations of TRP designs. It is now joined by the TRP3 and RPQ3.
What's New?
The base TRP circuit is a solid state, transformerless design based around a JFET circuit and modern Op-amp technology designed by Fred Forssell.
What makes the third-generation units better? Speaking to both AEA founder Wes Dooley and AEA lead engineer Joey Krieger during the TRP500 review, I was told they are not so much a redesign of the initial AEA offerings, but rather the beneficiary of JFETs, ICs and other components improving over the last 16 years.
Joey explained that besides the upgraded components, "There were lots of under-the-hood common mode tweaks for improved performance, and each component was chosen by listening to what sounded the best, rather than simply specs and numbers."

AEA TRP3
The TRP3, like the original, is a half-rack, two-channel microphone preamp. It is equally happy on a desktop, in a backpack, or one or two can be rack-mounted side-by-side, putting four channels in a nicely compact footprint. Beyond the number 3 replacing the number 2, the TRP3 is almost visually identical to its predecessor.
The TRP3 is housed in a dark-gray aluminum enclosure with a red AEA badge front and center. Both matching channels start with a 12-position Grayhill switch with a range of +7dB to +65dB of preamp gain. This feeds into a variable output control that adds up to +20dB of signal (0dB when counterclockwise). In contrast, the previous TRP2 topped out at +63dB of preamp gain, and its variable output offered both +22dB of additional gain and -55dB of signal attenuation. It boasts a 68K目 input impedance when used with passive microphones and a more common 11k目 when phantom power is engaged.
Each channel has a switch marked P48 (+48v Phantom Power), a phase switch and a 3-position high-pass filter (115 Hz or 230 Hz @ 3dB per octave). This also differs from the TRP2, which offered a single 100 Hz filter with a sharper 12dB per octave slope. Each channel is rounded out with a 3-stage LED meter.
Around the back, you will find balanced XLR I/O for each channel—with really robust connectors—and a 5-pin male XLR-style socket for connection to the included external power supply.
Sound
My tagline for the TRP500 review was, "A classy, clean tone does not need to be boring," which very much sums up the sound of the TRP3—clean and classy. On any microphone, the TRP3 sits squarely in an ultra-pure, sonically neutral camp and is part of a class of preamp that adds nothing to the microphone sonically. That said, it is also not clinical or sterile.
I will add, however, that while it adds nothing to the sound of your mic, the 68K目 input impedance will have an effect on your passive microphones. It's not so much a change in tone but a change in top-end tightness and focus compared to more common lower impedance preamps.
Use
On the ribbon front, I used the TRP3 (and RPQ3) with my AEA R44C, a stereo AEA R88 MKII, a Royer R-121, Royer R10 Hot Rod Edition, an sE Electronics VR-1 and a Cloud Microphones 44 passive ribbon.
It brought out the best in each mic, offering an impressive presence and clarity in each instance, and the lack of noise floor was stunning. This allowed me to use said mics at both greater distances from a source or, conversely, up close and personal.
These results were similar when used with passive mics such as a Shure SM7B, Electro-Voice RE20 and a vintage Sennheiser MD-421 U5. The TRP3 makes the SM7B especially useful on quiet vocal passages and spoken word. It also makes using a compressor easier as there are no worries about exaggerating preamp noise.
As with the TRP500, I found the gentle yet deep-reaching high-pass offerings helpful in lessening the proximity effect of the large ribbon mics when a more neutral, less weighted tonality is needed.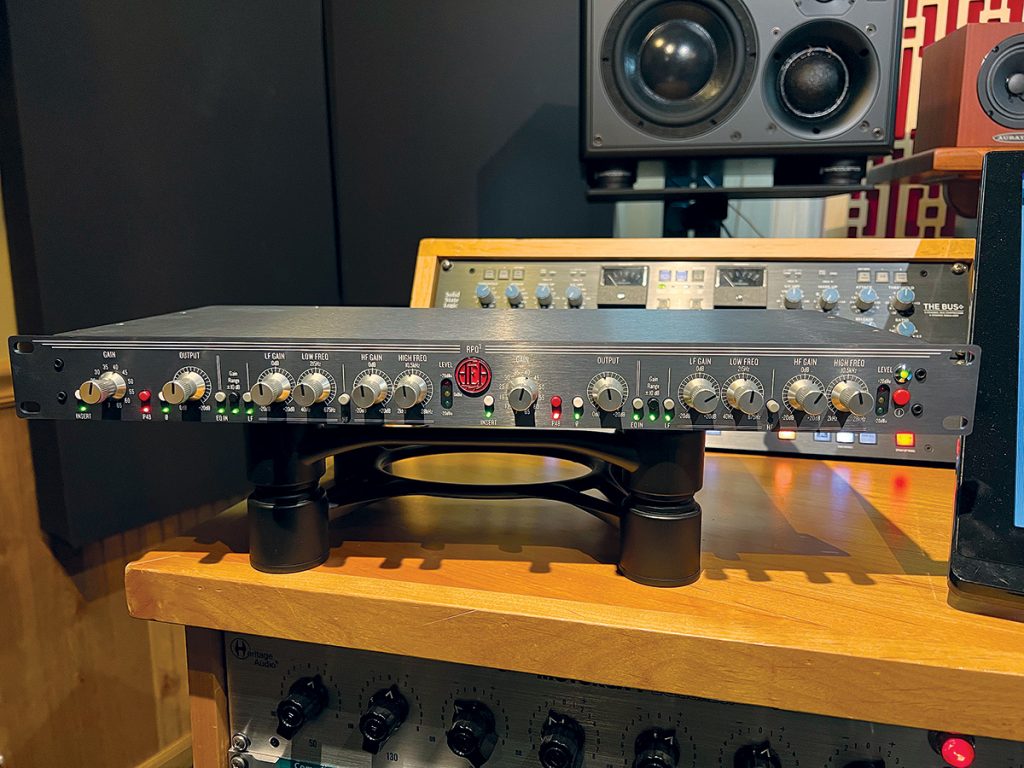 AEA RPQ3
The RPQ3 is a dual-channel microphone preamp and equalizer. It comes housed in a 1U 19″ rack made of dark gray aluminum with two matching channels. Like the TRP3, the RPQ3 is also quite similar to the RPQ2, although, in addition to the changes to the gain structure and internal updates, there are a few other significant changes to note.
Again, each channel offers +7dB to +65dB of preamp gain with a 12-position Grayhill switch plus the additional 0 to 20dB of signal on a variable pot. You also get P48 (phantom power) and phase flip. A third button in the preamp section engages a pre-EQ channel insert. You can also use just the 1/4" input as a line input to take advantage of the EQ section on mix down. Speaking of inputs, where the RPQ2 offered a set of front side 1/4" switchable Hi-Z instrument inputs, the new RPQ3 does not.
CurveShaper EQ
The two-band CurveShaper EQ section of the RPQ3 is significantly altered and expanded from the past model. On the RPQ2, the low band was a single knob low-frequency cut, while the high band was a boost. This time around, each band is a two-knob boost/cut design. Low is 40 Hz to 675 Hz, and high is 2.5 kHz to 30 kHz, both at 3dB per octave with 20dB of boost or attenuation. For greater precision, a gain range button changes the EQ level from +/-20dB to +/-10dB.
Each EQ band offers a continuously variable frequency sweep where the slopes and cuts of each EQ band vary as the curve frequency and curve gain interact.
A feature I quite like is that the CurveShaper EQ section can be globally bypassed and each band can be individually bypassed.\
Ins and Outs
The rear of the unit features balanced XLR I/O and 1/4" TRS insert I/O. There is also an IEC mains socket for the internal power supply.
EQ It Up
The RPQ3 offers the same sonic benefits to ribbon, dynamic and even condenser mics as the TRP3 and TRP500—all three are the same preamp design. The EQ of the RPQ3, however, takes things to a whole new level. I wish the RPQ3 offered a dedicated high-pass filter like the other units, along with its CurveShaper EQ section, but the Low Frequency can approximate a low-cut filter to some degree.
Most of the time, I found myself using the low-frequency EQ to gently carve out low-mid build while using the high-frequency to add a bit of clear presence and occasional air. This is a very powerful EQ but also slightly unpredictable, thanks to its interactive topology. As such, this is a "twist until it sounds good" style EQ more so than a surgical tool.
Wrap Up
AEA has upped its own game. The TRP3 and RPQ3 are a pair of powerful preamps that can genuinely take your ribbon, dynamic, vintage tube mics and more to bold, ultra-clean new heights, each with its own well-designed feature set and a top-notch build. Being two-channel boxes, they are also well suited for use with stereo mics such as the AEA R88 MKII.
Price: $1,299 TRP3; $1,799 RPQ3
More From: aearibbonmics.com