The return of one of the world's most iconic microphones… for real!
Review by Paul Vnuk Jr.
The M 49 V is the latest historic microphone reissue from Neumann. Like the U 47 FET (reviewed February 2015) and U 67 (reviewed May 2019), the new M 49 V is not an inspiration nor a new twist on a classic design. This is a Neumann M 49 built by hand in Germany for a new generation—and all that implies.
The Pantheon of Microphones
Alongside the Neumann U 47, the U 67, the AKG C12 and the Telefunken ELA M 251, the Neumann M 49 is among the most prestigious mics ever made.
Despite the history and stature of the M 49, its popularity is often overshadowed by the four other models. Perhaps this is because when the M 49 was created, it was marketed as a West German broadcast mic more than a studio offering. It could be due to scarcity. Despite a 20-year run, only around 2,500 were ever produced. Maybe it's because The Beatles rarely, if ever, used one—and I am only half joking. A possible fourth reason is that in our current recording scene, vibey is better recording landscape.
The M 49 is in many ways the least sonically imposing or character-filled mic out of all of the mics mentioned above, and yet, it might just be the most magical.
Vintage Innovations
Designed circa 1949, the first production M 49 was released in 1951. At the time, it featured more than a few innovations for its day.
It was one of the first large-diaphragm mics to use a (now common) slanted/tapered grille design that helped control stray resonances and standing waves inside the capsule housing.
The M 49 was the first mic to offer a continuously variable polar pattern from Omni through to Fig. 8 via a knob on the remote power supply.
In that same vein, the M 49 also instituted a circuit design that kept the output level uniform across all polar patterns by retaining voltage in the mic capsule's rear diaphragm versus the U 47, which lost about 5 dB in level in Omni mode.
[Neumann explains: In the M 49, the rear diaphragm is always connected (except with the internal switch set to cardioid only mode). The rear diaphragm's capacitance forms a voltage divider, thus reducing the capsule output level that reaches the tube input. In the U 47, the rear diaphragm is only connected in omni mode, hence the level difference when switching from cardioid to omni.]
M 49 Evolution
The M 49 borrowed much of its base technology from the U 47, most notably the classic PVC-based Neumann M7 capsule. As with the U 47, by the early 1960s, this was changed to the similar, yet different
Mylar-based Neumann K47/49 capsule still found in many of the company's mics today.
Initially, the M 49 employed a Hiller MSC2 tube, but by 1954, this was replaced by the sub-miniature Telefunken AC701K triode. It should be mentioned that, unlike many previous tube designs, the AC701K was purpose designed for mic use.
The Letter B
By 1957 the M 49 became the M 49 b. Changes included the now classic Neumann BV11 output transformer, offering a higher output level and less self-noise. The BV11 in the M 49 b was also switchable from a 50Ω to 200Ω output impedance.
The M 49 b variant also added an internal, fixed, low cut circuit. There were also additional spec and gentle sonic tuning changes introduced at this time.
The Letter C and the M 249
The final changes to the initial M 49 run came around 1964 with the introduction of the M 49 c. By now, the K47/49 capsule was fully implemented, and the tube biasing circuit was changed from a fixed bias to a self-biasing cathode offering an even better noise floor.
The final variation was the parallel introduction in 1961 of the Neumann M 249—a broadcast-focused M 49 that used a 7-pin Tuchel connector versus the 8-blade style Tuchel connector. This new connector and cable offered improved RF (radio frequency) rejection.
The final M 49 and M 249 mics rolled off the line in 1971.
The Letter V
Introduced in 2022, the Neumann M 49 V picks up the story from where the last generation M 49 and M 249 left off. Are there some component and design variations? Yes. Does this violate my self-imposed 'not a reissue or clone if one part is changed' rule? No, and here is why.
As you can see above, incremental changes occurred in the M 49 (and most mics of that era) across the board from day one, and to a point, minor sonic variances were less of a big deal in the 50s and 60s than they are now.
Plus, overall, the variations in the new M 49 V are less intrusive than earlier revisions. Any substitutions or alterations in the M 49 V aim to replicate the original components, specs and tolerances of the past offerings.
Neumann Germany has gone to painstaking lengths to replicate the original transformer design, choose the best appropriate replacement tube and even voice the modern K47/49 capsule to be as close as possible to the originals.
Enter the Neumann M 49 V
The Neumann M 49 V is a large-diaphragm, variable pattern tube mic literally handmade in Germany.
The mic body is 6.41″ T x 3.14″ D. The mic weighs 1.76 lbs. It features a classic black Neumann badge and the inset M 49 ruby red dot.
The fit and finish are exceptional, and from the grille work to the badge and more, the M 49 V is indistinguishable from a well preserved original—it even weighs about the same (within 0.18 lbs.)
The mic uses a current production, center-terminated, single backplate, dual-diaphragm K47/49 34 mm capsule (also found in the TLM 49, M 147, M 149 and U 47 FET). The capsule features matching 1″, 6-micron thick gold sputtered Mylar diaphragms.
Tube and Transformer
The original Telefunken AC701k has long been discontinued, so Neumann has sourced a new hand-selected, nearly identical, sub-miniature triode tube with even lower noise specs.
The transformer is also a new recreation of the famed Neumann BV11.
Switches
The M 49 V combines several options from previous revisions using internal switches. On the bottom of the circuit board adjacent to the tube is a switch (S2) that disengages the pattern choice and sets the M 49 V to a fixed cardioid mode. Doing so increases sensitivity by 2 dB and lowers the self-noise by 3 dB.
Next to the transformer are a further set of switches. S3 is a factory switch used for test purposes, while the S4 switch bypasses the fixed high-pass filter implemented in the M 49 b, returning the mic to the early, slightly fuller range "A" status.
Neumann mentions that it would prefer to pre-set these options for customers before purchase. Unlike many modern mics, where the capsule remains protected even when the body is removed, on the M 49 V, the capsule becomes fully exposed, and accidental capsule damage will void the warranty. If you are a do-it-yourself person, be meticulous and super careful.
Patterns and Power
The M 49 V comes with an external power supply with the continuously variable pattern knob (Omni through Fig. 8 with Cardioid at 12 o'clock). There is also the XLR and 7-Pin cable I/O, power socket and master power switch.
While similar to most modern Neumann offerings, this power supply is specific to the needs of the M 49 V. However, it will work as a replacement for any vintage M 49 model.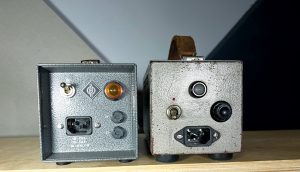 The mic ships with a screw-on style 7-pin mic cable—same as the one with the U 67 reissue. As per that review, it's a bit on the thin side. I would have preferred a thicker offering and am concerned about its long-term durability.
Swivel Yoke and Case
The M 49 V comes with a streamlined update of the original large, vintage, swivel yoke that holds the mic in place with a large, black badged, compression-style clamp. While not a shock mount per se, the updated yoke screws are sheathed in absorptive rubber, and with the excellent dampening of the mic body, thumps and mic stand resonance are not much of a concern.
The package comes with a high-quality deluxe briefcase that is cloth-covered and compartmentalized. The case houses the mic, vintage yolk, power supply and cables.
Specs and Frequencies
The M 49 V features a 40 Hz to 16 kHz frequency response (high-pass filter intact), a 200Ω impedance, a 125 dB SPL, a 73/74/75 dB (A) signal-to-noise level, and a 21/20/19 dB (A) self-noise level—Omni/Cardioid/Fig. 8 respectively.
In cardioid mode, the M 49 V is on the smooth, natural side but not the 'ruler flat' variety. It has a full yet polite low-end capture with a gently supportive proximity effect.
In the mids, at 1 kHz, the mic climbs slowly to a 3–5 kHz upper mid-peak of about +2 dB. This is followed by a tight +2 dB peak at 10 kHz, followed by a sharp roll-off.
In Omni, the low-end evens out with little to no proximity effect. The upper mid-peak tightens and shifts to 2–3 kHz, followed by a -2 dB dip from 4–7 kHz. Here the M 49 V is at its brightest, reaching +6dB at 10 kHz—pretty tame compared to most modern condenser mics in Omni mode.
Fig. 8 mode offers the most proximity effect (+5dB 50 to 100 Hz), but the low-end chills out significantly as you move off the mic. The lows and mids climb almost linearly from -10 dB at 40 Hz, hitting 0 dB at 1 kHz. From there, it's an equally sharp climb that peaks to +5 dB at 5 kHz before rolling off in steps.
Sound of a Classic
Over the years, the M 49 has gained a well-deserved reputation for its neutral, almost silky capture. I have occasionally seen the M 49 described as having a "warm vintage" sound. I can understand the sentiment when compared to a brighter condenser offering in the C12, 251 or C800 categories, but the M 49 is nowhere near as rounded as a U 67, or a Sony C37a, nor is it as upper mid-forceful as a U 47.
While the rest of the world went "U" crazy in the late 50s and 60s, Columbia Records favored an arsenal of M 49 mics at its 30th Street Studio in New York City. The M 49 is a significant presence on sessions from Miles Davis, Dave Brubeck, Bob Dylan, Simon & Garfunkel, Duke Ellington, Billie Holiday, Tony Bennett and Barbra Streisand.
The Sound of Now
Moving to my use of the M 49 V, overall, it exhibits an almost Zen-like balance of an open and full low-end, a rich midrange and, as mentioned, a clear yet silky top end.
The low-end capture surprised me the most. On paper, it appears to have a very tame low end. However, in most polar patterns, this tapered low-end, in conjunction with its proximity effect, offers what can almost be a master class in what makes a high-end classic mic such a great tool.
The M 49 V sounds full and natural at 1′ or 10′ distance. The sound never collapses or thins out. Thanks to the proximity effect, you can tailor the low-end fullness of your source based on mic placement rather than post-EQ (although this mic takes EQ incredibly, as you rarely have to overdo it). Yes, other classic and boutique mics work this way, and yet, I have seldom had it be so easy.
This is balanced with the detailed, and again silky high-end that does an excellent job of taming bright cymbals, tambourine, biting electric guitar amps, brass instruments and sibilant vocals, all without ever sacrificing clarity.
This naturally controlled, smooth/neutral balance in low and high-end is why the M 49 has been a staple of orchestras, solo and ensemble strings, and acoustic guitars and vocals for decades running.
Playing with Patterns
I tend to be a cardioid person most of the time. However, part of the magic of a variable pattern mic like the M 49 V is once you have the mic in place, you can fine-tune the focus of the voice/instrument and its relationship to other instruments and the room. From cardioid through Fig. 8, the off-axis rejection is as natural and focused as I have heard.
Fig. 8 mode is nicely rich and full, yet never overbearing, and more surprising to me was how much I liked Omni mode on this mic, especially as a drum room mic or on group backing and choral vocals. While Omni is its brightest mode, the M 49 V exhibits a porcelain-like smoothness that, while very open, is not harsh in any way.
In Use
I used the M 49 V on acoustic guitar, mandolin, kick drum (1' off the outer head), front of drum kit (about 8' back at snare height), mono overhead, congas, hand percussion and, of course, male and female vocals.
It excelled in each case, with the kick drum being a pleasant surprise. While not low-end forceful, the M 49 V is not shy about the low-end it captures and reaches down for enveloping lows.
On vocals, it is not plosive immune, yet this is a mic that a good singer can work well at various distances with or without a pop screen. At a distance of about 1–3′ this mic is a set-it-and-forget-it acoustic guitar mic.
The $22,000 Question
With working vintage M 49 models fetching upwards of $22,000, the big question is how does this modern recreation compare? I traveled to Plastic Dog Recording in Los Angeles, CA, to find out. The studio is owned by my friend, producer and engineer Colin Liebich. Colin is also a partner of BAE (British Audio Engineering) and Mojave Microphones, among many other industry endeavors. He is also one hell of a skilled audio engineer, and his studio is stocked with a fantastic selection of boutique and vintage gear, including a pair of late 50s Neumann M 49 b mics in wonderful condition.
I have heard Colin use these mics on strings, as well as in his sessions on piano, vocals, drum kit, acoustic guitar, guitar amps and more. Anytime you walk into his space, one M 49 mic is center stage in the room, set up and ready to roll.
Colin was just as curious as I was to hear how the M 49 V compared to his vintage specimens.
We called in Stones Throw recording artist Silas Short—fresh from a performance on The Tonight Show backing Sudan Archives (stonesthrow.com/artist/silasshort).
Silas has a gentle R&B meets folk style. He sang and played acoustic guitar on the M 49 V and one of the vintage B models (both vintage models sound identical, so we did not need a third take). Silas sings and plays delicately, and what sounded quiet and almost whispery standing in the room was huge and lush through both mics.
Listening to the playback unveiled separate takes versus a stacked/side-by-side scenario. This allowed Silas to be properly positioned on the mics—a very humbling experience. At the time, we felt like we could hear a touch more of a feathery depth and reach from the M 49 b. However, overall, the M 49 V could be described as damn near spot-on.
Colin mentioned that when cutting between takes blindly, he would be hard-pressed to identify one or the other. Luckily you don't need to take our word for it—check out the results on RECORDING's YouTube page.
Saxy
Next, Colin invited his friend, reed player Brandon Wilkins (brandonwilkins.com), over with his Selmer Super Balanced Action tenor sax to play through each mic, and again the results were similar.
When bouncing back and forth between the mics in Pro Tools, the differences between each mic seemed slightly noticeable. The vintage model sounded richer and airier, and the new M 49 V a touch more present. However, once I level-matched and comped a take, I could not hear a difference when one take switched to another.
It's a Wrap
I am full-on enamored of the Neumann M 49 V. In my 20 years of reviewing, with 100s of mics heard and used, it is very rare that a company takes what could possibly be the finest mic it has ever made and brings back every magical nuance just shy of 50 years later. This is precisely what Neumann has accomplished here.
At $8,500 street, this mic is an upscale acquisition. However, you could almost buy three for the price of a vintage original. The past has proven that in 50–70 years, the Neumann M 49 V will still be a mic to be reckoned with—consider it an investment.
*Special thanks to Colin Liebich, Silas Short and Brandon Wilkins.
Also, thanks to recordinghacks.com, coutant.org, germanmasterworks.com and en-de.neumann.com for the historical information.
Price: $8,500  
More From: neumann.com