The highly affordable LP Series builds a solid reputation as a top-tier budget monitoring option
Review by Alex Hawley
Designed and engineered in California, Kali Audio got its start in January of 2018 with the goal of creating professional products at affordable price points. While the brand may be new, the Kali Audio team was formed by a group of friends that first met while working at JBL Professional, most notably Charles Sprinkle, who was the Principle Systems Engineer at JBL and is credited with engineering the JBL M2, 7-Series, and 3-Series monitors. He also designed the JBL Image Control Waveguide.
The first offering from Kali Audio was the two-way Lone Pine (LP) series of monitors in 6.5″ or 8″ configurations. Kali also offers the three-way Project Independence (IN-8) with an 8″ woofer and a coaxial midrange driver and tweeter. There's also a Bluetooth Module, the MV-BT, which is designed to arm any professional speaker with Bluetooth connectivity. We'll be covering the MV-BT in a future issue.
Overview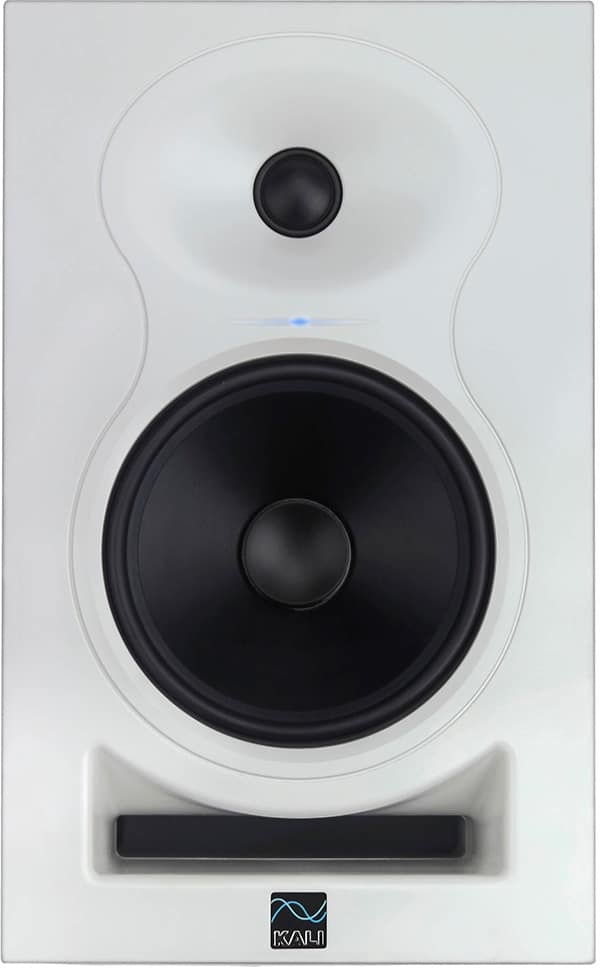 The LP-6 is intended for nearfield configurations and is designed to deliver accurate response with low distortion, high headroom, and pristine imaging with the 3-D Imaging Waveguide. It's bi-amped with class D amplifiers for a total of 80W (40W LF, 40W HF). The LP-6 features a 6.5″ woofer made of polymer-coated paper. The 1″ soft-dome tweeter is a blend of textile materials designed to produce smooth frequency response and low distortion. The frequency response is listed as 39Hz to 25kHz, with 47Hz to 21kHz being +/- 3dB. The crossover frequency is 1.5kHz and has a maximum SPL of 112dB. The total harmonic distortion is <3% 80Hz to 1.7kHz, and <2% above 1.7kHz.
The enclosure is front-ported, which is ideal for project studios that have monitors placed up against a wall. The cabinet stands just over 14″ tall with an 8.75″ width and 10.25″ depth. It weighs 15.54 lbs. and comes in either black or white. It's made of medium-density fiberboard and is covered in vinyl.
The back panel has connections for XLR, balanced 1/4", and unbalanced RCA. There are HF and LF trim DIP switches in addition to the Boundary Compensation EQ DIP switches. Printed on the back panel is a quick reference guide for suggested EQ compensation settings, which is great to have when taking the monitors between different rooms. Rounding out the back panel is the IEC power connection and an on/off switch.
Boundary Compensation EQ
Listening environment and positioning play a significant role in how speakers sound. Limitations in positioning for home or project studios are often determined by proximity to walls, corners, ceilings, and other reflective surfaces that can cause comb filtering, phase cancellation, or unwanted frequency buildup. These effects can create mud or negatively impact the overall accuracy of the sound. In an attempt to compensate for any shortcomings in placement, there are a series of EQ compensation DIP switches built into the back panel.
In total, there are eight DIP switches. Switches 1-3 control the boundary compensation EQs, switches 4-5 control LF trim, and switches 6-7 control HF trim.  The LF and HF trim controls can boost or cut 2dB, though the documentation doesn't specify at what frequency. The final DIP switch toggles the RCA input on or off, which should remain in the lower position if you're connecting through either the XLR or 1/4" input. The boundary EQ settings don't provide any specifics as to which frequencies are being affected, but they all seem to be focused in the lower frequency range, and provide a tighter bottom end with improved clarity and separation.
In Use
I was immediately struck by the white cabinets that Kali Audio sent over. They certainly stand out in a control room surrounded by black monitors! Anything that attracts attention from clients is a big plus in my book. I was also impressed with the size and weight of the cabinets—they feel very sturdy and well-constructed, especially given the price range.
For my initial tests, I set them up in a professionally designed and treated control room; before taking them home to my untreated project studio, I wanted to hear them in an ideal listening environment. I started with some reference recordings I often use for mixing. The bottom end has nice extension, with an impressive amount of punch reaching down below 60Hz. I used the LP-6 system without a subwoofer for testing purposes, and they hold up on their own without one. The low end doesn't feel overly exaggerated or hyped while still providing energy and fullness.
While the LP-6 is designed to be both pleasing and accurate to avoid ear fatigue, I found the midrange to be a bit too forgiving. On monitors built for accuracy, I was hoping for a more revealing and detailed midrange. It was most apparent on guitar-driven rock tracks. I found that the attack and grit of the guitars got a bit lost, most notably in the 700-800Hz range, 400Hz-450Hz range, and in the 3kHz-4kHz range. That being said, the more time I spent with these monitors, the more familiar I became with them—I got used to how they translate. The ability to mix longer and avoid ear fatigue is very important.
From about 8kHz and beyond felt very smooth and open—similar to the bottom end, in the sense of not being overly hyped, just clear and detailed. Vocal sibilance is well rounded, and everything feels very airy without venturing into bright. I didn't feel the need to use the HF or LF DIP switches, although I did adjust some EQ compensation for placement on the meter bridge, which helped tighten things up. The EQ also came in handy when testing these monitors in my untreated home studio, as I have the desk situated right up against the wall due to the limitations of my space. After comparing with and without the EQ compensation, the low end felt much more focused with the compensation applied.
I am most impressed by the stereo imaging on these monitors. The 3-D Imaging Waveguide provides an excellent soundstage with fantastic center definition and an image that runs both deep and wide. The depth of the image feels very immersive, especially paired with an above average transient response.
Wrap-up
Overall, the voice of Kali Audio is a familiar one. I have a few years of experience working with JBL monitors, and the sound of Kali is similar, which makes sense, as that is where the team first met. While the midrange could benefit from a touch more detail, I enjoyed the accurate bass response and stereo imaging. There's a lot to like about these monitors, especially given the price. In this price range, there aren't very many professional monitors that can compete. The Kali Audio LP-6 provides incredible value and represents a respectable first step for mixing engineers making the leap into the world of pro audio.
Price: $149 (each)
More from: kaliaudio.com