If you thought version two was easy …
When it comes to sampled and virtual drums, Toontrack is always at the forefront. Drumkit From Hell was one of the very best sounding drum sample libraries to date when it was released more than 20 years ago.
Fast-forward to today, and the Toontrack vision to create a superb multi-format, multi-layered drum sample library has bloomed into a host of comprehensive software instruments aimed at helping songwriters produce music. Toontrack EZdrummer 3 capitalizes on the refinements made in EZdrummer 2 (reviewed June 2014) and adds a host of new features that allow the user to create polished drum performance with … well, ease!
The EZ World
If you've previously used any Toontrack EZ product, the interface will immediately be recognizable and familiar, except that the interface is now fully resizable and scalable. Under the hood, though, EZdrummer 3 provides a host of new features and improvements including newly recorded drum and percussion samples, an extensive and expanded MIDI library of grooves and fills, reimagined search tools in Tap2Find and Bandmate, mix-ready presets, and more!
The Drums
The 18 gig EZdrummer 3 library centers around seven complete kits, plus a handful of additional kicks, snares, and cymbals, handpicked to cover a broad spectrum of musical genres. It also boasts an all-new selection of fundamental percussion instruments. Michael Ilbert, the Grammy Award-winning producer and engineer, recorded all the kits and percussion. Michael and the Toontrack team utilized all three rooms at the Hansa Tonstudio in Berlin (the same studio used for The Rooms of Hansa SDX expansion for Toontrack Superior Drummer 3). As a result, the library and its variety of acoustical ambiances and mix presets make it as flexible and accommodating as possible in nearly any music style and mixing scenario.
Behind the preset kits Classic Pop, Hip-Hop/R&B, Tight & Punchy, Modern Rock, Vintage Rock, Studio and Singer-Songwriter, the recorded kits include a Yamaha Absolute Hybrid Maple, a C&C Player Date, a Gretsch USA Custom Round Badge, a Ludwig Hollywood B/O Maple, a Premier Resonator and more.
For the Main Room space, I was partial to the Songwriter Tight Reverb setting; it was clean with just enough space for a general pop track. For tracks needing a bigger, more ambient setting, the Bright Room/Classic Reverb setting was perfect. For the Tight Room, you can't go wrong with the Classic Pop with Parallel Compression featuring tight, towel-damped drums!
The Grooves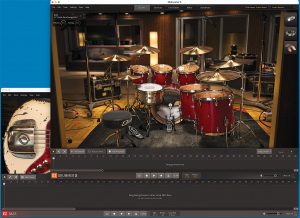 One significant change in EZdrummer 3 is the Grooves tab. This replaces the previous Browser tab of EZdrummer 2 and brings EZdrummer 3 into line with the groove handling of both EZbass and Superior Drummer 3. Users are presented with visual representations of groove patterns that can be sorted and refined to hone in on the perfect performance for a song. The EZdrummer 3 library comprises more than 2,500 individually played drum patterns and fills in a variety of time signatures and feels covering just about every genre. Need a shuffle groove in 7/8? Or a linear half-time metal groove? Feeling funky? EZdrummer 3 has you covered!
Tap, Tap, Tap
Toontrack makes creating, finding and expanding on the perfect groove easier with the redesigned Tap2Find function (first introduced in EZdrummer 2).
Equal parts old-school step-sequencer and intelligent groove librarian, this dead-simple grid-style sequencer is also incredibly flexible. You can easily extend the number of measures for any pattern and input notes directly into the grid with a mouse click. If you click on a drum kit piece in the interface (kick, snare, tom, hi-hat), EZdrummer 3 automatically adds a new track grid for that particular instrument. It's highly intuitive and once you've recorded what you have in mind, EZdrummer 3 will offer up a selection of appropriate drum groove choices to build your song. You can then filter the search results in various ways to find the perfect pattern or fill.
Bandmate
Tap2Find is a great way to find existing grooves; Bandmate, however, takes the process to an entirely new level. By simply dragging an audio file of a song or MIDI file into the Bandmate tab window, EZdrummer 3 analyzes the tempo with the playing style to provide a list of matching grooves in the search results. It works spectacularly well. I recorded a variety of keyboard riffs, imported them into Bandmate, and it yielded several superb complementing patterns every time.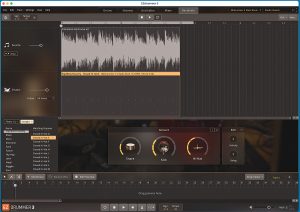 Moreover, a selected pattern can then be customized by using the Amount knobs to increase or decrease the number of notes played based on transients in the audio file. Want to add more ghost notes on the snare or make the kick pattern a little simpler? Simply dial in the desired amount. It's pretty remarkable. When you're happy with the results, drag the pattern into the timeline to flesh out the song structure.
Groove Parts
What if you've located the perfect kick and snare pattern from a particular groove but prefer the hi-hat pattern from another? EZdrummer 3 lets you combine individual instruments from various performances using the Groove Parts panel. When invoked, the Groove Parts panel allows you to audition the instruments playing in a groove and then replace or combine the parts by dragging the MIDI data onto the original groove or by using the Replace MIDI feature. This tool will save users a lot of laborious editing!
Edit Play Style
The Edit Play Style function has been updated and expanded to include AI-based algorithms that provide various performance playing styles specifically tailored to each instrument. Practically speaking, EZdrummer 3 makes changing the accents and articulations in a groove — normally a complex editing task — a one-click procedure!
Grid Editor
Like Superior Drummer 3 and EZbass, EZdrummer 3 now includes a Grid Editor that allows for the creation, editing and personal customization of drum grooves. A humanize function has been added, drawing on an extensive library of grooves, for introducing random micro-timing and velocity changes to all or a selection of notes.
Mixer
Finally, the mixer has been redesigned with some additional new features. Kit pieces can be auditioned directly within the mixer window. Multiple channels can be selected to make changes to them all at once. Right-clicking any button assigns the mix to a physical knob, or slider on a MIDI controller, or binds it to automation in your DAW. Very slick indeed.
Conclusion
This is a significant upgrade and certainly well worth the price for owners of EZdrummer 2. If you are looking for your first drum production software, look no further. The variety of kits, preset mixes, and editing features make this a powerful tool for any songwriter or arranger. You may have very well met your new drummer!
John Czerwinski (CZ to his friends) is a composer, arranger, and producer in Columbia, SC
Price: $179; $99 upgrade
More from: toontrack.com