A well-curated collection of drum mics with options for all
Review by David Blascoe
SE Electronics is well known for its wide range of microphones and accessories, from affordable entry-level fair to its unique Rupert Neve signature series mics. sE also invented the original RF-X Reflexion Filter back in 2006, which I regularly use for recording vocals. Now the company has come out swinging with three curated drum mic collections: the V Pack Venue (4 mics), V Pack Club (6 mics) and V Pack Arena (7 mics).
A case of mics
All three collections come housed in rugged Pelican-style road cases with ample padding—you won't have to worry about transporting these mics! The V Pack Arena case is an absolute tank.
V Pack Arena comes with everything you need to mic up a standard five-piece drum kit. You get a V Kick bass drum mic, a V7 X supercardioid snare mic, three V Beat tom mics (with proprietary V Clamps) and two sE8 small diaphragm condenser mics for overheads. Each mic is made of a durable die-cast zinc alloy, giving them a hefty, quality feel and an attractive matte-black appearance. All the dynamic mics in this pack feature an attractive red windscreen under a satin grey/silver metal grille.
Kicking it
The V Kick is one of the most versatile kick drum mics I have personally come across. It features two switches on the rear side (with 'Classic' and 'Modern' settings), offering a total of four different voicing options. The left switch shapes the overall voicing and frequency response of the mic; Classic is flatter and less hyped, providing plenty of even definition and low-end oomph, while Modern scoops out the mid frequencies, emphasizing the low and high end for a more aggressive and punchy sound. The right switch focuses solely on the high-frequency response. Here, Classic boosts the high-mid frequencies to provide added snap and bite, while Modern flattens these out for a richer and smoother-sounding high end. My favorite V Kick setting has both switches set to Modern, resulting in a hefty, punchy mix-ready kick tone. The V Kick is smaller than many popular kick drum mics, making it easy to get into position.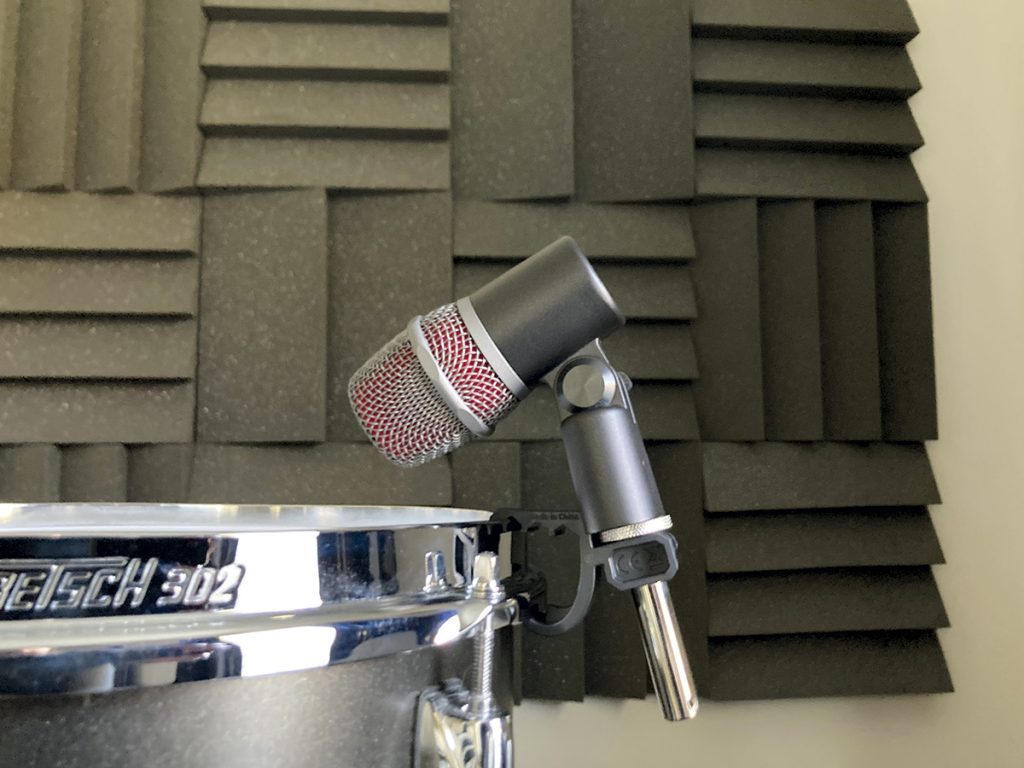 Beat it
The dynamic V Beat mics and the V7 X share the same custom DMC7 X capsule, albeit in a different form factor. I did a shootout with the two mics on the snare drum and toms, and the sound is quite similar. The V Beat did have a bit of a low-end knock to the transient, especially when doing rim clicks on the snare drum, but I suspect that this is due to the V Clamp putting it into direct contact with the rim of the drum.
Despite any sound transfer, the V Clamps are very useful, offering a wide range of motion and positioning. However, the first time I tried clipping them to the drums proved to be a bit difficult, as the plastic on the clip hadn't been stretched out yet. Also, my Gretsch drums use 302 Hoops which are taller than standard drum hoops. Once I finally got them on though, all was well. sE suggests placing the V Clamp on the top of the rim first, as clamping from bottom up does have a bit of resistance.
The V Beat mics and the V7 X have a rich sound with a nice warm low end, smooth, natural-sounding mids and an accurate non-hyped high end. Compared to my old trusty Shure SM57, the sE mics had noticeably more output and a much richer low-end frequency response. The SM57, by contrast, had its famous high-mid boost. I preferred the V7 X for lower tuned snare drums and favored the SM57 ever so slightly for higher-pitched and ringy snares.
The V Beats shined nicely on the toms. I immediately noticed how much less EQing I was doing than usual. Similar to the V Kick, these mics just sounded very well-tailored and mix-ready.
Shhh…
In addition to the above dynamic offerings, the Club and Arena packs include a matched pair of sE8 pencil condenser mics featuring a thin (3 micron) handcrafted gold-sputtered diaphragm designed for a detailed transient response. sE Electronics claims that the sE8 is one of the quietest small-diaphragm mics on the planet. I can't empirically confirm or deny this, but these things are remarkably quiet, with a ton of headroom. They display a full, natural midrange and a silky smooth high end. I was immediately impressed with the lack of any mid or high-frequency harshness to the cymbals. Even when boosting the highs with EQ later in the mix, they maintained a natural and smooth sound. The sE8 offers -10dB and -20dB pad options, useful when close-miking cymbals or hi-hat; it makes for a great, smooth, non-harsh hi-hat mic. The sE8 also includes two low cut filters (80/160 Hz) for reducing low-end rumble and proximity effect when close miking.
The sE8 sounds fantastic, and in addition to drum tracking, it works  well on acoustic instruments, percussion and more. sE also offers an omnidirectional version for further options and sounds.
On the road
In addition to studio tracking, I also had the opportunity to bring the V Pack Arena set out on the road. All my previous thoughts and opinions held true on stage. My in-ear drum mix was fantastic, perhaps even a little better than usual. The V Kick in particular got positive comments from the FOH engineer and everything sounded great.
The singer I was backing forgot his vocal mic on this particular run. Since I play a four-piece kit, I used the third V Beat on my snare and had him try the V7 X on his voice since it's not too far removed from the standard sE V7 spec. We both thought it sounded great; it did the job more than admirably as a vocal mic. [funny, since we are reviewing the V7 next month in our vocal issue, and I've been using one on snare…  -Ed.]
Decisions, decisions
The V Pack Arena ensemble is priced at $1,179. The V Pack Club, which comes in the same road case but with one less V Beat mic and a pair of sE7 condensers instead of the sE8, is priced at $939. The V Pack Venue, which doesn't include any condenser mics, is priced at $699. If you already own one or more of these mics à la carte, sE sells the case separately, so you can build a pack as well.
Pack it in
Speaking as a professional drummer and an audio engineer, I think sE Electronics has scored a home run with these mics. I have zero complaints about their build quality, appearance or sound. Each mic excels. With options for everyone, they would make an excellent addition to any microphone collection.
Price: $1,179 V Pack Arena; $939 V Pack Club; $699 V Pack Venue
More from: seelectronics.com