Engineer Gary Lux Chooses Vanguard Audio Labs V4 for Sparkling Horns
North Hollywood – Veteran LA recording guru Gary Lux (Janet Jackson, Manhattan Transfer, Ben Harper, Usher, Sting, and more) has been recording the music for the Golden Globe Awards broadcast for 27 years. All the music heard during the Golden Globe's broadcast is prerecorded, there is no live orchestra at the show. This year the music, composed by Music Director Geoff Stradling (The Romanoffs, Mad Men, The Dark Knight Rises…), was recorded in North Hollywood at Sphere Studios. The setting could not have been better: a great sounding big room, first-call LA studio musicians, vintage Neve 8078 console…and Vanguard Audio Labs' V4 FET condenser LDCs.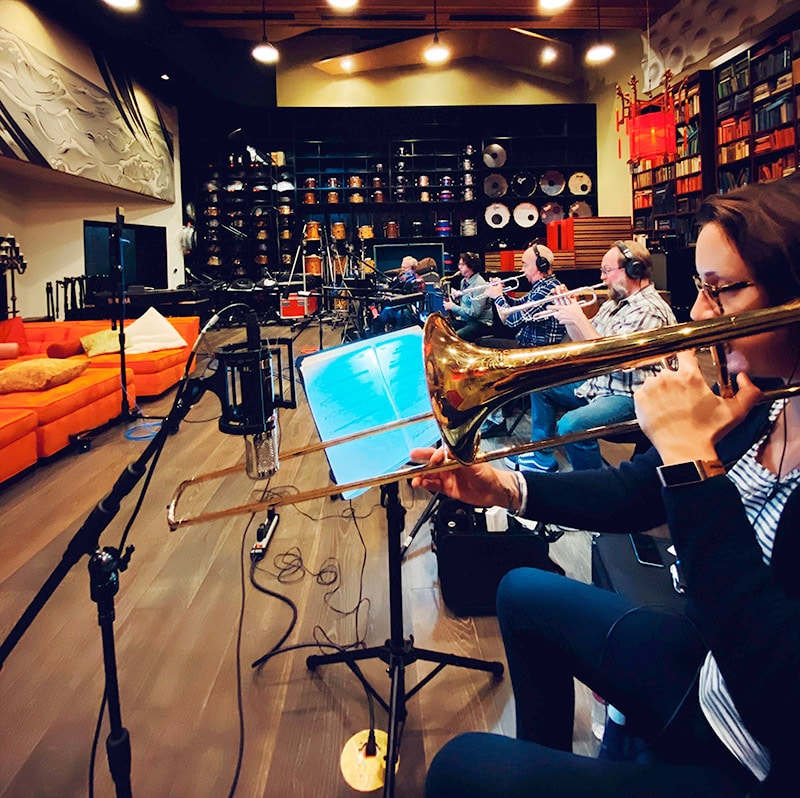 "In show music the trumpets are generally the lead instruments, so they need to have a certain sparkle", explains Lux, "these players are blowing their brains out and the mics need to handle all that SPL without folding…and not hurt me". Gary continues, "I used the V4s on saxes as well, in fact all the brass and woodwinds were on V4s. I think they sound terrific. They're open and have great presence".
The Vanguard V4 is a large-diaphragm multi-pattern FET condenser microphone. It was designed with certain characteristics of classic FET microphones in mind, while also utilizing modern technology and design to meet the demands of the modern recording environment. The ultra-thin 3µm edge-terminated capsule diaphragms are extraordinarily sensitive, and custom-voiced with a proprietary hand-tuning process. The capsule is mounted in an open weave headbasket producing minimal internal reflections.
For the last few years Lux has favored a well- known vintage German FET mic for the application, and, in fact, some A/B'ing of that venerable old mic and the V4s occurred during the session on December 30th.  "But after the first take, I knew these were the deal".
Geoff Stradling concurred, "They sound great!".
To hear the Vanguard Audio Labs V4 large diaphragm FET condensers in action, on the Golden Globes recording from Sphere Studios, check out this link: Go Globes!
To learn more about the Golden Globes: https://www.goldenglobes.com/hfpa
To learn more about Sphere Studios: http://www.spherestudios.com/
To learn more about Gary Lux: http://www.garyluxmusic.com/