Learn the art of recording at the Midwest's premier recording and audio production complex
Fort Wayne, IN, July 27, 2022 – Sweetwater Studios has announced the next installment in their ongoing series of creative recording workshops that bring aspiring engineers and producers into their world-class studio facilities to learn the art of record making alongside veteran musicians. This event will be curated by Sweetwater Studios Producer/Engineer Shawn Dealey and guitar virtuoso Andy Timmons, and will take place September 16-17 from 10am to 6mp in Sweetwater Studios' flagship Studio A. The workshop will cost $595 per attendee, and reservations are available now. For more information and to sign up, please click here.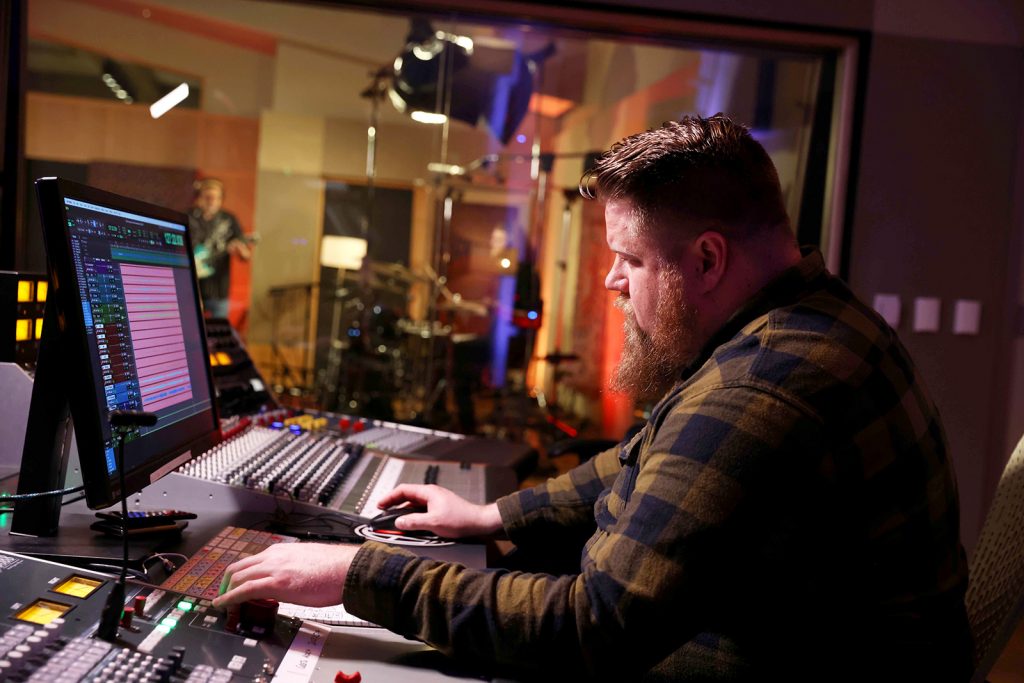 Live and Loud in Studio A
The focus of the workshop will be tracking and mixing from a live session, focusing on a pair of new songs that Timmons will be recording for the first time in Sweetwater Studios. Attendees will have the opportunity to observe and participate from start to finish under real-world conditions and learn the hybrid analog-digital workflow centered around Studio A's recently upgraded Rupert Neve Designs 5088 console. "We've optimized Studio A for tracking full ensembles of live musicians in a 'classic' style – ensuring that we are capturing the grit and energy of the performances with the control, sound quality, and flexibility of the hybrid workflow," explained Dealey. "Our aim for this workshop is to encourage 'in-the-moment' studio experiences for our attendees that they can learn from and bring to their next session."
"We're also thrilled to work with Andy Timmons on this workshop," he continued. "Andy is one of the most talented guitar players in the industry today, and the breadth of musical skill that he brings to any playing situation is simply awe-inspiring."
Meet the instructor
Producer/Engineer Shawn Dealey has decades of experience as both a recording engineer and live sound engineer for big-name artists like Counting Crows, Goo Goo Dolls, Avril Lavigne, Santana, All-American Rejects, Billy Talent, and more. Skilled at getting the best performances out of an artist on both the live stage and in the studio, he brings a warm, organic touch to all of his sessions and Recording Workshops.
Meet the artist
Initially starting his career in his hometown of Evansville, Indiana, Andy Timmons has risen to be one of the most in-demand session guitarists in the industry, working alongside Paula Abdul, Olivia Newton-John, Paul Stanley, Kip Winger, and more. In addition to this, he has also been a regular guest on the G3 tour with Steve Vai, Joe Satriani, Eric Johnson, and others where he has demonstrated ever-expanding mastery on the guitar centered around melodic and genre fluidity. As a solo artist, he has released seven albums across a variety of musical styles, from rock and pop music to blues and progressive guitar instrumentals. 
Workshop Registration is $595 per person and includes:
Two full days of learning at Sweetwater Studios from 10am to 6pm

A full, hands-on experience from start to finish, including set up, tracking, overdubbing, and mixing.

Lunch with Andy and Shawn
To register for Sweetwater Studios' Recording Workshop with Andy Timmons please visit:
sweetwaterstudios.com/workshops/andy-timmons-recording-workshop/
For more information on Sweetwater Studios and upcoming Recording Workshops, please visit:
www.sweetwaterstudios.com/
About Sweetwater Studios
Sweetwater Studios is a wholly owned subsidiary of Sweetwater Sound, Inc., the largest online music instrument retailer in the country. With three world-class studios designed by Russ Berger and access to a greater diversity of musical equipment and professional audio gear than any other recording studio in the world, Sweetwater Studios is able to accommodate just about any recording, mixing or mastering project, no matter how simple or complex. Sweetwater Studios also has an exceptional staff of producers, engineers, session musicians and studio technicians to ensure that any artist will get personalized, first-class treatment from start to finish.