A TOOLKIT OF AMBIENT, TRANSPORTIVE TEXTURES
Breathe new life into your compositions with this versatile toolkit of unique timbres, created by contemporary composer, Oliver Patrice Weder. For his second sample library, the expert sound curator has recorded a wide variety of instruments and techniques in the remarkable setting of a reverberant pool house — surrounded and inspired by nature. Ranging from intimate chanting solo and trio vocals, breathy woodwind swells and circular breathing techniques, to personalised piano sounds, delicate percussion and shimmering organic and electronic loops, carefully sculpted to blend together perfectly, and presented in Spitfire Audio's award-winning dedicated plug-in with a range of bespoke controls, effects and reverbs. Adding a much sought-after human quality and fragility to your music, these transcendental textures are suited to intimate film scores and contemporary classical or ambient tracks alike.
Accompanying the library is the release of Weder's stunning sophomore album, born out of a similar sound palette and touching on global influences from jazz and ambient, to modern classical film composition.
THE STORY
"As I stepped into the pool house, I immediately loved the acoustics and knew that I had to record in there. The natural reverb is the perfect length and size, and placing a microphone right in the middle above the water creates a spring reverb quality, allowing me to capture and reflect the peacefulness and sensitivity I was surrounded by. The voices were my first choice, as to me, they are the closest sound to nature."
— Oliver Patrice Weder
While Weder's first sample library and record, OPW, was inspired by constant movement and travelling, The Pool Project is a tribute to peace and stillness.  At the core of the library are male vocal swells, longs and vowel sounds performed by Madrid's Club del Rio, which blend beautifully with woodwind duo Zopli2's breathy alto flute and bass clarinet swells and visceral playing techniques, including circular breathing. This is accompanied by Weder's very own personalised double felted and tape piano sounds, synthesiser loops from his Juno 6 fed through various pedal effects and electronic manipulations, and a unique selection of toys and percussion hits and loops, providing gentle rhythm and momentum, including the steel tongue drum, toy piano, recorder, and kaval (a Bulgarian flute). The specially curated controls, effects and IR reverbs invite you to tailor the sounds to your specific production needs within the plug-in, with the Distort setting taking the organic recordings to a completely new place.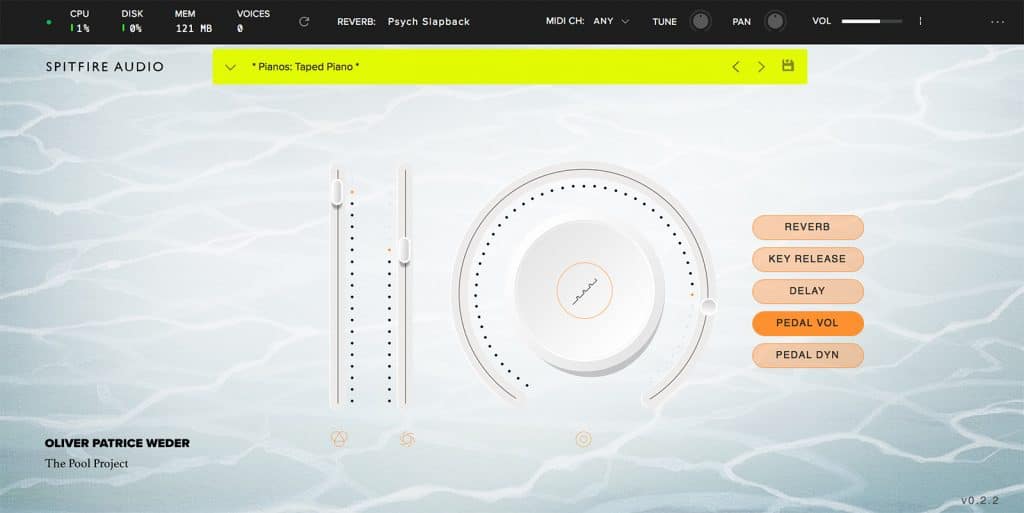 FEATURES
— Available in Spitfire's award-winning, dedicated plug-in
— 40 exclusive presets: Vocal Trio (6), Gentle Breeze (6), Solo Voice (7), Pianos (Double Felt & Taped), 'Toys' (5), Percussion (4), and Synth Loops (10)
— Two stunning piano sounds created from a mellow 60s Petrof, treated with felt and tape
— A range of specially curated in-built effects and controls, providing a wealth of complex sonic possibilities to drastically control and manipulate each of the presets — Dynamics, Expression, Attack, Release, Reverb, Stretch (controlling the speed of the sample playback), Distort (taking the organic samples to a completely new place), Variation (to switch between different variations of the sound), Tremolo, as well as Key Release and Pedal controls on piano presets
— 13 specially curated IR reverbs
— The dynamics fader moves the signal from Close to Room for organic patches, and controls the arpeggiator speed in the synth patches
— Each sound is velocity sensitive for varying tones
SPITFIRE AUDIO X SA RECORDINGS
The Pool Project is made up of two complementary elements — the sample library, and Weder's sophomore album, out now on SA Recordings — the London label dedicated to supporting and releasing music created by contemporary composers and sound artists. With a range of controls and effects, the sample library concept is an invitation for musicians and producers to reimagine, recreate or completely pull apart the sound palette of an artist to facilitate their own vision. The album is available on the SA Recordings website, and is also available as a digital bundle (sample library + digital album download) or a physical bundle (sample library + digital album download + limited edition 12-inch gatefold vinyl.)
OLIVER PATRICE WEDER
"This record and sample library both have a very clear sound palette — I was working towards a timbre, rather than songs. I was primarily in search of "the sound" that would reflect my feelings, surroundings and imagination."
Contemporary composer, producer and artist Oliver Patrice Weder discovered his love of keyboards after hearing the sound of Ray Manzarek (The Doors), and spent his formative years playing classical and jazz piano in the rainy foothills of the Alps. After recording and touring across Europe with various bands, including psychedelic rock band Time for T, he studied at Valencia's Berklee College of Music, where he established his passion for film music. As well as composing for the BBC, Oliver is the lead composer at pioneering British music technology company, Spitfire Audio. 
His unique musicality has been heavily inspired and shaped by exploring different places and cultures, including Brazil, Africa and the USA, as well as his experiences making a home in various European countries. In 2018, Oliver relocated his studio to the canals of Amsterdam, and is now based just outside of Madrid, where he created The Pool Project. This sophomore album and sample library follows Oliver's deeply personal debut album, 'OPW', released by SA Recordings in October 2019 and described by A Closer Listen as "a brisk and hopeful set that bounces from one idea to the next with a finesse unusual in debut releases". 
ALBUM CREDITS:
Voices: Club del Rio – Esteban Bergia Peralta, Alvaro Ayuso Beltrán and Juan Espiga
Alto Flute: Clara Gallardo 
Bass Clarinet: Joaquín Sánchez Gil 
Guitar: David del Cerro Turner 
Percussion: Juan Espiga 
Piano, Wurlitzer and Electronics: Oliver Patrice Weder
Engineer: Oliver Patrice Weder & Juan Espiga