Downloading, updating and managing IK software and plug-ins has never been easier
August 13, 2020 – IK Multimedia has released IK Product Manager, a free, custom-designed software utility that greatly enhances the user experience in managing their IK products on Mac/PC. It enables users to authorize, download, install, register and update the current versions of all their IK products from one central location, and includes convenient features for managing larger downloads and installations more easily.
IK's software team reviewed popular user requests, and then developed an optimized solution offering multiple benefits for a range of user activities. The resulting IK Product Manager gives users greater control over their products via an easy-to-use, tab-based hub.
Easily register products
IK Product Manager provides a central destination for registering any current IK hardware or software product. For added convenience, users who register a new hardware product that includes bonus software content will see a pop up notification informing them that software has been added to their account, with the software immediately visible in the Product Manager for download and installation.
Convenient software management
The Software tab lets users easily see what's installed on their machine and check for available updates. Bonus downloads, such as artist presets, will appear if available. Users can also download, install and authorize plug-ins within seconds. For new software version updates, the "update" button lets users know when a new version is available, and the "release notes" tab lets them instantly see what the new update includes.
Remove unneeded authorizations
IK Product Manager can be used to de-authorize a machine, freeing up more authorizations automatically. With 10 authorizations provided per product, users can easily move between machines, adding and deleting authorizations as needed.
Streamlined sounds installation
The Sounds tab offers an easy way to view all available sound content to confirm what's installed on a machine. In addition, each sound library is now wrapped into one single installer so downloading an entire collection is hugely simplified.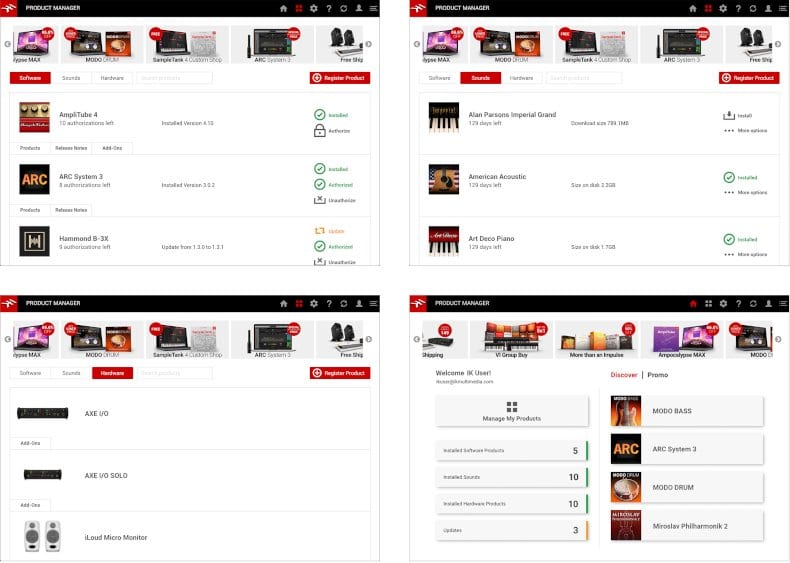 Download time-savers
Setting up a new machine or installing a large collection can require a lot of downloads. The IK Product Manager lets users set a download queue and let it run unsupervised. It can be paused as needed, and even if a connection gets interrupted, it can be resumed right where it left off.
Keep hardware in optimum condition
The Hardware tab shows users all their IK hardware products, and enables them to download related drivers, control panels and other accessory software. Firmware updates and other accessory software updates will appear in this tab as well.
Stay in the loop
The Notification Center makes it easy to monitor larger installations. Notifications will indicate when downloads are completed and software is installed and authorized.
Even more choices
In the Preferences tab, users can specify download locations and whether to automatically authorize software after installation.
Supported Products
The IK Product Manager is designed to support all current product versions. All legacy products will continue to be handled by the previous Authorization Manager.

For a more seamless experience, users can now also contact product support and access an enhanced FAQ section directly through the IK Product Manager.
Availability
The new IK Product Manager is now available for Mac/PC and can be downloaded at
www.ikmultimedia.com/productmanager

To see some of the IK Product Manager features in action, visit: