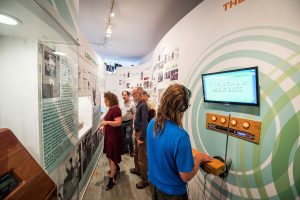 Asheville, NC-June 2019…The Bob Moog Foundation (www.moogfoundation.org) preserves and promotes the legacy of Dr. Robert A. Moog, who invented analog music synthesizers that transformed contemporary music. The nonprofit organization teaches children about STEM (science, technology, engineering, and math) by bringing interactive, hands-on music synthesis into schools through its Dr. Bob's SoundSchool program. Its new Moogseum interactive, hands-on museum opened on May 23 in its home town of Asheville, North Carolina, presenting exhibits exploring Dr. Moog's life and work, the history of synthesis, the science of audio waveforms, and more.
In support of the Moog Foundation's mission and to celebrate the Moogseum's opening, Mackie is pleased to donate to the Foundation a pair of its new 1600W DRM215 15-inch professional loudspeakers and a 2000W DRM18S 18-inch subwoofer, as well as 150 pairs of MC-250 high-performance studio headphones.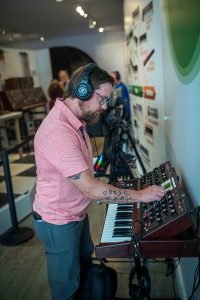 DRM Series loudspeakers combine extensive tuning, premium components, and cutting-edge DSP that takes advantage of powerful FIR filters, transducer time alignment, and precision crossovers to deliver unmatched clarity and responsive low end. Suitable for a wide variety of applications, Mackie DRM Series loudspeakers can be stacked, pole mounted, or flown in line arrays. The company's MC-250 headphones feature reference-quality 50 mm drivers and reveal every detail of a mix, delivering the clarity and accuracy needed for critical listening and mixing, along with exceptional low-frequency response.
"The Bob Moog Foundation deeply appreciates Mackie's generous support," proclaims Michelle Moog-Koussa, founder of the Bob Moog Foundation and daughter of Dr. Moog. "My father dedicated much of his life to developing inventions that enabled the creation of amazing, creative sounds. Mackie's superb loudspeakers and headphones will enable Moogseum visitors and students who experience Dr. Bob's SoundSchool to hear the sounds of Moog instruments in their full glory."
"Bob Moog was an inspiration to us, as he was to so many musicians, sound designers, and inventors," declares Mackie marketing director Shaunna Krebs. "The Bob Moog Foundation carries on his work by helping educate and inspire today's and tomorrow's musicians to create their own legacies. We are proud to contribute to that noble effort."
About Mackie
Mackie, a LOUD Audio LLC brand, is known worldwide as a leading developer and marketer of high-quality, affordable professional audio systems. Mackie products can be found in professional and project recording studios, video and broadcast suites, post production facilities, sound reinforcement applications including churches and nightclubs, retail locations and on major musical tours. For more information visit: www.mackie.com.
Mackie is a registered trademark of LOUD Audio LLC in the United States, European Union and other countries. All other trademarks are the property of their respective owners.
About LOUD Audio, LLC
As the corporate parent for world-recognized brands Blackheart®, Crate®, Mackie®, and Tapco®, LOUD engineers, markets and distributes a wide range of professional audio and musical instrument products worldwide. Our product lines include sound reinforcement systems, analog and digital mixers, guitar and bass amplifiers, and acoustic and electric guitars. These products can be found in professional and project recording studios, video and broadcast suites, post-production facilities, sound reinforcement applications including houses of worship, stadiums, nightclubs, retail locations, and on major musical concert tours. The Company distributes its products primarily through retail dealers, mail order outlets and installed sound contractors. The Company has its primary operations in the United States with operations in the United Kingdom, Canada and China. For more information, please see our website: www.loudaudio.com.