Unique LS-308 is a noise rejecting, high-dynamic range mic-a 'problem solver' for 
challenging recording situations when isolation is essential
San Jose, CA – March 18, 2019 – Lauten Audio today announced the unique LS-308 large diaphragm condenser instrument microphone from its "Synergy Series" is now shipping. The new LS-308 mic features extreme levels of noise rejection and is specifically designed as a 'problem solver' tool for challenging recording situations when isolation is needed but difficult to achieve. The announcement comes only months after shipping the Synergy Series LS-208 ($599.00 USD) front-address condenser microphone to dealers worldwide. The new LS-308 microphone has an estimated street price of $499.00 USD.
Unique to the LS-308, and any large diaphragm condenser microphone in history, is its 270 degrees of side and rear off-axis rejection, reducing ambient sound from nearby sources by up to 25dB. This rejection is achieved because of Lauten Audio's unique dual, large-diaphragm pressure gradient transducer element design, in combination with its specially designed circuit. This makes the LS-308 a very specific tool for recording engineers, perfect for rejection of other instruments, crowds, etc., in a live studio or on-stage recording and sound reinforcement applications, or even multi-person close-proximity vocal dialogue in noisy broadcast environments.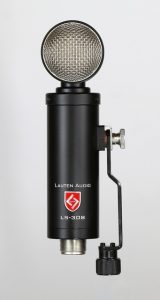 "The LS-308 large diaphragm condenser microphone is a highly unique tool for engineers and that's not just fluff…Everyone I've been in the studio with who has used it is astonished at the rejection and highly focused polar pattern. Imagine capturing the unique tones from each 1/4-inch movement of the mic on the speaker of a guitar amp. This is a microphone that any engineer will find some new and exciting way to capture a sound source-I can guarantee you they haven't had a mic like this before. I believe every studio or live touring act that's capturing guitar amps or drums is going to need at least two of these. Just check out the video we released, we're not faking anything," says Lauten Audio founder Brian Loudenslager, see the LS-308 microphone video here: http://bit.ly/Synergy47
The LS-308 can handle sound pressure levels of 135dB without the need for internal or external pre-attenuation. This unique design also allows for an ultra-wide dynamic range. Highly unique for a microphone of this type is its capability to capture the full human audio perception of 120db of dynamic range. Many microphones are limited to 85dB of dynamic range after compensating for self-noise. The high-dynamic range gives engineers the ability to capture brilliant recordings of highly dynamic instruments in many environments and is especially useful for capturing horns, percussion, and guitar amps.
The new mic features Independent, multi-stage, high and low-cut filters to help engineers balance recordings at the microphone and aid in successfully capturing a performance and reducing the need for mixing. The 2-stage low-cut (50 and 120Hz) filters reduce low-end rumble and proximity effect in voice applications. The 2-stage high-cut (8kHz & 10kHz) filters help tame bright instruments and high frequencies. Because of the challenge of rejecting high frequencies, the 8kHz high-cut also helps achieve the greatest amount of rejection.
The LS-308 requires 48V phantom power and features a JFET transistor circuit with a transformer-based balanced output and a second-order cardioid pattern. The new mic is constructed from high-quality components found in high-end studio condenser microphones, yet it is built and packaged to withstand the rigors of broadcast and touring. It features internally shock mounted condenser elements to help reduce mechanical shock and vibrations.
The new microphone comes very nicely equipped with accessories. It includes a detachable side mounted arm with 135 degrees of movement, a threaded hard mount with an adjustable elbow, and an extra-large windscreen that covers the mic's entire head, all which fit into the included hard case with the LS-308 microphone.
The LS-308 'problem solver' microphone excels in difficult recording environments:
When off-axis rejection is extremely important
With highly dynamic instruments in noisy environments
Close micing drums and guitars both in the studio and live on-stage
Close-quarters in broadcast booths when off-axis rejection is essential
Podcast and Voice-overs when off-axis rejection is needed
Key features of the new LS-308:
270 degrees of off-axis sound rejection
Full 120dB (135dB total) of dynamic range without the need for additional attenuation
Second-order cardioid pattern
Independent 2-stage low and high-cut frequency switches
Internally shock mounted pressure gradient condenser elements
Swing-arm mount with 135 degrees of movement (removable)
For more information on the new Lauten Audio LS-308 and the rest of the "Synergy Series" microphones visit: http://www.lautenaudio.com
About Lauten Audio
Lauten Audio microphones continue to carve out a unique niche for recordists seeking microphones with an original sound. Their product line includes their flagship "Eden" LT-386, the award-winning "Oceanus" LT-381 transformer-less hybrid tube-fet condenser, and the FC-387 "Atlantis" solid-state Multi-voicing(r) condenser from their Signature Series, and their entry-level "Series Black" large and small diaphragm microphones, The LA-320 tube microphone, LA-220 FET, and LA-120 pencil condensers. Lauten Audio microphones have received rave reviews from both experienced recording engineers and leading Pro Audio magazines around the world. Lauten Audio is located in Silicon Valley, California, for more information visit http://www.lautenaudio.com or call 1-877-721-7018.
About Focal Naim America
Focal Naim America (formerly Audio Plus Services) is a leading North American importer and distributor of premium consumer and professional electronics brands including Focal Professional, SPL of Germany, Lauten Audio, IsoAcoustics, Zaor Studio Furniture, Vicoustic, and EarSonics. Based in Montreal with U.S. shipping facilities in Champlain, NY, the company has sales personnel located throughout the United States and Canada to professionally service their active roster of more than 350 specialty A/V and Pro Audio dealers. The company specializes in products and services for the professional audio and performing musician markets, as well as the home theater and custom integration (CI) market – both residential and commercial – for North America.
For more information about Focal Naim America visit their website at http://www.audioplusservices.com or call (800) 663-9352.
All trademarks are the property of their respective holders. Description and specifications are subject to change without notice.