Blind producer/musician/educator on capturing the 'beautiful truths' of artists in the studio and the subtle nuances of miking technique
Macon, GA, May 20, 2022 — For more than thirty years, musician, audio engineer, and music technology educator Joey Stuckey has forged a unique path in the industry built upon his singular relationship with what he describes as 'the audio universe." Blind from a young age, his keenly developed hearing and intuitive musical skills have seen him record and perform alongside such luminaries as Mike Mills (REM), Chris Hicks (The Marshall Tucker Band), Randall Bramblett. Trisha Yearwood, The B-52s, and James Brown, while a strong sense of hometown pride has resulted in him being appointed the official musical ambassador of his hometown of Macon, Georgia. Stuckey's journey as a passionate audio explorer has seen him seek out the best possible tools to serve as an extension of his expertise. A longtime friend of Mojave Audio, he has recently made the Mojave MA-37 large-diaphragm tube condenser microphone a key part of his studio workflow.
Unlocking the natural sounds with artists in the studio
Stuckey's reliance on his sense of hearing in his day-to-day life has given him the uncanny ability to hone in on what he calls 'the beautiful truths' of the artists and performers that he works with. Unburdened by superfluous information, he focuses on dialing into the depth and detail of a performer's musical character based on sonic information alone. "Working solely off the sound of an artist is a strength when it comes to record-making because there's no preconceived notions about them based on how they might look or what type of person they appear to be," he explained. "I get to know these artists from a sonic perspective — which can be a very spiritual experience — and once I'm studied in their natural sound it helps me to build the proper tapestry around them that brings forth the music that they want to create."
Stuckey feels that this approach not only allows artists to feel more comfortable in his studio, but also to embrace their own artistic identities regardless of who they are, or where they come from. "Doing this empowers this renaissance of expression because when you are unburdened by that, you'll make work that people can feel the truth in and connect with," he said. "We live very screen-driven lives and it can distract producers and engineers from what's truly important — really listening to the music that's being made and being informed in our process by what we're hearing."
"I strive to hone into that vibe and capture it with the most depth and detail that I can as an engineer and producer," he continued. "Microphone selection and placement plays a major role in that for me."

Quality tools with golden 'ears'
Stuckey's quest for microphones with the same level of depth and detail as his own hearing has led him to adopt several Mojave Audio microphones within his workflow at his Macon recording studio, Shadow Sound. Far from seeking out specialized tools for specialized tasks, he focuses on versatile equipment that will bring that elusive quality to any recorded source. "When you're selecting something that's going to stand in for the human ear, you want something with musicality across the entire frequency spectrum," he said. "Mojave is as dedicated to the craft of audio as I am, and they are certainly the best 'ear replacements' that I've have ever heard!"
"All good recordings have character, and Mojave microphones bring that character forward in the most flattering way no matter what you are recording. Everything you record with them sounds golden!"
Stuckey's most recent acquisition is the MA-37 which he has been using on vocals, acoustic guitar, brass, and woodwind instruments primarily on upcoming folk, Americana, and jazz projects. True to his source-focused approach, he uses it directly with his interface without any preamps or processing. "The MA-37 immediately had the character I wanted on these saxophone recordings I've been doing — adding some late 50s bebop flair where I was getting the beautiful fundamental without losing the partial frequencies or harmonics," he explained. "I was able to get all of this on the first try, and no matter where the mic is placed, I'm able to capture so much nuance of expression in these performances."
"It's a thrill to be able to use something that has the same attention to components and craft that the classic microphones of the forties and fifties had, but made now to the highest standards," he continued. "It's become a total favorite for me and I'm using it on everything."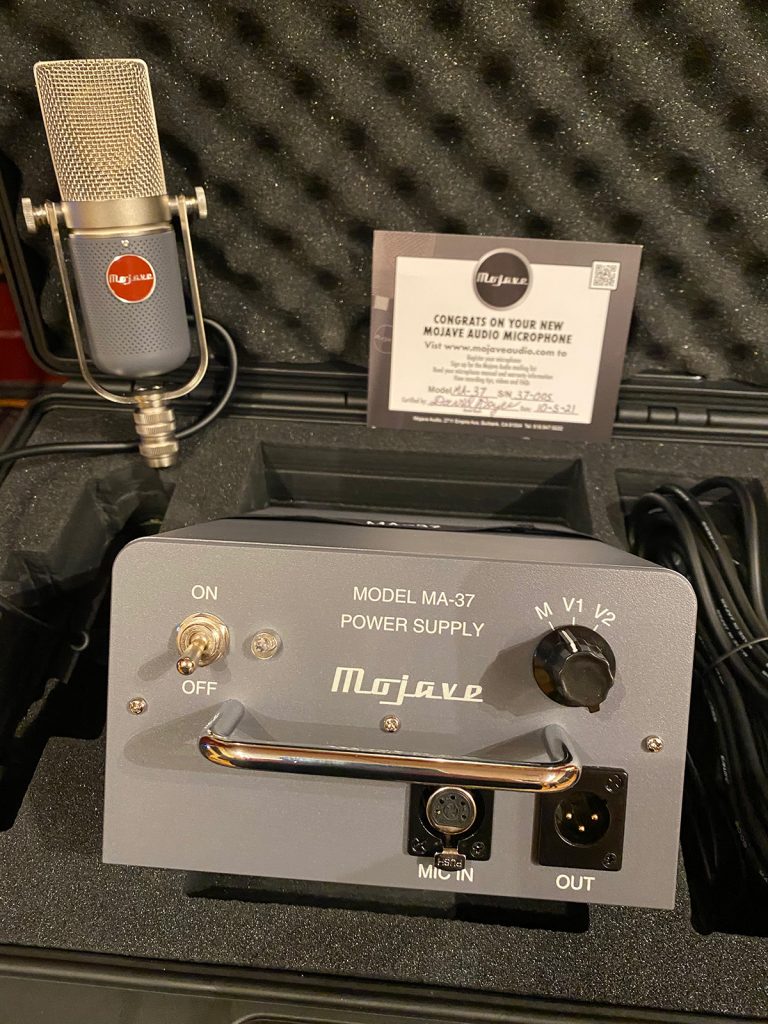 For more information about Joey Stuckey, please visit http://www.joeystuckey.com/
For more information about Mojave Audio, please visit http://www.mojaveaudio.com/
About Mojave Audio
Mojave Audio was founded by Technical Grammy Award winning David Royer, widely known for his ribbon microphone designs with Royer Labs. Mojave Audio makes world-class microphones for Artists and Engineers who are passionate about their sound.