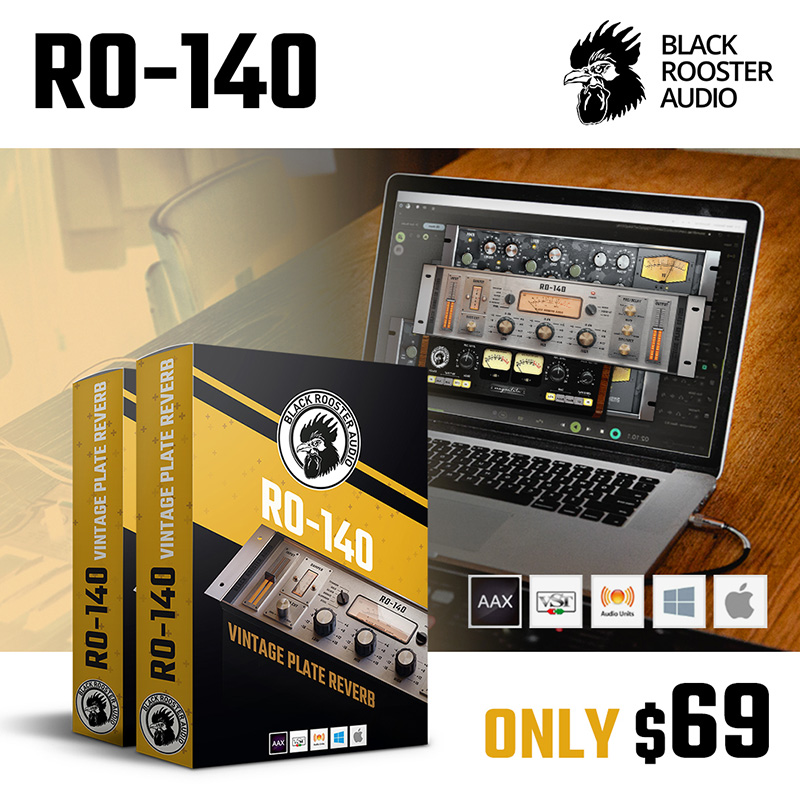 Black Rooster Audio's long-awaited first reverb release packs a punch!

 

The RO-140 offers a virtually infinite amount of customization options, while delivering in the company's signature vintage style.
WUPPERTAL, GERMANY, JANUARY 27, 2021 – Black Rooster Audio (BRA) – the German pro audio plug-in company, best known for their vintage gear emulation plug-ins – is proud to present their long-awaited plate reverb plug-in.
The RO-140 was faithfully modelled after its legendary hardware counterparts, while still remaining a Black Rooster Audio original plug-in at its core. Its plate simulation approach allows users to authentically capture an analogue unit's sound and feel as closely as possible while still including some unexpected twists – just as you'd expect from any kick-ass Black Rooster Audio plug-in.
Achieving the perfect amount and type of reverb for your tracks can make – or break – your mix. Producers now have the ability to mimic any space in their mixes by using this effect, tricking the ear and simulating everything from grandiose width to cosy intimacy. Today's music production uses reverb processors extensively and with ease, but it hasn't always been this way.
Engineers have experimented with foil and metal plates to reproduce costly reverb rooms since the 50s, and while the result sounded good, this technique proved to be time-consuming, expensive and unpredictable. Nevertheless, plate reverberation was extensively used across many 50s and 60s hit songs.
A plate reverb's original purpose was to emulate reverberant rooms, but the hardware versions that followed have become legends themselves.
The difference between a classic vintage piece of hardware such as the EMT 140 and most modern, purely impulse response based plug-ins is very apparent to any good ear. This is why Black Rooster Audio has physically modelled not one, but six plate reverbs to create the RO-140 – offering maximum authenticity as well as a few unexpected twists.
This versatile plate reverb plug-in allows you to take your productions to the next level by uncovering a new level of detailed audio customization. Not only does it capture the sound of sought-after hardware classics, but it also allows you to create your own sound, with a virtually infinite amount of combinations between plate materials and plate sizes, dampening and pre-delay controls.
Key features of the RO-140:
Inspired by the EMT 140 and other classic hardware plate reverbs.

It features six physically accurate plate materials: gold, silver, steel, aluminum, bronze and titanium. While aluminum and steel are standard materials, the other four are notoriously rare due to their costly nature.

Three plate modes: Mono, Stereo (with identical plates) and Mono2Stereo (with 2 different realtime auto-balanced plates).

The plate size control allows you to adjust the size of your chosen plate.

Split-mode pre-delay, for fine adjustments from 0 to 1ms.

Mix parameter, for direct signal insertion as an alternative for send/aux busses.

Contains a classic 10-step dampening control

for maximum customizability.

Its 3-band parametric EQ allows for detailed shaping of the reverb signal.

Adjustable gain staging at the in- and output stages.

SSE2 optimised code ensures a high-performance operation despite its very complex computations.
The RO-140 is a highly customizable plate reverb that will add just the right amount of silky smooth vintage flair to your productions.
It will be released on the 27th of January 2021 and will cost $69.
Learn more about Black Rooster Audio here