Improved subwoofer system offers 'total control for maximum impact' with 2x700W power amplifier
Kuopio, Finland – May 18, 2020 – Pioneering Finnish loudspeaker manufacturer Amphion have just announced a significant upgrade to their flagship stereo bass extension and management system FlexBase25. Boasting wide adjustment capabilities, a separate LFE-channel input, and 1400-watts of power, FlexBase25 gives users the ability to precisely sculpt the bass response of their monitor systems, making it an indispensable tool for the ever-changing low-end landscape of modern music production. The improved FlexBase25 is shipping now and is available for $4750US.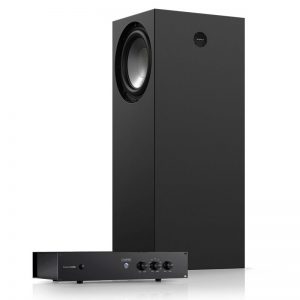 The key enhancement to FlexBase25 is its new 2x700W amplifier – more than double that of its predecessor – meaning that FlexBase25 has a faster and more powerful response, as well as improved headroom and lower distortion across all frequency ranges. Upgraded control parameters allow for a wide range of adjustment possibilities over crossover frequency (35-260 Hz) and subwoofer level as well as the mono-stereo spread, making FlexBase25 flexible and intuitive to adjust for any professional recording environment or home studio. Although FlexBase25 is optimized for use with the existing family of Amphion's studio monitors, it is also compatible with speaker systems from other manufacturers
As with all Amphion products, FlexBase25 offers a transparent-but-musical response that doesn't sacrifice listenability while still providing accuracy, honesty, and precision. "The FlexBase25 was designed for a complete, synergistic relationship with a pair of monitors to create a 3-way full-range system that would truly enhance any musical experience," said Amphion Founder and CEO Anssi Hyvönen.
"The improvements that we have made to it now give our users total control over the sound and maximum impact in the low-end. This gives creators the ability to dial-in to emphasize the vibe and feel of a track while writing and producing or tune for a transparent and analytical response to ensure precision and accuracy while mixing and mastering."
For more information about FlexBase25, please click here.
About Amphion
Amphion Loudspeakers Ltd. was established in 1998. We design and build loudspeakers that are characterized by honest and accurate sound reproduction. Precise driver integration ensures world-class imaging and phase coherency. Controlled dispersion technology helps achieve more stable results in a variety of room acoustics. All products are handmade in Finland (and the Amphion amplifiers are assembled in Finland) to ensure enduring listening quality.