Crystal-clear Swiss precision in a powerful desktop monitor
Review by Paul Vnuk Jr.
Located in Yverdon-les-Bains, Switzerland, PSI Audio Audio manufactures high-end loudspeakers. The company launched in 1977 with a goal "to transform the electrical signal into an acoustic signal as accurately as possible so that the listener can hear and appreciate all the beauty and details."
Powered monitor designs were added to the line in the early 1990s, and despite strides in digital technology, PSI Audio has chosen to keep the signal path of its products 100% analog.
In March 2016 we test-drove the baby of the PSI Audio line, the A14-M broadcast/studio monitors. With a 5.8″ bass driver and a 1″ tweeter, the A14-M's petite size makes it a perfect choice for broadcast studios, video suites, and portable recording/mixing gigs.
This month we step up to the A17-M, which measures 12.6″ tall, 8″ across, and 9″ deep. They weigh 18.5lb. each and the enclosures are made of MDF. The stock models are finished in PSI Audio's signature dark Studio Red color, and you can also choose Metal Black or Pure White finishes.
Tweeters and woofers
The A17-M uses a more powerful 1″ tweeter than on the A14-M and makes use of a larger 6.9″ bass driver. Low end is controlled by a low-profile bass port on the bottom front of the cabinet. Above the tweeter is a green power LED that flashes red if the internal limiter is hit. It will also light red and go into standby mode if the monitor overheats.
Connection and control
Around the back of each cabinet is a single female XLR speaker input. For low frequency compensation due to placement and level control, there are a pair of post-style controls for level adjustment and low-frequency rolloff.
PSI Audio Tech
Although 100% analog and digital free, the PSI Audio line is chock full of innovative and unique technology, some of which we introduced in our A-14M review.
Class A/B Amplification: The A17-M is biamplified with an 80W amp for the woofer and a 40W amp for the tweeter. The amp is Class A/B on the A17-M. For it's larger monitors (A21-M and up), PSI Audio Audio use a Class G/H amps. This is an original PSI Audio design that scales power consumption up and down via multiple voltage rails, literally giving the speakers a power boost or ramping it down as and when audio levels demand. This means less wasted power and less heat buildup.
Adaptive Output Impedance: The job of a speaker membrane and magnet are to start, move, and stop as quickly as possible, to reproduce the music as accurately as possible. To this end, AOI constantly adjusts the impedance from the amplifier to make sure the speaker membrane and the amplifier are in perfect sync for accurate sonic translation.
Compensated Phase Response: CPR is a collection of allpass filters (analog) that help maintain a flat phase response. This in turn yields a flat frequency response for improved clarity and imaging.
Acoustic Load Guide: In most speaker reviews you will see talk of a waveguide. This is the contoured/carved/molded area surrounding the tweeter. PSI Audio's Acoustic Load Guide or ALG is designed to help control directivity, SPL levels, and bandwidth extension.
Phantom Standby Control: The PSC is designed to send a signal over the audio cable, through PSI Audio's optional R&B Signal Router, and allows you to remotely place the speaker into standby mode.
In use
Most of my use of the A17-M speakers has been in my home office, a small
10′ 9″ x 8′ 10″ x 8′ 1″ room that doubles as an editing suite and listening room. I have two other sets of monitors that I
usually use in this space, both a tad more listening-focused and flattering, vs. being a typical studio monitor. [Side note: My wife, who is an interior decorator, loves that the Studio Red models match the
accent colors of my room.]
With its billing of accuracy and precision, I initially worried that the A17-M might be too much the opposite. However, I was pleasantly surprised that this was not the case.
To best describe what I heard on the A17-M, I will go with "crystal-clear and ultra-detailed." Whether listening to
24-bit and DSD high-resolution albums for pleasure, or on my own client work, the A17-M help me zero in on details that I had never heard before. This makes them very well suited to audio editing, artifact cleanup, and vocal and instrument tuning tasks.
Musical, not sterile
The A17-M, while ultra-detailed, is not a sterile or clinical sounding monitor. Their high end is very 3-dimensional, open and neutral rather than "studio-monitor" bright. The midrange is reproduced quite smoothly and flat, and the lows best described as completely unhyped. Unlike many competing monitors in this size range, they do not try and overcompensate for their size and push the low end. This means that if you want to fill out your room with bass, you will need a sub, which PSI Audio makes and recommends in the form of the Sub A125-M.
Despite not pushing or thumping the low end, the bass extension of these monitors is still very audible. It is easy to pick out the detail and nuance of low frequency tones in a kick drum, an upright bass, a bass cabinet, and more. Even if you can't feel the low end, you can still successfully mix it on the A17-M.
Moving the A17-M to my studio, Moss Garden Music, for tracking and mix sessions, the A17-M again shows its ability to zero in on the subtleties of instrument and vocal capture and trustworthy details when mixing.
Levelwise, they won't rattle the room, or crank to monster levels to impress clients, but they will still fill a room with clear, clean sound. If you like to mix at moderate levels, you will be impressed how full and even they sound. They are also a joy to work on for long periods of time with zero ear fatigue. Let me reiterate how amazingly clear the high-end soundstage is, and yet there is zero harshness or bite.
If you do push them loud, the bass can get a tad woofy on modern bass-heavy dance, pop, and EDM, but even when pushed close to their stated maximum SPL level there is little to no distortion, breakup, or compression of the sound.
Conclusions
The A17-M is a studio monitor that does exactly what PSI Audio designed it to do in the company mission statement: to offer exceptional, accuracy, beauty and detail. And they do it all through analog means and acoustical design. If these little monitors sound this good, I can't wait to try bigger PSI Audio models in the future.
Price: $1879 each
More from: PSI Audio, www.psiaudio.swiss/
Two Cents From The
Mastering Guy
By Justin Perkins
When I moved my mastering studio from my house to a commercial facility, I knew I would still want/need some kind of home setup for various tasks. I started with a pair of monitors from a well-known speaker manufacturer, and while they sounded good for listening to music, I found it incredibly hard to make sonic decisions on them.
When I decided to upgrade from my initial monitor choice, I was most interested in accuracy and usability. Since I use a pair of PSI Audio A215-M paired with two PSI Audio A125-M subs in my commercial room, I decided to go with PSI Audio for my home set as well.
Despite having a main studio, I still find myself doing quite a few things from home. This includes session prep, checking masters for clicks/pops/glitches/noise, and removing these things before finalizing masters and sending them out. I will occasionally do revisions to masters in progress, as well as generate all of the final master formats after approval… in other words, all the things I can do that don't require my analog mastering chain over at the studio. I can now do this from home with complete confidence, thanks to the A17-M.
At times, finalizing the masters from home on the A17-M (after doing most of the work at my main studio) has provided a unique listening perspective, and has even helped me make a few tweaks to my initial mastering settings before sending a master out for approval.
In a pinch, I've even done a few masters fully from my home setup, e.g. when I get something that has to be done overnight and I'm already home for the day. That many of these first-version masters get approved for final use is testament to the quality and accuracy of the A17-M.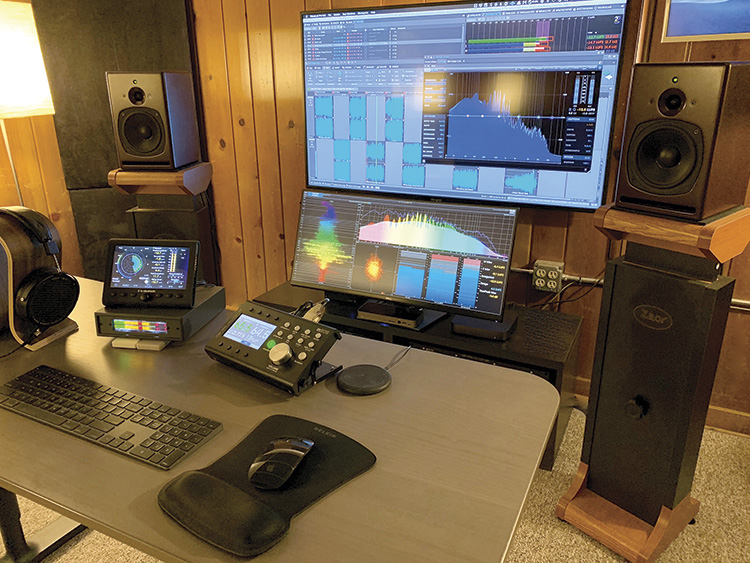 Similar to my PSI Audio A215-M monitors, the PSI Audio A17-M do not sugarcoat things. Recordings are rich and full will sound rich and full, but recordings that are harsh and thin will sound harsh and thin. Recordings that you know and love may take on a new life or presentation (in a good way!), and you may hear things you've never noticed before. I don't do mixing any more, but if I did, I think the A17-M would be a great choice. I'd love to mix a record on these speakers someday.
The sound is incredibly detailed and clear, and the built-in amps deliver plenty of listening power for a nearfield monitor. The A17-M in particular is voiced somewhat on the bright side, but not in a harsh or unnatural way typically associated with the usual studio monitor sound.
The A17-M have a fairly low frequency response for a speaker this size, but if you are planning on doing mastering work, you may want to consider using a sub (or two), or a set of headphones with accurate sub frequency reproduction to doublecheck things below 40Hz.
As an owner of several PSI Audio products for almost five years, I can vouch for the quality of build, and the care that PSI Audio puts into each monitor. Due to the size of the company, you'll receive great personalized service should you need something, but I've never had an issue with any of my monitors—or their AVAA active bass traps that I also use. Total Swiss precision and quality!
Justin Perkins runs Mystery Room Mastering in Milwaukee, WI. You can contact him at www.mysteryroommastering.com.