Vicoustic's GEN_VMT or Generative Collection, is a new set of acoustic tiles, panels, and clouds with a fresh new design concept utilizing the company's 'Virtual Material Technology'
Montreal, Canada – April 8, 2020 – Vicoustic's new collection GEN_VMT – the 'Generative Collection' set of acoustic tiles, panels and clouds – has been awarded the Red Dot Award: Product Design 2020 for its excellent design quality. This means that Vicoustic is with this award proudly joining a group of world-class designers and companies such as Philippe Starck, Ferrari, Siemens and Porsche, all previous winners of the Red Dot Award, the world's most renowned design competition. Vicoustic acoustical treatment products are distributed by Focal-Naim America in the US and Canada.
Vicoustic is proud to present GEN_VMT, the Generative Collection, a set of acoustic tiles, panels, and clouds with a fresh new design concept. In this collection, the innovations introduced by environmentally sustainable raw material VicPET Wool, mainly produced from recycled plastic (65%), and VMT technology, developed by Vicoustic for superb acoustic performance, take on a new dimension in terms of design. The geometry of GEN_VMT allows generating endless combinations of acoustic tiles and panels, with no limit to creativity.
As part of the Vicoustic VMT (Virtual Material Technology) range of products, GEN_VMT is an environmentally sustainable solution made from VicPET Wool, a non-woven textile developed by Vicoustic for superb acoustic performance, predominantly made from recycled plastic bottles. This material can now be found in state-of-the-art acoustic panels and clouds such as: Flat Panel VMT, ViClouds VMT, VicWallpaper, VicOffice, and Vixagon. The first set of 'GEN_VMT' solutions to be released are the PENRAY 02 Tiles. Presented in 4 different forms in the shape of a pentagon, these tiles can be combined according to each one's will. This allows for generating endless combinations of geometric shapes.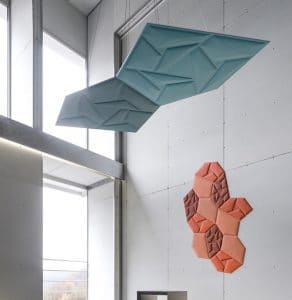 "The fact that you won this award bears testimony to the good design quality of your product," said the founder and CEO of Red Dot, Professor Dr. Peter Zec, when addressing the laureates, adding, "The winners of the Red Dot Award have proved that they have created excellent creations worthy of winning an award. The products won over the jury not only through their aesthetic, but also thanks to their incomparable functionality. With their designs, the award winners are setting new standards in their industry."
The importance of this award for the Vicoustic brand is best summarized by the founder and CEO of Vicoustic, Cesar Carapinha, "When I founded Vicoustic in 2007, I never thought 13 years later our brand would join the prestigious family of Red Dot awardees. It's an honor and a privilege for our team and partners to see our vision was right, and this award empowers us to continue our work developing high performance sustainable acoustic products." Referring to the designers involved, he added, "A special acknowledgment to the talented Digitalab team that helped us make this project possible."
Throughout the in-depth selection process, the world-renowned experts from different disciplines of the Red Dot jury tested and evaluated more than 6,500 products from companies and designers from 60 countries. True to the motto "In search of good design and innovation," only the best designs receive an award. The unique new Vicoustic GEN_VMT collection was selected in the Interior Design Elements category.
On June 22, 2020, GEN_VMT will be added to the exhibition "Design on Stage" in the Red Dot Design Museum Essen, where all of the award-winning products will be on show. The museum will thus be a hotspot for best-in-class industrial design. From that date, the winning product from Vicoustic will also be presented in the online exhibition on the Red Dot website. The Red Dot Design Yearbook 2020/2021 comes out in July 2020.
View information about the GEN_VMT Penray 02 Tiles: https://vicoustic.com/product/gen_vmt-penray-02-tiles?gen-vmt-colors=Blue
For more information visit Vicoustic: https://vicoustic.com/
For more information about Focal Naim America visit their website at https://www.focalnaimamerica.com
About Vicoustic
Being at the forefront of acoustic technology, Vicoustic delivers clever solutions for every situation, from demanding recording studios and home cinemas to offices, restaurants, and schools. Founded in 2007 in Portugal, Vicoustic is found in over 80 countries. Producing acoustic solutions in a sustainable and environmentally conscious way, Vicoustic started production using VicPET Wool in 2017. Since then, the brand manufactured acoustic panels using more than 250 tons of plastic waste, equivalent to roughly 22 Million standard PET bottles (500ml) being recycled.
About the Red Dot Design Award
With more than 18,000 entries in three disciplines (Product Design, Brands & Communication Design and Design Concept), the Red Dot Award is one of the world's largest design competitions. For 65 years, the sought-after distinction has become the revered seal of outstanding design quality. More information at: ?http://www.red-dot.org
About Focal Naim America
Focal Naim America (formerly Audio Plus Services) is a leading North American importer and distributor of premium consumer and professional electronics brands including Focal Professional, SPL of Germany, Lauten Audio, IsoAcoustics, Zaor, and Vicoustic. Based in Montreal with U.S. shipping facilities in Champlain, NY, the company has sales personnel located throughout the United States and Canada to professionally service their active roster of more than 350 specialty A/V and Pro Audio dealers. The company specializes in products and services for the professional audio and performing musician markets, as well as the home theater and custom integration (CI) market – both residential and commercial – for North America.