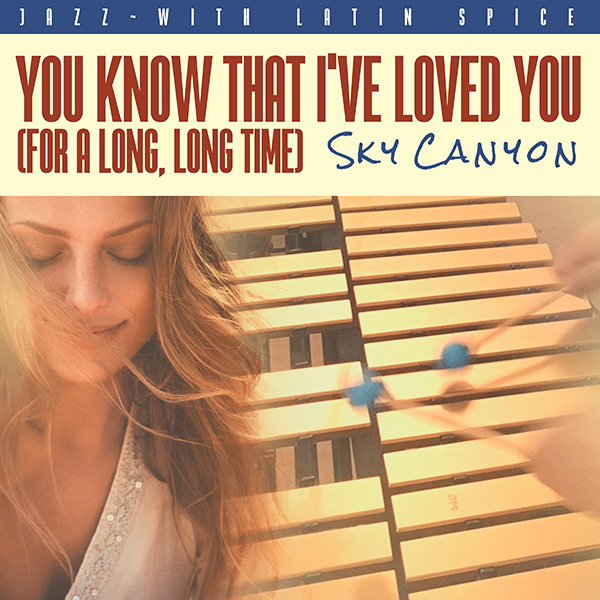 Artist Name: Sky Canyon   Title: You Know That I've Loved You (For A Long, Long Time)  Genre: Instrumental Jazz
 Rating:
Equipment
Logic Pro (and plugins), Macbook Pro, Focusrite Scarlett 18i20 interface, Yamaha 3710G Vibraphone, Yamaha P515 keyboard (for keyboard acoustic bass), Roland RD800 piano, Selmer Mark VI alto sax (circa 1964), Gretch Marquee drum kit Royer R10 ribbon, Roswell mini-K47, Sennheiser e902, Sennheiser e604 Shure SM57, Sennheiser 441, Grace preamp, Focal Shape 50 monitors, Sennheiser HD600. iZotope Ozone Imager 2, Empirical Labs Arousor, Zynaptiq Intensity.
Music
"You Know That I've Loved You (For A Long, Long Time)" is an instrumental jazz song written, arranged, and produced by Sky Canyon. All instruments and programming were by Justin Adams, except Bob Rebholz played piano and alto sax. The track was mastered by Gary Hobish (A. Hammer Mastering, San Francisco).
Reviewed By Marty Peters
This month's Spotlight is a smooth jazz instrumental that shines in both the performance and recording categories. From the get-go, it is apparent that both Justin and Bob are skilled at their various instruments and that the concept of frequency range is well understood and masterfully applied here. Any track featuring vibes and piano simultaneously can lead to several issues. These two "kissing cousins, "when performed in an arpeggiated style, run the risk of not only trampling each other but also of frequency "masking." Fortunately, Justin and Bob have worked out a great arrangement that allows both sound sources their own individual space to shine. The decision to pan the keyboard was a wise one, and as we mentioned earlier, the performances are excellent. We loved the sound (and performance) of the sax that Bob laid down. We have long sung the praises of the mighty Sennheiser MD441 dynamic mic, not only on horns but for vocals, drums, percussion and amping guitar cabinets. It is one of THE desert island microphones. Combined with the Grace preamp, the sound is exquisite in this track. The keyboard 'acoustic bass' was surprisingly very convincing. It was understated in the mix and performed in a believable manner that fit right in with the other "acoustic "sounding instruments. The drums were also handled nicely, all of the tones were top-notch, and Justin kept his playing reasonably basic, allowing the melody instruments to rightfully take the forefront in the track. Lastly, kudos to all involved in the mixing and mastering. Everything is clear as a bell while maintaining a full, rich sound overall.
Suggestions
A pro-sounding effort from top to bottom, composition, arrangement, performance and recording, the whole nine, as they say!
Summary
Impressive!
Contact
Sky Canyon, [email protected]
Readers' Tracks