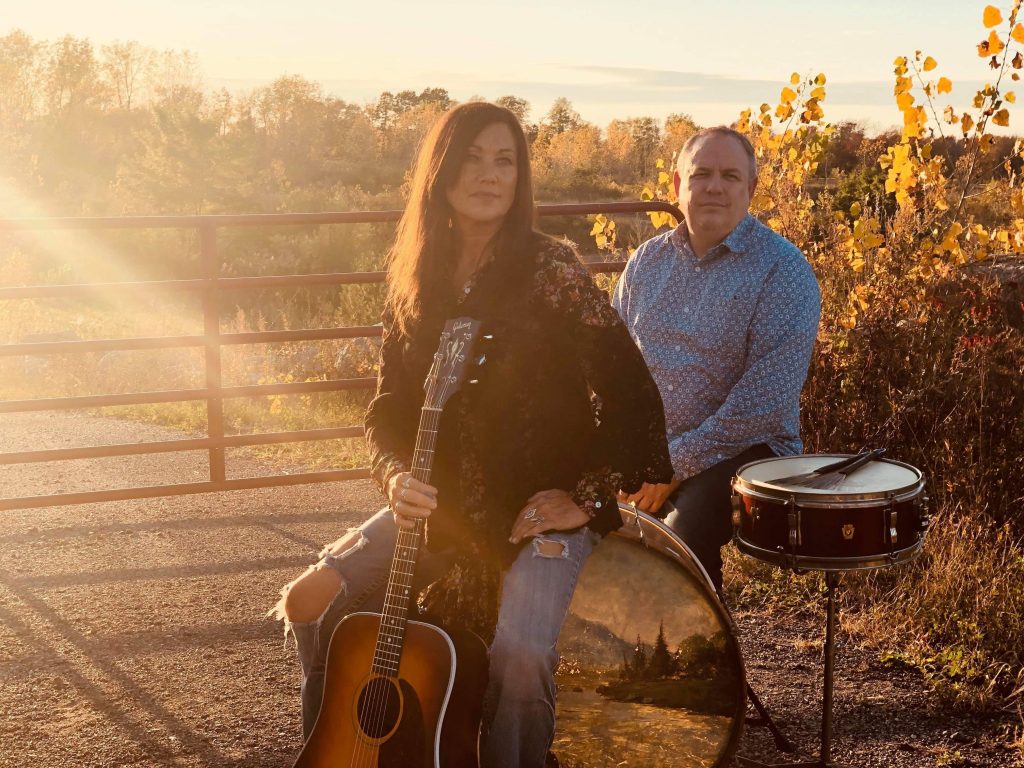 Artist Name: Porcelain Train  Title: Same Ride
Genre: female/male vocal Americana  Rating:
Equipment
Behringer XR18 and Focusrite 6i6 digital interfaces, Oktava MK219 (drum overhead), Shure Beta 52A (kick mic), Blue Bluebird mic (vocals-acoustic guitar), Apple Imac 2019 4K retina, 1950's WFL drumset (20, 13, 16), 1970's Ludwig Supraphonic snare, Epiphone Masterbuilt acoustic guitar, Suhr JM Pro Custom electric guitar, Waves and Izotope plugins, M Audio BX5 D3 monitors, Sennheiser HD 280 PRO headphones, Ultimate Ears quad driver custom in-ears.
Music
"Same Ride" is a female/male vocal Americana track. Tamala Fonda composed the song, played acoustic guitar and sang the lead vocals. Ralph Fonda played drums and sang additional vocals. Ben Doerfel produced and engineered the track and supplied the bass and electric guitars. Ryan Fonda was the assistant producer/engineer.
Reviewed By Marty Peters
This month's Spotlight is a beautifully constructed, atmospheric recording with top-notch vocal and instrumental performances. Some songs exude an "it" factor, which is the case with "Same Ride." If anyone thinks that this comes by accident, we can assure you that nothing could be farther from the truth. The writing, arrangement, performance, effort, and teamwork are key factors that secure this quality of work.
This song was a cross country effort. Acoustic guitar, vocals and drums were tracked in the Fonda's home studio in New York State while additional instruments and mixing were done at Ben's place in Nashville. After listening through the recording multiple times, we were struck by the superior clarity and the excellent presence of the sound sources – thumbs up to Ryan and Ben for their engineering chops. "Same Ride" is an aural clinic in frequency management and placement, allowing for a fullness that we rarely hear from our myriad submissions. The juxtaposition of Tamala's fantastic lead vocal against the purposely low tuned drums allows them both an ideal place in the stereo field. Ben has wisely kept the cymbals controlled and never in competition with the additional hi-frequency sounds. Kudos as well to Ralph for his rock-solid and sympathetic performance here. If you are looking for a prime example of playing to the song, look no further. The bass guitar supports the drums nicely, with a full, rich tone, all in service to the song. The duo's harmony vocals are hand in glove tight and expertly blended in the mix. The Blue Bluebird/Focusrite signal path is a fine fit for both voices. Ben's moody electric guitars create an ideal amount of movement via his creative performances and thoughtful panning. Keeping the guitars out of the mix's center, combined with their midrange focus and processing, ensures that the presence we spoke of earlier holds true from start to finish—this allows us clear access to the lyrics, so essential in this genre. Lastly, we must congratulate Ben on the final mix here. The track jumps out in a full, confident and balanced manner on all of our various playback systems. Well done!
Suggestions
"Same Ride" ticks an awful lot of boxes. Great song and arrangement, along with superb performances, tracking and mixing. As with all of our Spotlight selections, these are blueprints for success, particularly for those who struggle with frequency masking challenges. We urge you to give the track a good hard study; class is in session!
Summary
Mighty fine indeed!
Contact
Ralph Fonda, [email protected]
Readers' Tracks