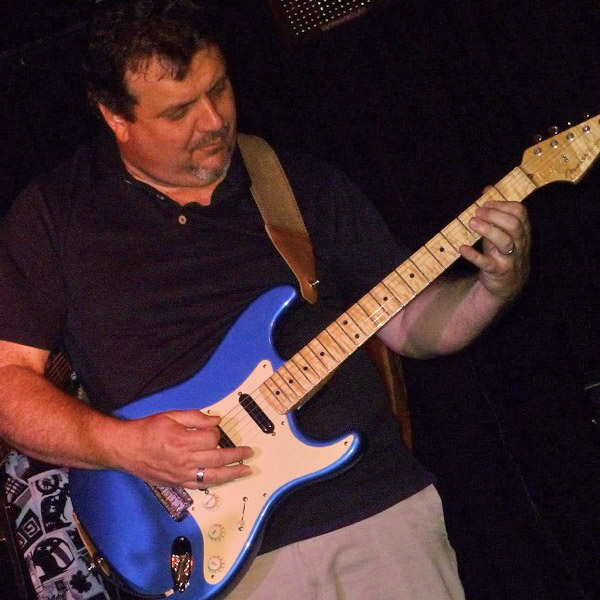 Artist Name: Scott Owens    Title: String It Down
Genre:  Rock and Pop    Rating:
Equipment Used
PC with M-Audio Delta 1010LT interface running Steinberg Cubase and various plug-ins including Toontrack EZdrummer, Yamaha 03D digital mixer, Tannoy PBM 6.5 monitors, Line 6 POD XT Live digital multieffects pedal, Schecter C1 Elite and Fender 1950s Custom Shop Strat electric guitars, Peavey bass.
Production Notes & Credits
"String it Down" is a high-energy guitar-based rock instrumental. Scott wore all of the hats on the project.
Reviewed By Marty Peters
It would be easy to describe this month's SPOTLIGHT as a guitar master class, but that is only one part of the awesome display that Scott has bestowed on us. Superb composition, arranging, and programming, along with killer tones and a great mix, make "String it Down" a force to be reckoned with.
In his production notes, Scott tells us that he has been playing guitar since the age of five (he is now 49). Well, sir — as Malcolm Gladwell proposed in his book The Tipping Point, it sounds like the ten-thousand-hour theory of mastery is certainly true in your case! Rarely, if ever, during our tenure here at RECORDING have we heard a more skilled player. Equally impressive are the tones that Scott pulled from his Line 6 POD Live XT digital multieffects pedal unit. As you loyal readers know, we have long been fans of the amp miking, air-moving "analog tone-age" vibe, but we must admit that the guitars here, both rhythm and lead, sound amazing through our monitors. Again referring back to his production notes, Scott tells us "I wanted to reproduce that Wall of Guitars sound that I had heard on countless recordings when I was growing up (think Scorpions and Boston)". Well, you nailed it, my friend!
We were also quite amazed to learn that the drums on "String it Down" were generated using the often-underexplored Toontrack EZdrummer. One of the biggest concerns that we find with one man/woman band submissions to Readers' Tracks is unrealistic drum programming. Far too often, we hear hastily-chosen tones assembled in ways that would leave most actual drummers scratching their heads. In Scott's case, he not only chose outstanding sounds, but he spent a great deal of time assembling them via MIDI: drums first, followed by the cymbals and accents last. Trust us when we tell you that this software has incredible capabilities, and given the effort, the results speak for themselves. We hear all of the energy, creativity and clarity of a well-performed and recorded "real" kit. Bravo!
Moving on, the bass guitar plays along perfectly in its support role. Scott has resisted the urge to "lead guitar" the bass, leaving it to fulfill its sonic role in concert with the drums. Lastly, we must take a second to point out the effort applied to the mixing and mastering on "String it Down". Not content with a "one and done" approach, Scott mixed and mastered his track five times, until he felt confident that it would translate across the board on multiple listening systems. Overkill? You be the judge, good reader. The skill in balancing and giving "voice" to this many sound sources polished this mix like fine marble to our ears!
Suggestions
Talent, skill, effort, dedication, attention to detail. Time and time again, these words appear here in our SPOTLIGHT feature as we break down the "best of the best" among our submissions. Works like these require all of this in order to succeed; fortunately, they serve to generate inspiration as well as guidance along the way.
Summary
Outstanding!
Contact
Scott Owens, [email protected]