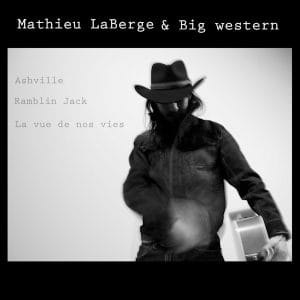 Artist Name: Sébastien Tardif and Mathieu LaBerge / Big Western    Title: Ashville
Genre:  Country    Rating:
Equipment Used
Apple Mac mini with MOTU 896 interface running Apple Logic Studio with its included plug-ins (Space Designer, Multipressor, etc). Mics: RØDE K2, Shure drum mic kit (including Beta 52), Audio-Technica condenser mic, Sennheiser MD 421 dynamic mic, Ludwig drums with Premier snare and Zildjian cymbals, Roland VK-8 combo organ, Framus "J-200 lookalike" gutiar with LR Baggs M-1 pickup, Rickenbacker 4001 bass with SWR amp, Takamine acoustic guitar.
Production Notes & Credits
"Ashville" is a male vocal folk/country rock song. Sébastien played guitar and handled the recording end of things in his home studio in Montréal. Additional performance credits were not supplied.
Reviewed By Marty Peters
Sébastien and company have created a fine homage to the legendary Mr. Young. Ever the musical chameleon, Neil is one of the few artists who can "folk" and "rock" with equal skill and success. His mellower records traditionally feature a minimal "organic" sound that  Sébastien really nails here.
Starting with the rhythm section, the drums have a distance-miked and ambient sound totally in keeping with the genre. The bass guitar, though not quite as muted in its attack and tone as on some of Neil's work, maintains a simple whole note feel that supports but never intrudes. Through our monitors the acoustic guitar and keyboards formed a subtle "bed" in the mix. Again, neither was predominant, but rather served as two more essential ingredients in Sébastien's recipe.
Now for the star of the show, namely the lead vocal. As anyone who's ever tried to sing a Neil Young song can tell you, the high range idiosyncratic vocal style is just plain difficult to pull off… unless of course you happen to be in Sébastien's group. The lead vocal here is so ridiculously close in sound, phrasing, and vibe to the actual article that it left us wondering if ole Neil had a doppelganger running around Montréal. Amazing!
Suggestions
Through the years, we've seen our share of artist-inspired submissions in myriad genres, but very few if any have been as successful as this. Sébastien and friends have gone past pure "paint by numbers" emulation and have actually captured the essence of their expressed target.
Our only suggestion would be to encourage all involved to use what they have learned here and apply it to their own vision as they move forward with their music. Something tells us that they are likely way ahead of us on this… or at least we can hope so.
Summary
Mighty fine invocation of someone's voice, fellas… now let your own be heard.
Contact
Sébastien Tardif, [email protected]