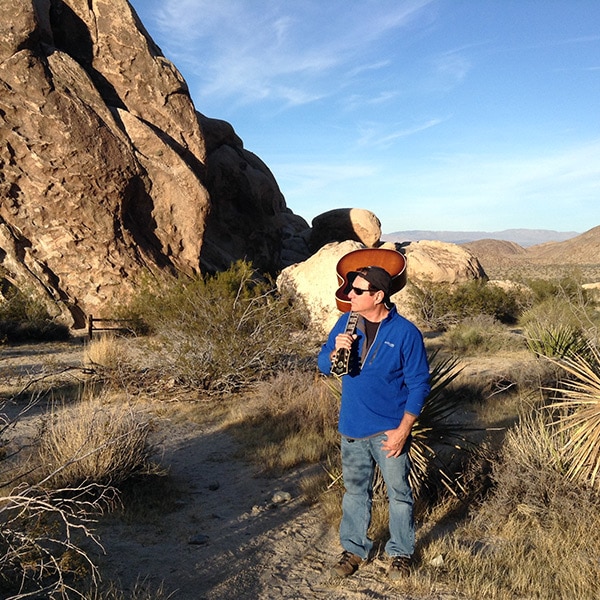 Artist Name: Rick Lecksell  Title: Purple Sky  Genre: Acoustic Rock Rating:
Equipment
Focusrite Solo, Apple iPad Pro, Garage Band, MXL 770, Sony MDR-F1, BeatBuddy, Fender Strat, Taylor 455ce; mixed in Avid Pro Tools.
Music
"Purple Sky" is a male vocal acoustic rock track. Rick wrote the song, sang the vocals and played the twelve-string guitar. Doug Fowler played lead guitar, bass guitar, programed the drum track, and mixed it in Pro Tools.
Reviewed By Marty Peters
This is a fine overall effort from Rick and Doug, with plenty of upside and just a few minor issues. The guys took fine advantage of Doug's BeatBuddy drum pedal. While they won't be confused for a genuine miked-up kit, the tones and fills are quite acceptable, and the groove provides a rock-solid foundation to build on. We also really like the stereo field here (with one exception, below). The panning on the guitars nicely leaves the center of the mix wide open for the vocals; the twin harmony electric guitars' panning especially offers plenty of air and space for each sound source—nice! As for the negatives, well, they are small ones, but they matter. First up, we have never been a fan of separating the bass guitar spatially from the drum kit, particularly the kick drum. Yes, we know it was done by the Beatles back in the nascent days of stereo, but it's called a rhythm section for a reason and separating the 'dance partners' as Doug has done with his right-panned bass gives the track an out-of-balance feel to our ears. So many of the sound sources are already benefiting from the great panning here. Let the melody instruments have it! The absence of a centered low-end presence, combined with our other minor complaint, the slightly exaggerated volume of the vocal, leaves the mix lacking its crucial center.
Suggestions
Very little to find fault with here within this duo's submission. Due to the pandemic, both participants worked on their contributions in their home studios and used file sharing to complete the song, and the results are pretty darn solid. In terms of suggestions, the obvious and easiest is to center the bass guitar. A strong drum component is established already, so locking in the kick and bass should be a breeze. After that, we would encourage Doug to reassess the volume of Rick's vocals. It could be that moving the bass increases the perception of instrumental volume in the track, in which case all is fine as it stands. If not, draw the vocals back slightly into the mix, and you're good to go.
Summary
Well Done!
Contact
Rick Lecksell, [email protected]
Readers' Tracks