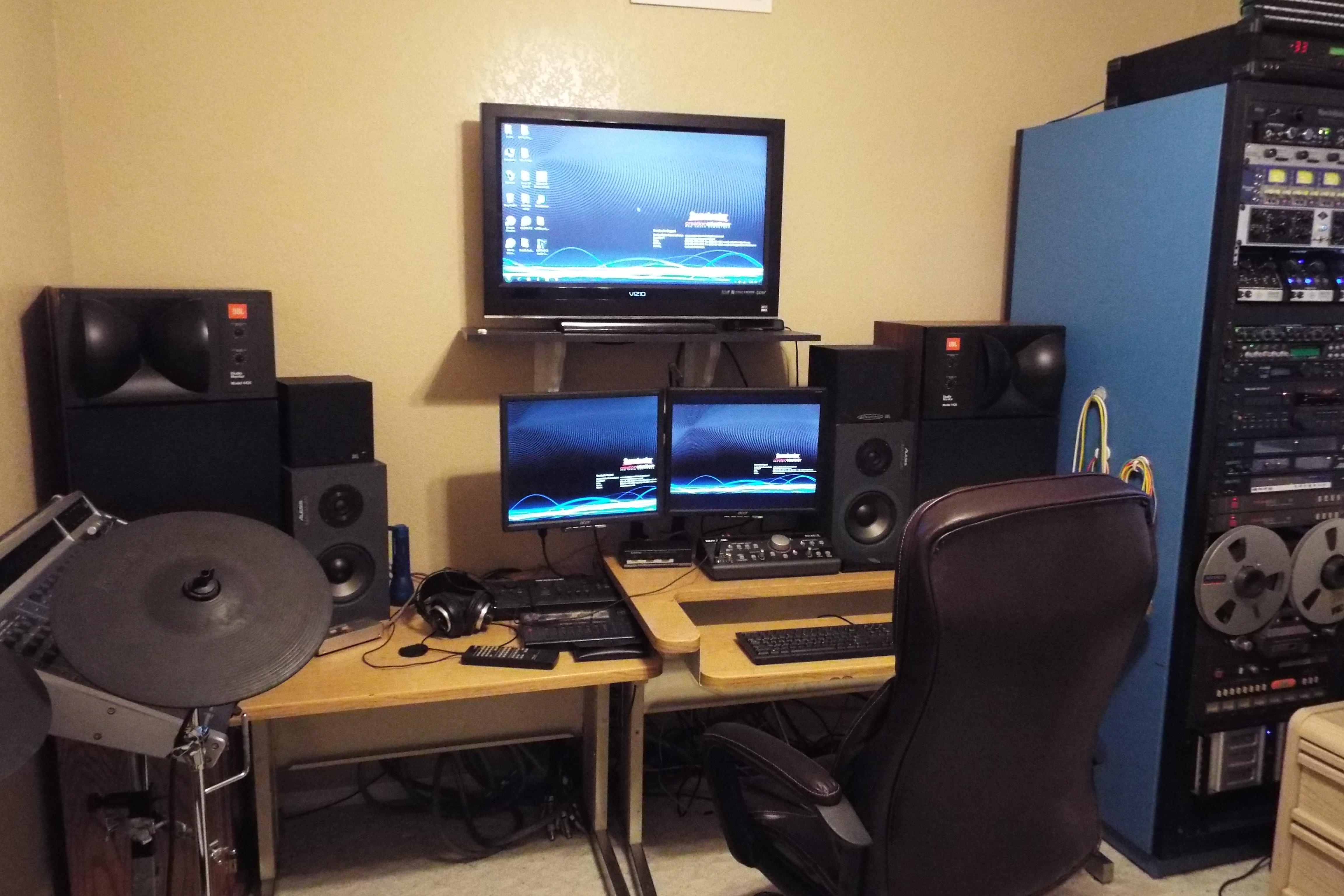 Artist Name: John W. Andrews / Richard D'Ambrosio  Title: Sweet Nicole  Genre: Rock  Rating:
Equipment Used
Sweetwater Creation Station PC (Windows 7) with Cakewalk SONAR V-700C controller and MOTU 24i/o and 2408mk3 interfaces running Cakewalk SONAR X3 and SONAR virtual instruments/Sonitus:FX plug-ins, iZotope Ozone 3. Alesis Monitor One monitors with QSC 1400 power amp. Sony MDR-V6 headphones, Behringer HA-4000 headphone amp, Mackie Big Knob. Roland TD-25 electronic drum kit triggering Toontrack Superior Drummer 3. Latin Percussion wood block.
Production Notes & Credits
"Sweet Nicole" is a male vocal rock song. John produced and recorded the track. In addition he played acoustic and electric piano, bass, drums, organ, synth strings, and percussion. Richard wrote the tune, sang lead and backup vocals, and played acoustic and electric guitars. The guys were joined by Stacey Andrews on backing vocals during the last chorus.
Reviewed By Marty Peters
In his production notes, John tells us that he has been a devoted subscriber all the way back to 1989—when we were still called Home & Studio Recording! This will be his third appearance in this particular column, the first one back in January 1996 and the second in October of 2007, albeit with different collaborators. Wow, John, what can we say… other than that we're honored by your passion and loyalty! Let's delve into this new track and see what's what.
"Sweet Nicole" is a pretty ambitious track, with no shortage of sound sources at play. Our first run-through showed no signs of any pressing issues, aside from some ambience and balance disparities that are hampering things a tad. On the ambience front, the vocals are fairly washed in reverb, giving them a diffuse, dark tone in comparison to the instruments.
On the balance end of things, the left-panned compressed electric guitar volume exceeded that of the vocals. So did the lead guitar, which arrived several dB higher than the voices in the mix, resulting in a uneven energy transfer. We would also have loved to hear more of the rhythm section in the mix.
OK, now for the good stuff. The performances across the board were solid, as were the tones in general. We thought both the piano and kick drum sounded excellent, and the arrangement was handled deftly as the song progressed.
Suggestions
Mixing is painting a picture with sounds; there are infinite ways to do it and each of them has an effect on the whole. Before we discuss mechanics, let's throw in the biggest factor, that being vision or intent. To quote the great Paul Simon, "One man's ceiling is another man's floor." Reverb and processing is an immensely personal thing; John/Richard may just dig it or may think it benefits the performance in some way. For our taste, we'd like to hear a little more high-end clarity and volume on the lead vocal. That increase would go a long way toward reducing the energy shifts associated with the electric guitars.
As for the balance, bringing up the rhythm section (particularly the snare) would give the track a more unified presence overall, placing everything on equal footing.
Summary
John, we thank you once again for the years of loyalty to our publication. Looking forward to the next two decades!
Contact
John W. Andrews/Richard D'Ambrosio, [email protected]