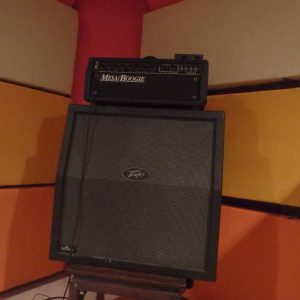 Artist Name: Emma Title: Howl Genre:  Instrumental Rock  Rating:
Equipment Used
Macs with Digidesign 003R interface running Avid Pro Tools 10 (tracking) and with Focusrite Scarlett 2i2 interface running Pro Tools 12 with Avid and McDSP plug-ins (mixing) and iZotope Ozone 6 (mastering). Mics: Shure Beta 52A (kick) and SM57 (snare and guitar cab), Oktava MK219 (guitar cab), GLS Audio GS57 (toms) and GS58 (room mics), Cascade Fat Heads (overheads and guitar cab) and Elroy (guitar cab), Golden Age Project R1 Mk2 ribbon mic (in bathroom as an "effect" mic). JBL LSR305 monitors, TASCAM TH-02 headphones. Tama and Pearl drums, modded Fender Jaguar through MESA Boogie Mk3 with Peavey ValveKing cab, Musicman HD120 with Marshall 1920A cab, Fender Bassman 4×10.
Production Notes & Credits
"Howl" is an instrumental track by the experimental rock duo Emma. Eric LeFrancois wrote the song and played the guitars. Alex Cloud played drums, produced, mixed, and mastered the track.
Reviewed By Marty Peters
Eric and Alex have submitted a very cool and challenging track here. Without stereotyping things too much, the presence of only electric guitars and drums must take at least some inspiration from the Black Keys/White Stripes camp. This is further evidenced to our ears by Eric's use of various levels of distortion garnered from three separate amps for his electric rhythm guitar. Combined with a smoother "rubbery" slide guitar part, and in concert with the shifting time signatures, the effect is both driving and elastic. We dig it!
Moving over to the drums, the guys have used a mountain of mics to capture Alex's performance. All told, eleven mics—including dynamic, condenser, and ribbon—were employed. As for the results, we noticed an inconsistency of drum sounds that seemed to follow the changes in the song's arrangement. At times the snare and toms were fat and present, at other times we heard a thinner distant sound.
In his production notes, Alex tells us that the duo used a series of room mics in their array, and our guess is that this explains the mechanics behind the various ambience changes. To our ears the entire track had an experimental nature which was evidenced by the combination of performance, tones, ambience, and time. Surely smooth consistency was not high on Emma's list!
Suggestions
As the saying goes, "intent is 9/10 of the law." One of the tricky parts of our job here at Readers' Tracks is identifying what decisions were intended, what were accidents, what was knowledge and what was serendipity. Both Alex and Eric seem to posses the playing and recording chops to eliminate accident in regards to the shifting sonics, and suggesting that they homogenize their work flies in the face of intent.
Given that, we suggest that even more experimentation rule the day. Try fewer mics on the drums, along with different placement; can five do the job of eleven? How about the Glyn Johns treatment? Dig deeper, friends, and have fun!
Summary
"If 6 was 9…"
Contact
Alex Cloud/Emma, [email protected]