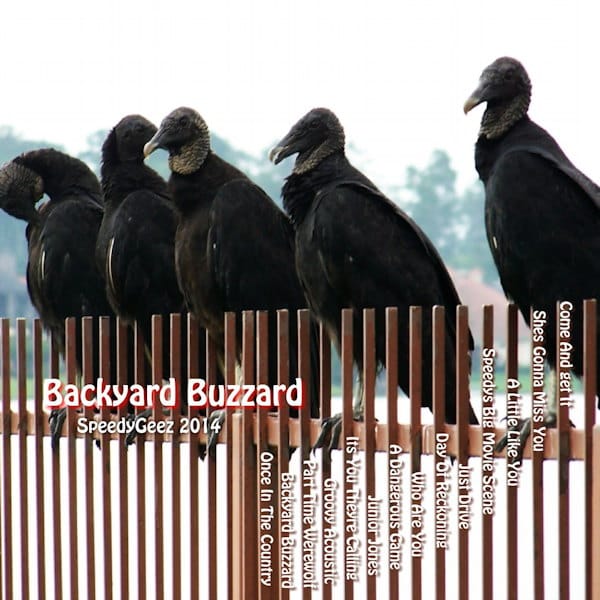 Artist Name: Carlos Gomez / SpeedyGeez    Title: She's Gonna Miss You
Genre: Rock and Pop    Rating:
Equipment Used
Dell T7400 8 core PC with Focusrite Liquid Saffire 56 audio interface, Universal Audio UAD-2 OCTO and QUAD cards, M-Audio ProjectMix I/O and Mackie Control C4 control surfaces, running Cakewalk SONAR X3 Producer, IK Multimedia AmpliTube 3, and XLN Audio Addictive Drums. Yamaha HS80M and Samson Studio Dock monitors with Mackie Big Knob controller, plus laptop speakers and SUV speakers. Blue Blueberry mic. G&L ASAT Special electric guitar, Ibanez RKB900VF bass.
Production Notes & Credits
"She's Gonna Miss You" is a male vocal rock song done in its entirety by SpeedyGeez (Carlos Gomez) at his home studio.
Reviewed By Marty Peters
A fine overall effort from a veteran recordist. In his production notes, Carlos relays that he's been recording since the mid-1980s on a plethora of systems, from the original TASCAM Portastudio 4-trackers right up through today's DAW rigs. So how does his current effort fare? Pretty well, in most respects.
We were impressed with the excellent stereo spread on the electric rhythm guitars, as well as the groovy "American Woman"-style fuzz on the lead guitar fills. Great tones on the guitars all around! Other standouts included a slightly distorted but robust bass guitar track, and a realistic drum "performance" via Carlos' Addictive Drums software (The kick drum was painstakingly created one strike at a time in order to line up properly with the bass guitar!).
Moving on, we found the vocals to be somewhat of a mixed bag. While we liked the clarity and presence achieved from the Blue Blueberry/Focusrite Liquid Saffire mic pre signal path, the lead vocal dominated the mix through our monitors, and as Speedy readily pointed out in his production notes, there is no shortage of sibilance on said vocal.
Suggestions
One of the great things that can accompany age and experience is self-awareness and honesty. Carlos put a good bit of effort into his track and it sounds like he had a darn fine time in the process. He hipped us to the sibilance issue straight out in his notes, and said that in subsequent recordings he would have a handle on it.
As for suggestions, we would love to hear that lead vocal tucked back into the mix, post the sibilance fix, in order to balance out the overall mix. "Seating" a vocal can be tricky business; we suggest that Carlos continue to check his mixes on several different speaker systems in order to establish a reliable baseline in the future for all of his sound sources.
Summary
Keep on truckin', brother!
Contact
Carlos Gomez/SpeedyGeez, [email protected]