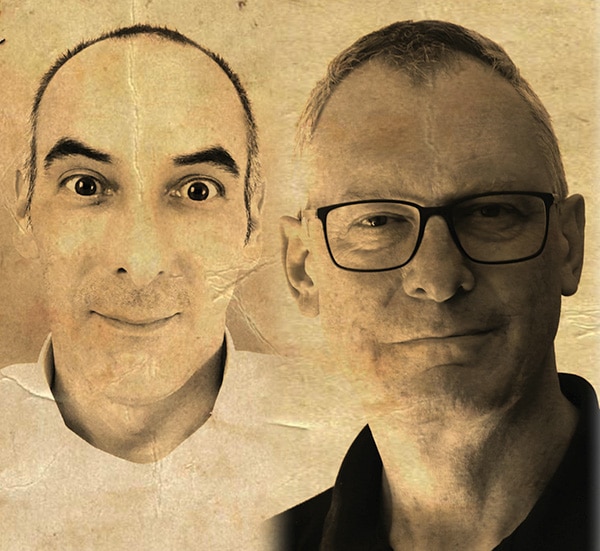 Artist Name: splurge.art   Title: calving iceberg  Genre: Rock  Rating:
Equipment
iMac running Cubase Pro, iCON QCon Pro Mixer, Tascam US16 Interface, Steinberg Groove Agent drums (triggered by acoustic drums), RODE NT 1, SPL Gold Mic II PreAmp, Fender Rhodes Mark1, Fender and PRS guitars, Line Six Helix, IK Multimedia GuitarAmp, Yamaha HS80 Monitors; mastered in iZotope Ozone.
Music
'calving iceberg' is a male vocal rock song. Ralf Richter wrote the lyrics, and Andi Groß composed the music and did everything else.
Reviewed By Marty Peters
Andi and Ralf submitted quite an ambitious song, or should we say songs! Clocking in at nine and a half minutes, the track's scope goes from an acoustic Pink Floyd vibe to a Jeff Beck meets Gary Moore electric guitar middle section culminating in a full-out frenzy at the 8:00 mark. Overall, balance issues and some tonal issues seem to be the primary problem as we listen through the piece. Starting with the rhythm section, the drums are quite dominant. With its exaggerated beater head component, the kick drum stands in sharp contrast with the nearly inaudible bass presence in the mix, creating an unfavorable imbalance, in our opinion. We also find the electric lead guitar to be overpowering, particularly during the arrangement's mellower sections. Some very noticeable artifacts appear on the vocals during some sections of the song, including distortion, smearing and sibilance. On a positive note, several sound sources, particularly the Rhodes piano, sound great through our speakers. We're happy to report that the actual performances are strong across the board, undoubtedly impressive from one person!
Suggestions
As we mentioned at the top, 'calving iceberg' is nothing if not ambitious. Given that, we would suggest that Ralf consider what we would call a 'Yes' mix. On many of their seminal (pre automation) 1970s albums, the band mixed their long and complicated songs in small sections, perfecting them one at a time and then editing them together at the end to form a complete take. The advantage here was that they could focus hard on each part of the arrangement until it was just right. The results, as they say, speak for themselves. As for specifics, we would urge Ralf to work on the drum and bass balance to establish some proper low-end interplay. Isolating/soloing the vocals to suss out the artifact problems should be the next priority, followed by a remix nailing one small section at a time.
Summary
Roll up the sleeves!
Contact
Andi Groß, [email protected]
Readers' Tracks