Voltage Modular 1.3.5 Released! Plus new modules from Insomniac, Benard and PSP Audioware!
This update features the new QWERTY Keyboard, which allows Voltage Modular to be played directly from your computer's QWERTY keyboard. It's ideal for rapidly auditioning presets, testing and building complex patches, or working with Voltage Modular when a MIDI controller isn't available.
Free update for registered users to Voltage Modular 1.3.5, visit store.cherryaudio.com/my/library!
Limited time intro offer, just $99!
Voltage Modular Core Package (91 modules, regularly $150) plus the Misfit Audio Electro Drums Package (15 modules, regularly $50). 106 modules – just $99. Order now.
NEW CHERRY AUDIO MODULE
Octagon Sequencer
Octagon ($20) is a powerhouse sequencer that allows fast and easy creation of rhythmically elaborate patterns and melodies. Sequences can be up to 32 steps, and each step contains up to 8 gate pulses with numerous modes for extended note values, legato play, repeats, or user-defined patterns within each sequence step
---
NEW MODULE DESIGNER
Insomniac Music Modules
Insomniac debut their new Probability Router Bundle ($12) which includes Probability Router 125 and Probability Router 521 modules, both ideal for West Coast-style randomness and sonic morphing. Route a CV or audio signal to one of five outputs or one of five input signals to a single output, based on random selection and adjustable and modulatable probabilities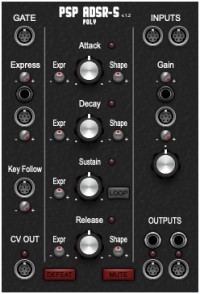 Benard Modules
Benard has added more modules to their collection, including Rotate Inputs($10), Multi-Delay,($20)   Random Out Switch ($10), and the new polyphonic modules, Poly Panner ($15) and Poly Scale and Offset. These modules have been added to some of Benard's existing bundles, so existing owners may already own these new modules.
---
PRODUCT REVIEW
Venus Theory
Detailed and entertaining new review by Venus Theory: "I can definitely state that Voltage Modular is probably the best sounding synth that I have in my arsenal" – Venus Theory