ORIGIN will help ensure students gain a foothold in understanding signal flow, while providing the necessary tools to take their engineering and production skills to the next level
Los Angeles, California, April 15, 2021 — Today's musicians must not only be accomplished performers, composers and producers but also conversant with the business and technical aspects of the recording industry in order to successfully pursue a career in music. To that end, USC Thornton School of Music's Music Technology program has installed a new Solid State Logic ORIGIN 32 channel in-line analog mixing console to help teach its Music Production bachelor's degree students essential audio engineering skills.Students must display significant musical skills to be accepted onto the Music Production degree course, says Rick Schmunk, Music Technology program Chair. An active music technology clinician, he has presented papers at numerous national and international conferences. "We're not dealing with students that want to be engineers. This is a Bachelor of Music, not a Bachelor of Science degree. Students spend as much time learning about songwriting, arranging and sound design."
Because students are busy studying so many facets of the business, says Schmunk, "We don't have the time to teach students all of the functionality that's in a large format console before we unleash them on a room and let them work. So we needed something that didn't have automation and other things that could get them into trouble."
The school's new ORIGIN, purchased through Vintage King Audio, replaced an aging digital worksurface. "We have long wanted a small in-line console that could fit in a room like this," says Schmunk. "The control room is small and the price point to get a quality in-line console has always been a problem for us. When ORIGIN came out, I looked at it skeptically, thinking that either it would cost too much, or it wouldn't have the functionality that we wanted. But I was quite blown away to see what SSL had included in this package."
Further, he says, "SSL's ideas for what education needs in a piece of equipment like this were very prescient. It's like this console was designed for us."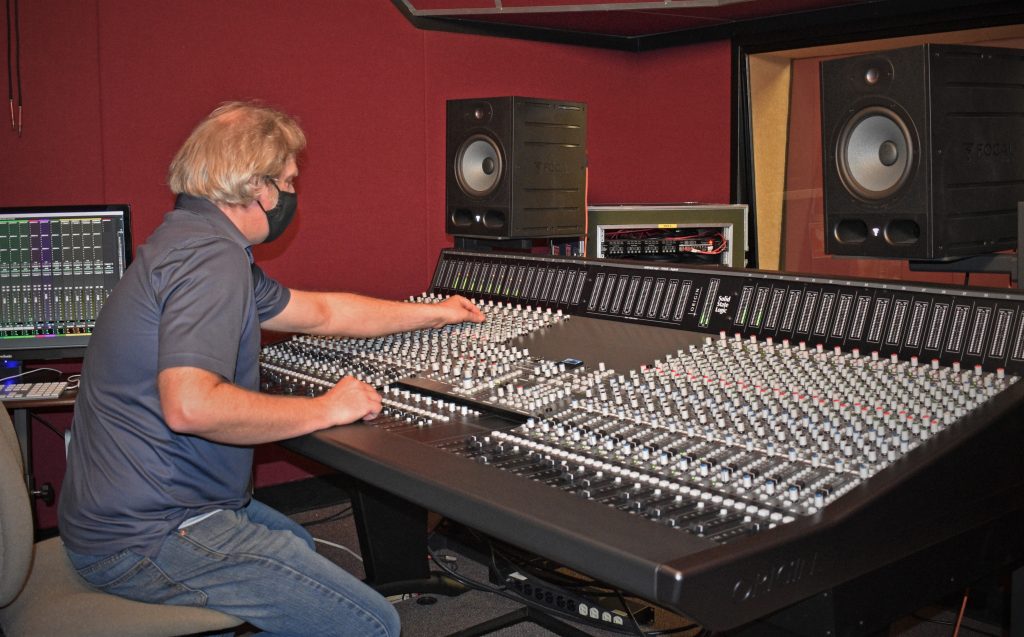 The new ORIGIN has been integrated with an Avid Pro Tools | HDX system in the Red Room, so named for the color of its acoustical treatment, in The Music Center at Thornton School of Music on the University of Southern California campus, close to downtown Los Angeles. The Red Room offers the largest tracking space of the three production studios in the building, accommodating 15 or more musicians.
"We needed a really good analog training ground and the ORIGIN is perfect," says Brian Malouf, Assistant Professor of Practice for the program. Malouf's career began as a first chair symphonic percussionist before he switched to sound engineering and worked with the likes of Michael Jackson and Madonna. "My comfort level with the ORIGIN was based on my long history with SSL. When I was chief engineer at CanAm Recorders in Tarzana, I was the one who purchased the two SSL consoles for that facility, in 1983. At that time, we were only the third studio in all of Los Angeles to buy an SSL. I've been working on SSLs since that day," says Malouf, whose credits include a combined total of 53 gold, platinum and multi-platinum albums.
The USC Thornton School of Music's Music Technology website page notes, "The major reflects the current and evolving nature of professional music making in the digital age, where the job description of today's contemporary musician often includes composing and arranging, live and studio performance, audio engineering/mixing, editing and mastering, music synthesis and programming, as well as the business aspects related to music licensing." When their attention is being pulled in so many directions, ORIGIN's straightforward signal flow is an ideal learning tool for students as faculty introduces them to audio engineering and recording while encouraging them to work with real musicians instead of doing everything in-the-box, says Schmunk.
"One of the reasons for installing the ORIGIN was to ensure that students can work with a live band as we get them to just a slightly more advanced stage," he says. "That means more than just recording drums but getting a small group together and being able to engineer and have the skills to produce a session like that. ."
The school's audio manager worked with pro audio solutions company Desk Doctor, based in Burbank, to wire the room and integrate ORIGIN while students and faculty have been working from home during the coronavirus pandemic. In phase two of the project, Schmunk reports, they will add a patchbay and a few items of outboard equipment before the school reopens for in-person instruction in the fall.
About Solid State Logic
Solid State Logic is the world's leading manufacturer of analogue and digital audio consoles and provider of creative tools for music, broadcast, live and post production professionals. For more information about our award-winning products, please visit: www.solidstatelogic.com.