Creators now have multiple presets for different devices, greater control over output settings

Riga, Latvia– October 14, 2019 – European audio software innovators Sonarworks [AES Booth 313] have announced the latest update to their best-in-class professional audio calibration software solution, Reference 4.4. The newest version of Reference gives creators the ability to assign presets for multiple output devices and have greater control over output settings, in addition to further interface tweaks for ease of use. Reference 4.4. also boasts 15 new headphone profiles, including models from Sennheiser, Skullcandy, and Ollo, which brings their current count of compatible devices to nearly 300. The update is available now to all existing Reference 4 users.
"Having the ability to quickly move between calibration profiles and device presets gives our creators the added flexibility they need for adapting to any studio situation they may find themselves in," said Viesturs Marnauza, Product Manager of Reference 4. "In addition to this, we've continued to tweak the interface to ensure that Reference 4 is extremely easy to set-up, so that it can do its work in the background and allow creators to focus on making music."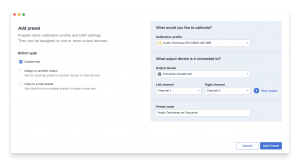 The implementation of the new Presets sidebar allows for quick management of user output devices, a much-requested feature that will make it even easier than before for creators to access the calibration profiles for any output device they use in their studio setup and have it pre-saved for later use. In addition to this, output channels can now be selected individually where prior they were only available in pairs, which will allow for Left/Right switching as well as the ability for more complex signal routing. Additional updates to the software will allow Windows users the ability to launch Systemwide mode in ASIO mode if their output device does not support WASAPI, and Mac users now have full support of Reference for OS 10.15 Catalina.  Both Systemwide and Plugin mode will also now alert the user of new updates as soon as they are available, ensuring that creators will always have access to the latest version of the software.
The new headphone calibration profiles include models from several well-known manufacturers, and a few new brands including the t.bone. and Ollo. The new profiles include:
ISK HD9999

KEF M500

Mackie MC-250

Ollo S4

Ollo S4R

Sennheiser HD 300 Pro

Sennheiser HD 599

Sennheiser Urbanite

Skullcandy Crusher Wireless (With cable)

Skullcandy Crusher Wireless (Bluetooth)

Skullcandy Venue (With cable, ANC on)

Skullcandy Venue (With cable, ANC off)

the t.bone HD 2000 NC (With cable, ANC on)

the t.bone HD 2000 NC (With cable, ANC off)

the t.bone HP 66
For more information on the Reference 4.4. update, please visit: https://www.sonarworks.com/blog/product-news/reference-4-release-notes/
For a 21-day free trial, please visit: http://www.sonarworks.com/reference
About Sonarworks
Sonarworks was founded in 2012 when two music lovers met a scientist and embarked on a mission to deliver the ultimate sound experience for anyone creating or listening to music. Sonarworks is the leading sound calibration company in the sound recording industry. The company's technology is in use by more than 40,000 recording studios worldwide, including more than 35 Grammy winners who enjoy and endorse Sonarworks. Now we are on a mission to take this even further – deliver the ultimate sound experience to all music listeners, regardless of the device used, be it headphones, speakers, or car stereo, – individually personalized.