Giske, Norway, August 22, 2022 — Located on the tranquil island of Giske at the edge of the Norwegian Sea, Ocean Sound has quietly build a reputation as a destination recording studio of choice to a growing number of international clients due to its unique setting and enviable collection of vintage and analog recording equipment. Major acts from around the world, including Arcade Fire, Swedish House Mafia, Travis, and a-Ha have chosen the studio as a creative retreat where they can approach their art free from the distractions of civilization and with a purity of both intent and sound. A major proponent of this approach is Ocean Sound producer/engineer Henning Svoren who has helped define the studio's recorded output. Eager to explore the possibilities beyond their trademark analog signal flows, Svoren and Ocean Sound recently refitted their Studio B for Dolby Atmos production, utilizing Amphion Two18, One18, and One15 monitors to ensure that their sonic purity translates into immersive audio formats.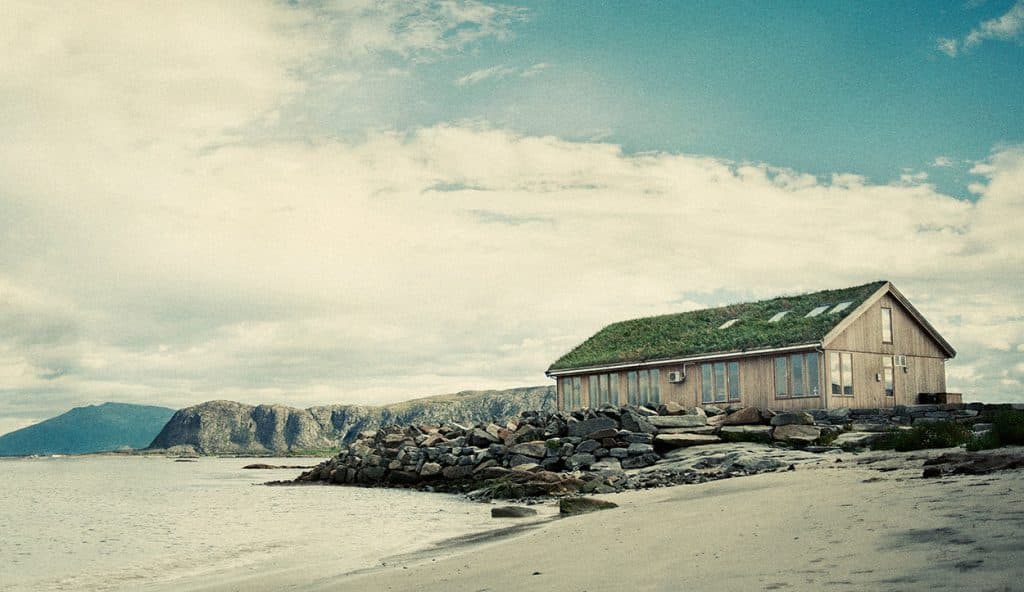 A focused environment for creativity
Initially founded by local Norwegian retro-pop act The Margarets, Ocean Sound's mission from the get-go was building an environment that would encourage creative and sonic focus. True to the sound of its originators, this meant assembling a collection of vintage analog recording equipment and utilized time-honored techniques for a classic, uncluttered sound. As the studio evolved to embrace more modern conveniences and technology, it retained this approach for creative purposes. "Although we initially catered to rock bands, we were pleasantly surprised to find how good of an environment and workflow that it was for so many different kinds of artists — from pop, to hip hop, to electronic," Svoren explains. "As we've grown, we've tried to retain that 'pure' approach while still staying excited about the latest plugins and technology. This allows us to keep the space creatively energized without losing sight of what makes us special."
Svoren has been a dedicated Amphion user since the company first released its professional line back in 2015. Seeing them as a natural extension of the studios' innate sonic goals, his Two18 monitors have become an indispensable part of his production and mixing workflow. "When you are mixing you don't want to think about the speaker at all, you want the sound to be as natural as possible," he says. "Amphions always sound the most natural to my ear and that suits the type of sounds that we find ourselves chasing at Ocean Sound. They don't have the speaker coloration that other brands often have."
"When the time came to make the upgrade to Dolby Atmos, it was pretty clear to me that they would be perfect for our needs."
Honesty and purity through Dolby Atmos
Svoren has a unique perspective on mixing in Dolby Atmos that reflects his time spent at Ocean Sound. Although he shares the industry's excitement for the possibilities inherent in layering for surround sound and more immersive listening experiences, the real opportunity, he says, is to mix music more honestly. "One of the realities of mixing in stereo is that recording engineers have had to invent a variety of techniques and fixes to trick the brain of the listener to achieve certain sonic phenomena — for example to make the vocals 'hover' above the rest of the instruments or add layers to give width to the sound" he explains. "What's incredible about Atmos is that you no longer have to do that anymore. You can place the sound objects wherever you want in the mix and achieve these effects naturally without any psychoacoustic trickery and the outcome is a more honest mix. It's an opportunity to reexamine how we represent sound and create new experiences that weren't possible previously."
Ocean Sound's new Studio B has a 7.1.4 Dolby Atmos setup, utilizing three Amphion Two18s, four Amphion One18s, four Amphion One15s in addition to a pair of Amphion power amplifiers. Amphion's use of passive speaker design is an asset to Atmos production, Svoren says, due to how it simplifies the signal chain. "Setting a studio up for Atmos is very complicated — there are so many variables you have to consider and it's easy for an 11-speaker setup like this to turn into a complete mess," he says. "I love that Amphion speakers are passive and built with a minimum of components at the utmost quality. That means there isn't any DSP or internal electronics to interfere with the sound. That simplicity of design allows them to perform brilliantly in this application."
"The Amphions are a natural fit for this task because they represent sound so honestly and allow you to immerse yourself in the experience of listening without worry. They work together perfectly as a unit and I didn't consider anything else."
For more information about Amphion, please visit: https://amphion.fi/
About Amphion

Amphion Loudspeakers Ltd. was established in 1998. We design and build loudspeakers that are characterized by honest and accurate sound reproduction. Precise driver integration ensures world-class imaging and phase coherency. Controlled dispersion technology helps achieve more stable results in a variety of room acoustics. All products are handmade in Finland (and the Amphion amplifiers are assembled in Finland) to ensure enduring listening quality.