When there are still several weeks of campaign, the Spanish company TIERRA Audio manages to surpass 100% of contributions in the crowdfunding of its amazing Flavours Preamps.
Madrid, 11th January, 2021 – After the establishment of their brand with their collection of ProAudio products, TIERRA Audio has decided to bring the quality and characteristic sound they are known for to a new public. Months of hard work, research and development later, they launch their newest creation: Flavours Preamps, a collection of seven different mic preamps, with various sonic flavours that promi-ses to deliver delightful sounds.
With their wide range of colors and textures, Flavours Preamps are especially designed to give your microphones a unique sound, with loads of character without losing any musicality. TIERRA Audio says that with them we can obtain warm, defined, grainy, crunchy or even slightly distorted sounds and de-tails.
Just like any other TIERRA Audio product, they are made with love in Madrid (Spain) using only the highest quality components and circuits. At the moment, the collection has been launched as a crowd-funding campaign on INDIEGOGO, already surpassing the 100% of contributions needed in just two weeks, which augurs that Flavours Preamps could be one of the most requested products in 2021. In spite of the success, TIERRA Audio encourages to continue supporting its campaign, where its products can still be purchased with a 40% discount, and in February they will already be available in the stores.
In order to use them, we just need to connect out dynamic or passive ribbon microphone to one of the Flavours Preamps. They need no batteries, power supplies or extra cables. In addition, they are ultra compact for you to use them at home, in the recording studio as well as at gigs, rehearsals, conferen-ces, podcasts, streamings and so on.
The seven flavours available are: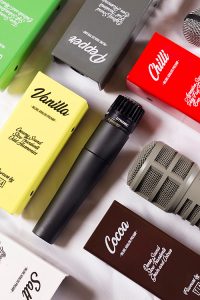 Truffle: The most exclusive and daring sound. It brings plenty of mu-sical distortion to your sound in a very elegant way. You can use it on vocals or percussion instruments if you like.
Cocoa: It gives a very thick and dense sound, with less high fre-quencies and a very interesting «de-esser» effect. Ideal for podcas-ting, streaming, spoken word, guitars, strings, drums…
Mint: It offers a fresh, sparkly sound, with a rich and slightly bright amplification. You can use it on vocals or with any instrument alt-hough it combines extremely well with dark ribbon mics.
Chilli: The wildest, crunchiest and sharpest flavour. On top of being ideal for vocals, they are sure that acoustic guitarists and drummers will "want to carry one under their arm at all times".
Vanilla: The Holy Grail of warm and creamy sounds. Its controlled dynamic makes it perfect for vocals and stringed instruments such as guitars, classic strings, bass guitars or even ukeleles!
Pepper: A extremely defined sound with a touch of compression, a little bit spicy but delivering a clean sound. They like to call it Chili's minor brother.
Salt: The most transparent and neutral sound. It doesn't apply any distortion or color to the signal. It's perfect for amplifying low output mics, such as the Shure SM7B or ribbon mics, without getting any noi-se or struggling with weak preamps lacking gain.
FLAVOURS PREAMPS' technical specs and curiosities:
You can get more information and more detailed specs of the new collection here.