Guzauski appreciates 'knob per function' ergonomics, metering and build quality: "Everything is always in the same place, like on a real console. That is the reason I wanted it."
Los Angeles, CA, June 21, 2022 — While Mick Guzauski has worked on several multi-platinum albums and earned his share of Grammy® Awards, his continuing legacy is most clearly identifiable through his towering body of work — which ranges from Daft Punk's 
Random Access Memories 
to timeless projects with Barbara Streisand, Mariah Carey and others. Now, with more than 50 years of honing his craft, Guzauski is almost entirely 'in the box' as digital technology improves and client workflows evolve. His most recent acquisition is a Solid State Logic UC1 plug-in controller, which has earned a place in his hybrid workflow set up.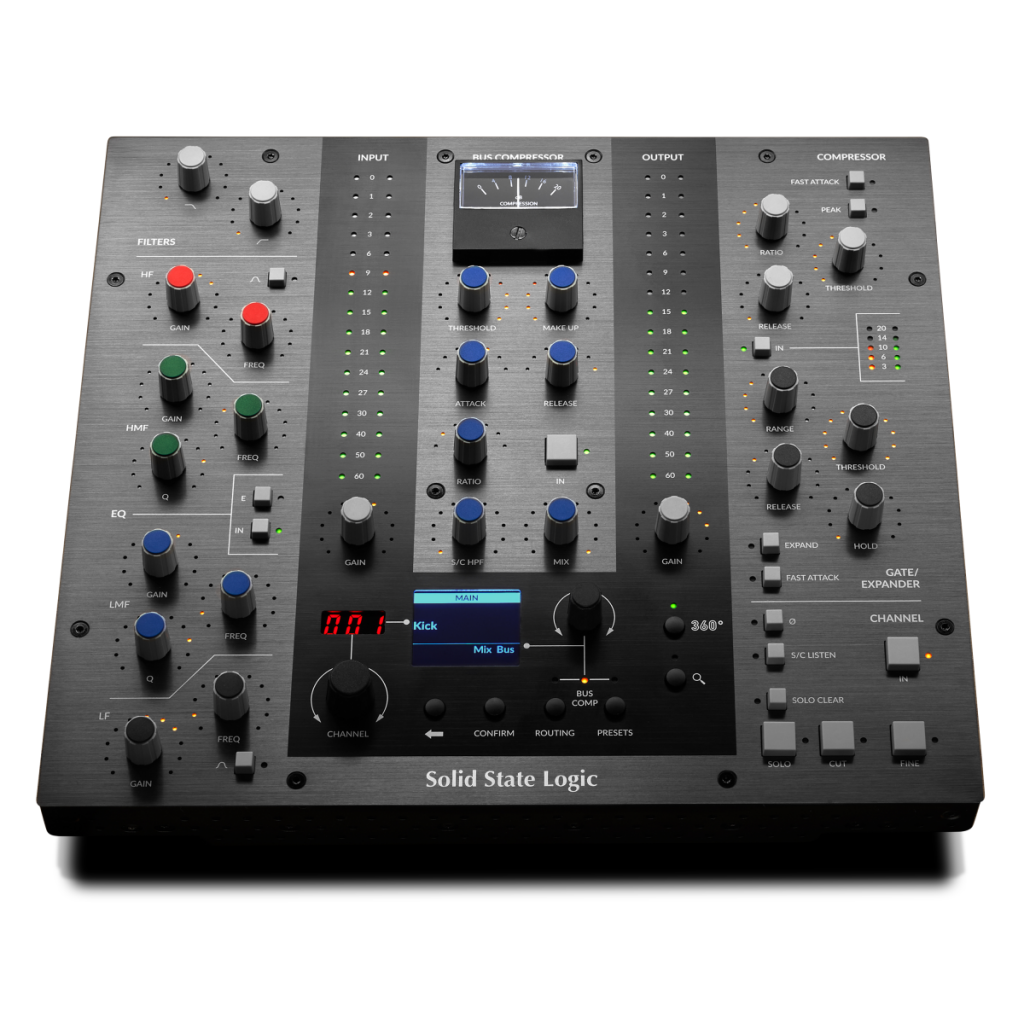 While Guzauski still has heaps of vintage outboard gear in storage, these days most of his work is strictly in the DAW. "I am pretty much all in the box now," he says. "I use the SSL UC1 because I love the knob per function control. The plug-ins are really great and recall ability is so important on a mix right now." He says this is partly because clients are no longer always present during mix sessions. "So once I send the first pass of a mix to the client, I might be working on a couple other projects before I even hear back."
Most recently, Guzauski has been working on projects from top ten American Idol finalist and America's Got Talent contestant Olivia Rox, DJ Cassidy's Pass The Mic television program, and several other projects. He says that most of his mixing takes place in the comfort of his home, where he is able to work at his own pace. "I'm still working, just not hustling as much for gigs these days," he says.
UC1: Knob per function channel EQ and bus compression

His core set up is centered on Pro Tools running on a MacBook Pro M1 Max, which he uses in conjunction with his SSL UC1. "I saw the UC1 and thought this would be great as a 'knob per function' for a channel strip," Guzauski explains. "So I tried it out and it works very well. He says that he routinely has the SSL Channel Strip 2 software set up on several channels. "I go to the Channel Strip first to see if I can use this to shape my sound, and it usually works very well. If I ever need to get more surgical, I can always use the SSL X-EQ 2 or another EQ."
To say that Guzauski is acclimated to the sound of SSL an understatement. Indeed, he has mixed a range of projects from Mariah Carey, Luther Vandross, BoyzIIMen and Toni Braxton on SSLs, among many others. "I worked on SSL's a lot in the late '80s and early '90s — mostly 4000G and G+ Series consoles, and also worked on the 9000K Series at Hit Factory in New York City and Conway in Los Angeles," he says. "Working on the UC1 controller reminds me of working on these consoles. It is so familiar and nice to have something that is laid out intelligently with a one knob per function set up."
G Series Compressor magic, in the box

He is also well acquainted with SSL's legendary G Series Bus Compressor. "The Bus Compressor has always been one of my favorite things, and I use it all the time" he says. "It just imparts a kind of glue without using too much aggressive compression." Currently, he is using the Native Bus Compressor 2, which is included with the UC1. "My usual stereo bus thing is now the X-EQ 2, and then the Bus Compressor." He appreciates the large LED metering on the UC1 to help manage his gain reduction levels: "It is really nice to be able to look over and see what is going on, since I don't usually have this up on my screen."
"I usually have the Bus Compressor set at 2:1 and then adjust the threshold to taste. There is also a side chain high pass filter, and I usually have that set at around 60 or 70 Hz or 70 so it doesn't modulate with the kick drum or the bass as much." Whatever setting he has, he is usually pleased with the result: "I've never actually measured what that Bus Compressor does, but it always sounds just right! On the stereo bus, it doesn't crush the dynamic range — the attack seems slow enough that the transients can still get through. The release characteristics are really nice," he says.
Guzauski says that set up and operation of the UC1 was effortless: "You just install the SSL 360 software, plug it into USB, and it sees all the plug-ins." While other controllers can be confusing because they lack intelligent ergonomics or there may be menu-diving involved, he says this is not the case with UC1. "On the UC1, everything is always in the same place, like on a real console. That is the reason I wanted it." If his mix requires more precise adjustments for Channel Strip or Bus Compressor parameters, Guzauski reaches for the 'fine' knob. "This is great because if I need subtle tweaks, I can adjust the knob a few degrees of revolution for a small change."
Whether you are a multi-Grammy winning engineer or just getting started in your craft, Guzauski says that the UC1 presents serious value. "It is really easy to get something that you want out of an SSL, and it always reacts really well to what you're doing. The build quality is really nice, and there is nothing cheap about it."
About Solid State Logic
​Solid State Logic is the world's leading manufacturer of analogue and digital audio consoles and provider of creative tools for music, broadcast, live and post production professionals. For more information about our award-winning products, please visit: www.solidstatelogic.com.