Medellín, Colombia, October 31, 2023 — Colombia-based mixer, producer and songwriter Alejandro Patiño, better known to Latin music fans as Mosty, was so busy during the pandemic period that he has a hard time remembering which songs he mixed before he began using his new pair of Amphion Two18 reference monitors. But there is one thing about the speakers of which he is certain, he says: "They helped me develop my sound." Mosty's setup at his studio about an hour outside Medellín is minimal, he says, and essentially comprises a laptop and a UAD interface, which allow him to work at any location. "But when I'm at the studio, I always have the Amphions," he says. "I do everything — tracking, mixing, mastering, production — but the Amphions are for mixing and mastering." During the early stage of the coronavirus pandemic, he recalls, "I probably did 150 songs."
150 Songs and Counting
A multiple Latin Grammy Award winner, Mosty is best known for his long association with best-selling Colombian reggaeton artist and producer J Balvin. Often referred to as the Príncipe del Reguetón or Prince of Reggaeton, Balvin's breakthrough hit was the 2013 single release "6 A.M." featuring Farruko, which received two Latin Grammy nominations and was co-produced by Mosty and Alejandro "Sky" Ramírez. Mosty went on to work on albums such as 2015's La Familia, 2016's Energia and its massively successful lead single "Ginza," and 2021's Jose with Balvin, who has won six Latin Grammy Awards and 11 Billboard Latin Music Awards. Between projects with Balvin, Mosty has also worked with Maluma, Karol G, Camilo, Sebastián Yatra, Ximena Sariñana and Piso 21, plus many others.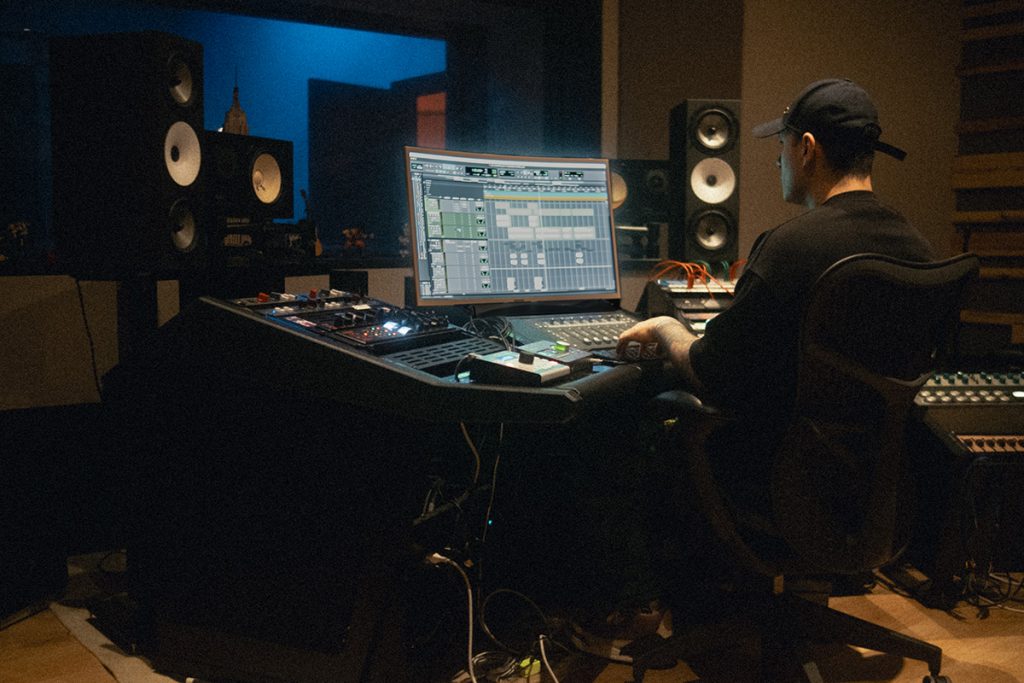 Mosty was using a different brand of high-end reference monitor before the pandemic, he says. "They made me work technically instead of musically, and I just got tired of that. When I got the Amphions the technical part became more intuitive, and the art became more important. With the Amphions, I am listening to music, but I am able to make everything cohesive — not getting too technical, just making things work together. I don't know how they do that, but the system helps me not have to work extensively on instruments or vocals."
He has never been a big fan of software processing, preferring to craft the character of his mixes organically, he says. "To be honest, I'm very quick at mixing. I'm very intuitive and I control everything using EQ and compression; very subtle stuff." He usually avoids using many of the popular EQ and compression plug-ins on the market, he adds: "They are very aggressive for what I do."
Intuitive Mixing
Since acquiring the Amphion speakers Mosty has found that he can more accurately work on certain song elements, such as the vocal and the reverbs, and that mixes translate better than they did with his previous monitors. "Amphions are great for vocals and especially for reverbs. When I worked with my previous monitors, I would have the reverb very loud because it just felt good on the speakers," he says. "I'm not saying they didn't translate, but were they as good as the Amphions? No, I don't think so. With the Amphions, if I play a mix in the car, it's going to sound the same."
The response of the Amphion speakers enables Mosty to fine tune his unique sound. "I feel they are quick enough but not too quick for me to work on the transients and textures," he says. "If I want to add texture, I duplicate the track, work on the texture and blend it back in. I think textures come more from the tweeter; that's where I put more texture on a song. The rest of the frequency spectrum of the song is more about cleanness and power. The texture is in the top end, and I think the Amphions have just enough information for me to work on that."
He focuses on several key elements when mixing a reggaeton song, he says. "I put all the drums and vocals up front and try to be very, very careful about what other instruments I put next to the vocals or the drums. The bass is also very important; I work with the bass and the kick together as a unit and try to keep the balance between them cohesive. I control the loudness or the intensity of the drums and the bass very subtly with just a little compression, with side-chaining or EQ, so I don't have excessive loudness or power in the low end."
Experimental Evolution of Sound
When Mosty is tracking with an artist it could be at a location anywhere in the world, he says, so he will typically use headphones with his laptop and interface. For example, for Balvin's last album, he says, "We cut it in Chile in the living room of a house by the sea. So, I either use the Amphion speakers or a pair of headphones."
Mosty is always striving to introduce new sounds to the reggaeton genre, which is continually reinventing itself. Balvin, too, continues to push the genre in new directions, reportedly incorporating elements of EDM and pilita, a type of Dominican electronic music, as well as reggaeton and Afrobeat into his forthcoming album. On the new project, Mosty says, "I did everything differently," including experimenting with artificial intelligence to help him refine his mixes as well as during the mastering process.
Going forward, the new album will be a springboard for the next stage in the development of Mosty's sound. "It's going to be the basis of what I'm trying to do, to evolve differently, to sound very different. It's not about hits, it's about character and personality. So, I'm not focusing on hits, I'm focusing on the sound. And I don't want to be similar to anyone else," he says.
​
About Amphion
Amphion Loudspeakers Ltd. was established in 1998. We design and build loudspeakers that are characterized by honest and accurate sound reproduction. Precise driver integration ensures world-class imaging and phase coherency. Controlled dispersion technology helps achieve more stable results in a variety of room acoustics. All products are handmade in Finland (and the Amphion amplifiers are assembled in Finland) to ensure enduring listening quality.