Aesthetic updates make it easier for engineers to match microphones and applications — whether tube or solid-state, fixed or multi-pattern

Burbank, California – June 15, 2018 — California-based microphone manufacturer Mojave Audio has updated the aesthetics on its entire line of microphone models, providing a visual system for engineers to match the microphone to the application. The new color-coordinated variations — which feature different combinations of colored logomarks and head grilles — refines the visual appeal of the company's microphones, which are known for their open and balanced sound character.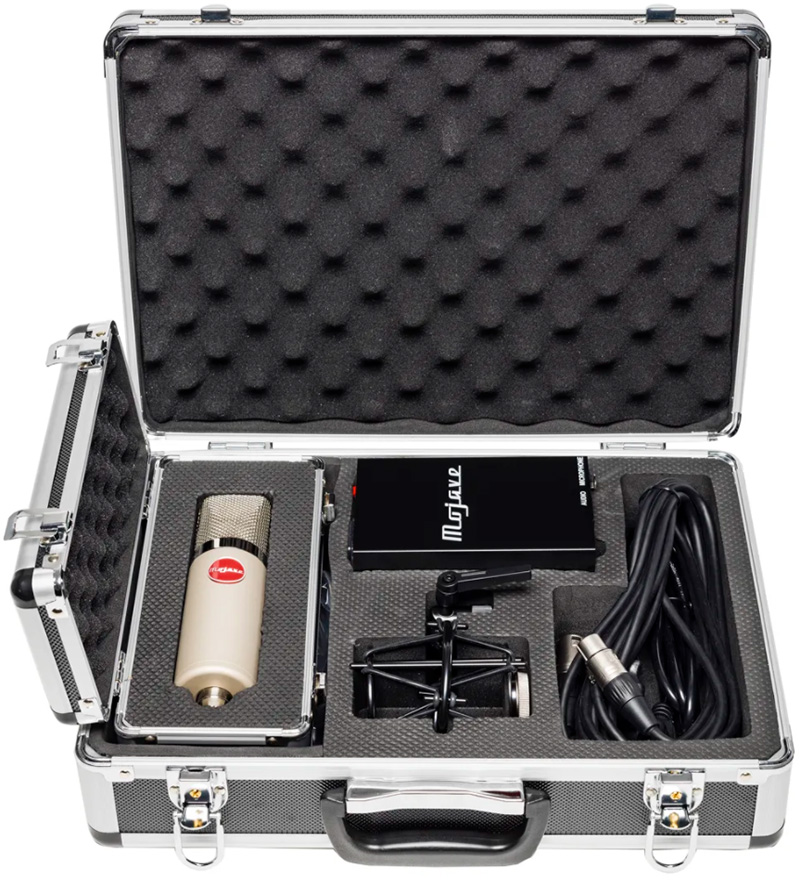 "We couldn't make them sound any better, so we made them look better," said Dusty Wakeman, President of Mojave Audio. "The visual design of our microphones evolved organically over the years, but we soon realized that it was becoming difficult to tell our mics apart. Now, there are clear visual cues so the user knows whether he or she is working with a tube or a solid state microphone, for example. We haven't changed anything inside."
Color my microphone world
The new color-coordinated ranged of microphones gives engineers and music makers a visual system to distinguish between sonic variations of each Mojave products. For instance, the vacuum tube condenser line up — including models such as MA-200 and MA-300 — now feature the classic red logo against a satin nickel finish, while the company's solid state mics, such as the MA-50, MA-201fet and MA-301fet, now feature the black logo.
Meantime, polar patterns of the microphones are now distinguished by either a matte head grille — which corresponds to fixed cardioid pattern — or a chrome grill — which corresponds to a multi-polar pattern design that can be changed by the user. Each Mojave microphone — including the Mojave MA-1000 signature series which features a 251-style capsule in classic Desert Sand — was designed by Technical GRAMMY–award winning microphone designer David Royer. The MA-50 is the only Mojave microphone that will retain the black exterior — but will now include a black head-grill.
Creativity in challenging times
Despite the onset of an unpredictable pandemic, Mojave Audio takes pride in its creative community of customers and users, who have carried on working in a relentless fashion: "Our sales have been great over the last 12 months, but as soon as the shutdown occurred, our sales went through the roof," Dusty Wakeman explains. "Our customers — which include highly accomplished engineers but also musicians and hobbyists — are resilient in their creativity and continuing to work at home."
"Musicians make music and songwriters write songs — it's what they do," he continued. "And when they're trapped at home, like they have been in recent months, they're going to be especially prolific. We've talked to everyone from members of the Los Angeles Symphony Orchestra to top session players, and all having to set up at home. Many of these folks are recording at home for the first time and reach out to us to acquire a high-quality microphone they can feel confident about."
The new aesthetic changes to the microphones will not affect pricing. For more information about Mojave Audio, or to learn about the new color additions to the microphone line which is available as of June 15th, please visit http://www.mojaveaudio.com.

About Mojave Audio
Mojave Audio was founded by Technical Grammy Award winning David Royer, widely known for his ribbon microphone designs with Royer Labs. Mojave originally got its start with David Royer as a one-man pro audio shop designing custom vacuum tube condenser mics, preamps, and compressors for engineers in the Los Angeles area.