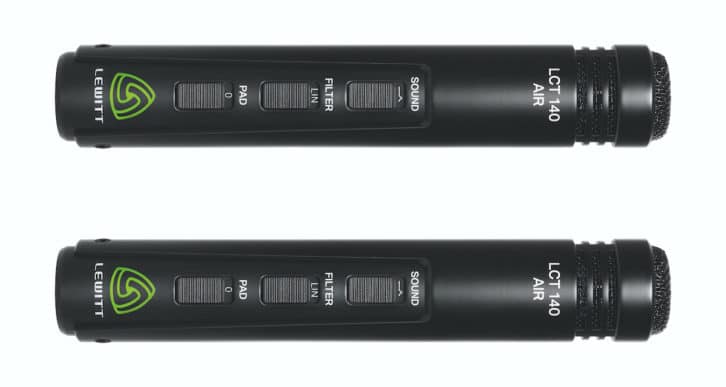 LEWITT brings its award-winning accuracy to studios and home studios with the flexible LCT 140 AIR stereo pair.
Vienna, Austria – May 2021… Renowned for their extraordinary accuracy, LEWITT have set a new standard for instrument recording by launching their newest stereo pair microphones.
Attention drummers and guitarists! Here comes something you should have your eyes and ears on; the LCT 140 AIR stereo pair. Alongside the LCT 140 AIR's extremely precise matching, its rich list of features includes:
Two sound characteristics, AIR and FLAT

Tailored small diaphragm condenser capsule

Exceptional sound on acoustic instruments

Low-cut and PAD

Cardioid polar pattern

Mic clips

Transport bag with two compartments
The LCT 140 AIR stereo pair is ready for preorder now. MSRP is $289.
The innovative microphone manufacturer from Austria has become a household name for many, as their bestseller LCT 440 PURE is an essential work-tool for many studios and home studios worldwide. Therefore, we can also be curious here, whether a new soon to be recording standard will emerge with the LCT 140 AIR stereo pair.
"We're always close to the pulse of the community with our products, so it was only a logical step for us to respond to the numerous voices that have asked for a flexible stereo pair," commented Roman Perschon, founder and CEO of LEWITT.
For more product information, please visit: https://lewitt.link/lct-140-air-pair-info