Film/TV composer on the art of the underscore and the subtleties of mix translation
Knoxville, TN, April 19, 2022 — Since 2005, composer Josh Molen has been exploring the challenge of crafting unique sonic signatures for film and TV. His work has appeared on a diverse range of shows across network television, cable, and streaming, including SuperHeist (CNBC), American Detective (Discovery +), Snapped (Oxygen), and I Think You Should Leave (Netflix), all of which demonstrate his knack for bringing unusual textures and subtle sound design elements into his work. In order to ensure that the depths of his compositions suit the demanding sonic and translations standards of the industry, Molen has made Amphion One15 monitors and the BaseTwo25 low end extension system a key part of his workflow.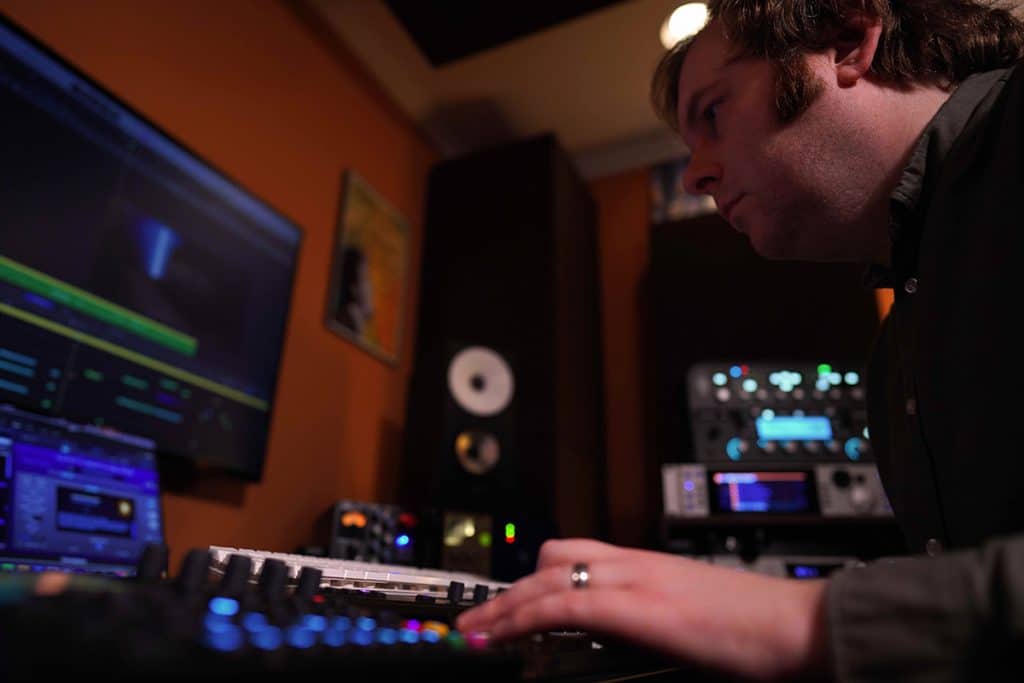 Subtle sonic innovation
Molen got his start as a composer early on, interning at local studios in Knoxville while still in high school. When he saw that these studios catered towards the film and television business, he realized there was an opportunity to combine multiple passions into a fulfilling career. "I was always obsessed with film and music, so the idea of making those worlds collide was very important to me," he explained. "Given that the industry had a strong presence in Knoxville I realized there was a chance to do this while also being able to bring my own ideas to the table."
Molen learned on the job, creating music for The History Channel, HGTV, and others before branching out to develop his own style. A self-described 'musical dabbler' with a passion for exploring atypical uses for familiar instruments, he found himself gravitating towards a signature mix of acoustic instrument textures alongside more traditional sample libraries and synthesizers to deliver a new 'take' on what his clients were requesting. "A lot of the musical cues in television are well-worn territory, so it's very important to bring in elements that will give a show a sense of its own identity that can stick with a viewer," he said. "The trick is to do it in a subtle way that doesn't hit anyone over the head, because you want to support the visuals of the show, not distract."
"I like to surprise people with things that they might not expect — be it an unusual combination of sounds or a creative use of a familiar instrument," he continued. "At the same time though it's a balancing act, because you don't want anything that sticks out like a sore thumb in the mix. Being conscious of that and also how that will translate on TV speakers or headphones has made monitoring especially important to what I do."
Inspiration strikes
After a lightning strike on his house burned out his previous setup, Molen saw the opportunity to upgrade to a system that would provide him all of the detail and low end information that he had not been getting. The centerpiece of Molen's current monitoring and mixing setup is a full range system consisting of a pair of Amphion One15 Monitors, Amp100 power amplifier, and BaseTwo25. "You could say it was a 'bolt of inspiration', but it allowed me to gain better control of my mix and translation needs," he said. "I was very familiar with Amphion's reputation and knew that it was an investment I could make in my studio that would immediately make a difference in my workflow."
Molen is quick to point out how the unique challenges in mix translation when it comes to scoring for film and TV, given that dialogue and sound effects are also in play. In order to ensure that the details of his compositions strike the crucial balance, his submitted mixes need to balance all the sonic elements perfectly. "You really want to make sure that the mixes favor the soft elements, because often once they are in the hands of the show sound people, they have to prioritize dialogue and sound effects over things like percussion and drums," he explained. "Being able to turn the monitors very low and hone these details without losing any frequencies ensures that the interesting stuff will be heard without getting in the way and won't be lost entirely once the dialogue and sound are added."
"I'm really pleased at how well I've been able to dial things in since I started using Amphion," he said. "I've reached the point where if they sound good on my One15s, I know they'll sound good on anything."
For more information about Josh Molen, please visit: http://www.joshmolen.com/
For more information about Amphion, please visit: http://amphion.fi/create/
About Amphion
Amphion Loudspeakers Ltd. was established in 1998. We design and build loudspeakers that are characterized by honest and accurate sound reproduction. Precise driver integration ensures world-class imaging and phase coherency. Controlled dispersion technology helps achieve more stable results in a variety of room acoustics. All products are handmade in Finland (and the Amphion amplifiers are assembled in Finland) to ensure enduring listening quality.