An ultra-expressive dobro for SampleTank recorded with multiple slide articulations
August 3, 2021 – IK Multimedia releases The Resonator, a new SampleTank collection created by sample library specialist Indiginus, which captures the magic of a traditional stringed instrument. Oozing with bluesy, folksy, twangy warmth, The Resonator's multiple slide articulations offer incredible realism and are easily controllable with velocity switching and/or key switches, while an auto-harmony function creates even more convincing-sounding tracks.
From metal cones to metal slide
Invented in the 1920s, the resonator guitar quickly became a huge favorite for blues and bluegrass musicians due to its characteristically punchy, yet warm sound. Played like a traditional guitar with a bottleneck slide, or with raised strings using a metal slide like a lap steel, The Resonator for SampleTank was sampled using a metal slide for maximum effect, adding unmistakable mojo to any musical production.
Capturing every nuance
For the most authentic sound, a Hound Dog Dobro® resonator guitar was captured using a coincident mic setup. Positioned 8 inches in front of the instrument, a beautiful phase-free stereo image was achieved, with results that also sound great in mono. The overall sonic effect is upfront and present without any room tone that could muddy up mixes.
Intuitive, real-time playing
The emphasis is on playability and the goal was to create an instrument that will inspire musicians and composers to get their ideas down quickly, without getting in the way.
The main instruments allow performers to use key velocity switching to trigger slides (users can select up or down slides with key switches) as they dig in harder. This system allows for complex, but intuitive, real-time playing. Included are normal key switch versions, as well as "breakout" single articulation versions.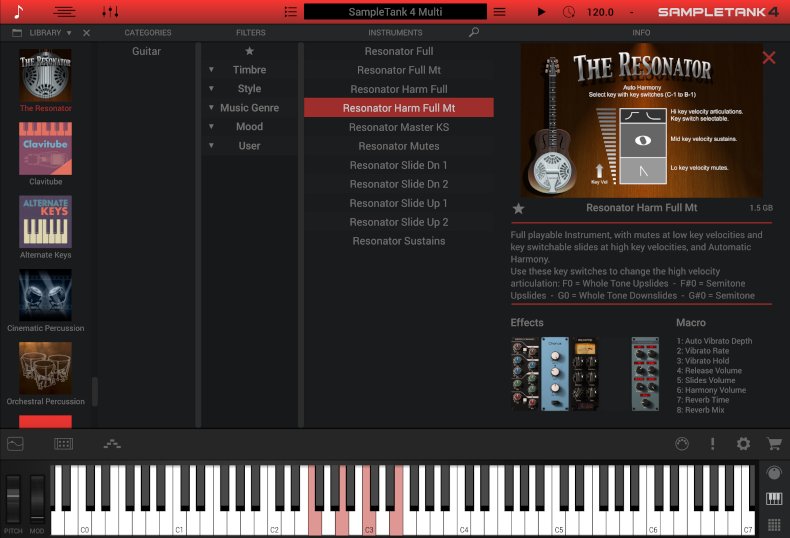 Home sweet harmony
For even more convincing real-time playing, automatic harmonies are also available. Select a key, and users can start playing. Also included are instruments that feature picking and strumming patterns and one instrument, "Southern Slide," is an amped-up take on the resonator.
Options, pricing and availability
The Resonator is available now from the IK Multimedia online store and from IK authorized dealers worldwide for a special introductory price of $/€49.99* through October 31, 2021
(reg. $/€59.99).
*All pricing excluding taxes
For more information about The Resonator or to hear it in action, please visit: