After shootouts among many competitive high-end tube microphones, the MA-1000 came out on top — not once, but twice
Nashville, Tennessee, December 5, 2022 — With fans' expectations running high for Megadeth's new album, the band's first new studio release in six years, co-producer and engineer Chris Rakestraw wasn't about to leave anything to chance. So, he and Dave Mustaine, Megadeth's front man and co-founder, did not one but two vocal microphone shootouts — and both times the Mojave Audio MA-1000DS came out on top.
"I let Dave pick the mic because he knows his own voice. He has kind of a scratchy voice, and if you get all that detail, it's great. But if you miss it, it's just a plain Dave vocal," says Rakestraw, whose credits also include projects with Danzig, Parkway Drive and Amigo the Devil.
Rakestraw first worked with Megadeth on the band's previous full-length release, 2016's Dystopia, which he engineered and co-produced with Mustaine. The album's title track earned the band their first Grammy Award, for Best Metal Performance. "We'll Be Back," from the latest album, The Sick, the Dying… and the Dead!, which was released in September 2022, has been nominated for a Grammy in the same category this year. Josh Wilbur mixed the new 12-song collection, which was mastered by Ted Jensen at Sterling Sound in Nashville.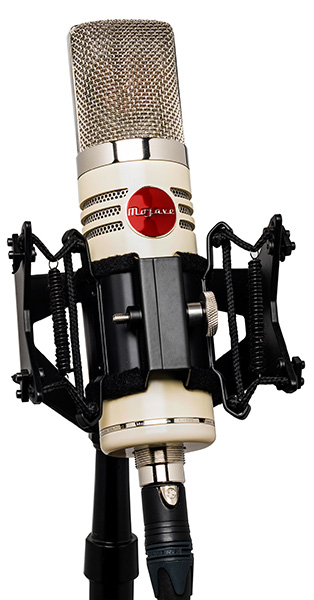 The rest of the vocal chain was straight forward, he reports. "I used an API preamp on his voice because I didn't need all that harmonic distortion that you get with some other preamps, where you want all that extra grit. It's already there, so all I did was capture it clearly. That was going through my modded dbx 160X, my favorite vocal compressor of all time, with an Avedis Audio E27 equalizer just to add a little bit of high end. That was the whole vocal chain: a huge, expensive mic through a great preamp and a cheap compressor."
Because the album took two years to complete, partly due to Mustaine's successful battle with cancer, not to mention the pandemic, the front panel controls on the equipment remained untouched for the duration of the production period. "We might punch-in vocals a week later, and I would want to just go right back to a verse because Dave had a new idea for a lyric," Rakestraw explains. "So I wanted everything exactly the same."
Mustaine can get very loud on the microphone, but the MA-1000 was up to the task. "With other, cheaper large-diaphragm condensers you can't let a guy scream on it. It's just too much. But the MA-1000 doesn't collapse. There wasn't a moment where I was worried that the mic wasn't taking it." Microphone positioning also contributed to a consistent vocal recording, Rakestraw says. "I put the pop filter four fingers away from the mic and had him stay on the pop filter. So we always had consistent placement at the mic."
Megadeth's brand of metal doesn't generally call for vocal harmonies. "We tried to stick with that on The Sick, the Dying… and the Dead! Who wants to hear 18 layers of vocals? You know who's singing, just listen to the guy's voice," he says, although they did record vocal doubles on some songs.
Although he recorded the background vocals with an SM7 to prevent competing for space against the MA-1000 tone, Rakestraw says that he used the MA-1000 to record other vocals on the album as well. "There are other people, not necessarily singing, but speaking in an interlude or an intro or outro. Even people that aren't real good singers sound great on that mic," he adds.
"All the acoustic guitars were recorded with the MA-1000," he also reveals. "When you put it on an acoustic it really doesn't matter what the guitar is, it's bright and full. I don't feel like I need to add a second mic, which you do with a lot of acoustic guitar miking situations."
Rakestraw likes to be in the room when the singer is tracking vocals. "I tend to do vocals in the control room, big budget or small budget. I can't stand being separate from the artist. We're both on headphones hearing the same mix, so I know everything's cool."
That said, Mustaine had a way of working that Rakestraw says he had not encountered before. "Sometimes I'd mute the music — Dave is the only guy I've ever seen do this — and he'd sing to a click track. When we played it back with his vocals his level of pitch control would be perfect. It worked great and gave me a great vocal performance. I'd never seen anything like it."
He could have told Mustaine that he thought the idea would never work, Rakestraw says, but that's not his role as a co-producer. "I was supporting and sharing some of my trust with him. Every singer has a different level of how secure they are with their art. You've got to recognize you're a guest in their art and their art is their life. You have to really treat it like that and respect it. So I take pride in supporting the artist. If I can add anything in the process, cool. I try to do that with all the records I work on."
​
Chris Rakestraw photo courtesy of James Lomenzo
About Mojave Audio
Mojave Audio was founded by Technical Grammy Award winning David Royer, widely known for his ribbon microphone designs with Royer Labs. Mojave originally got its start with David Royer as a one-man pro audio shop designing custom vacuum tube condenser mics, preamps, and compressors for engineers in the Los Angeles area.