Latest entry in PATCH series of digitally controlled analog patch bays expands connectivity options for the ultimate in studio and live signal routing flexibility
KELOWNA, CANADA, JULY 18, 2023— Flock Audio has announced that PATCH VT, the latest entry in its series of game-changing digitally controlled analog patch  bays, is now shipping. Initially announced at the 2023 NAMM show earlier  this year, PATCH VT features 128-point connections – 64 Inputs X 64 Outputs – in  a convenient 3U rack-mount chassis that also includes many of the extended  features available in Flock's largest I/O Model PATCH XT. The availability  of PATCH VT gives PATCH users even more flexibility for utilizing the system  across a wide array of studio and live applications. PATCH VT is available now for  MSRP $8999. For more information, please click here.  
"The PATCH series was designed from the onset to give users complete control of all of their analog  signal processing in a convenient and user-friendly way that would offer the best of both worlds of analog  sound quality and digital workflow convenience," said Flock Audio Founder and CEO Darren Nakonechny. "By expanding the range with PATCH VT, our users now have even more options in the  series to build a system that suits their needs whether it's in the recording studio or in a live sound  application."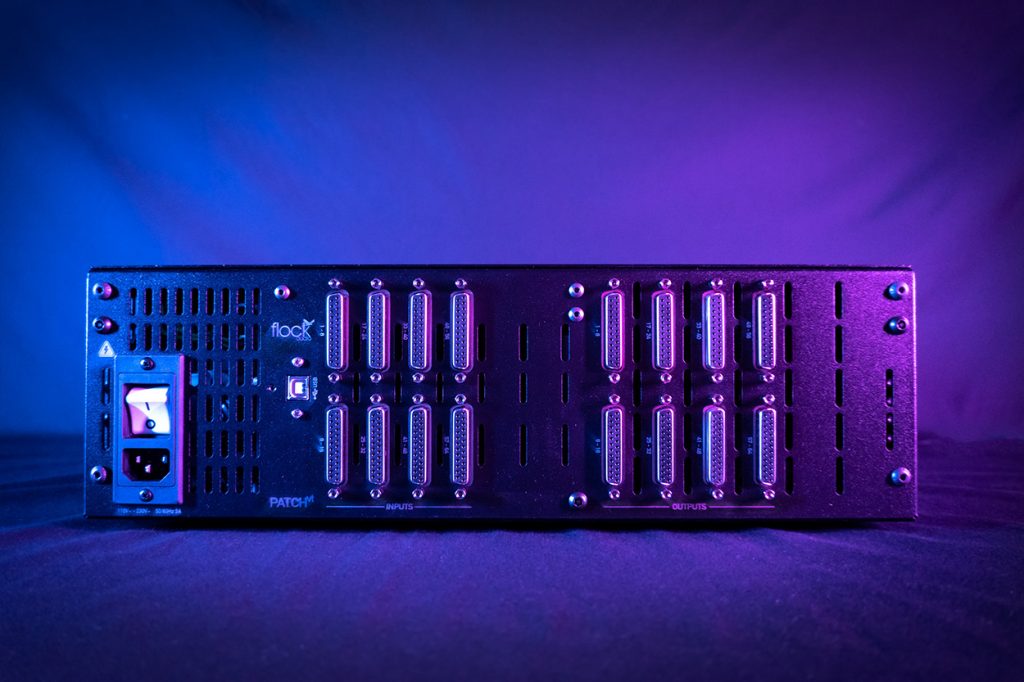 PATCH VT Features
Multi-Patented Flock Audio Matrix Technology for Conversion-Free Sonically Transparent  Analog Routing
128 Point Connections (64 Inputs / 64 Outputs)
32 Assignable Independent Channels of 48V Phantom Power
16 DB-25/D-SUB Tascam Standard Pinout Format Connectors on Rear Panel for Connectivity
2 Inputs and 2 Outputs of Front Panel Connectivity on Combination TRS/XLR Connectors
Compatibility with PATCH APP Classic & PATCH APP DX Routing Software (OSX, Windows,  iOS) to Create, Store and Recall Routings in Seconds
Complex Multing Capabilities with No Level or Impedance Changes
Input Signal Audio Detection Integration
Remote Sleep/Wake Mode Control
Multiple Unit Expansion with up to 10 of any PATCH Series Model (PATCH LT, PATCH, PATCH  VT, PATCH XT)
Internal Power Supply
3 RU rack footprint
Compatible with XTH Cable Hanger/Management Accessory
For more information on the PATCH VT, please click here: http://www.flockaudio.com/patchvt
About Flock Audio

​Flock Audio Inc. is a pro audio manufacturer based in Kelowna, Canada, founded in 2017. The company is best known for its PATCH System Series, which is a Digitally controlled, 100% Analog Patch bay routing solution for professional audio environments. For more information on Flock Audio and its products, please visit the company website at http://www.flockaudio.com.