SANTA MONICA, CA • February 28, 2022
Antelope Audio, a leading manufacturer of professional audio production tools including audio interfaces, modeling microphones and reference clocks, as well as the Synergy Core analog-modeled effects, is proud to introduce the new Pro versions of its acclaimed Discrete audio interfaces.
With updated converters, blazing-fast Thunderbolt 3 connectivity, and a reimagined control capabilities featuring the ultra-powerful virtual patch-bay known from studio staples like Orion Studio and Galaxy 32, the new Discrete 8 Pro Synergy Core and Discrete 4 Pro Synergy Core give producers, studio owners, bands, and recording engineers the powerful tools they need to create the sound they want.
Uncompromising Sound Quality
The new Discrete Pro interfaces feature the same Discrete ultra-linear mic preamps with 6-transistor circuit topology inspired by classic consoles as their
famed predecessors. Added to that are new and improved AD/DA converters, with up to 130dB of dynamic range even in the smaller Discrete 4 Pro, and the same AFC™ clocking technology as Antelope's industry-standard master clocks. This ensures crystal clear sound during both recording and playback, with unprecedented detail and a more spacious stereo image with clear instrument and vocal separation.
Total Control for Any Routing Scenario
For the new Discrete Pro series, the control software has been redesigned from the ground up to combine the ease-of-use of the drop-down routing from previous Discrete generations, and the total control of the routing matrix – the virtual patch-bay found in high-end studio interfaces like the Galaxy 32. The new software allows connection between any signal source and any destination for turning any session scenario into reality.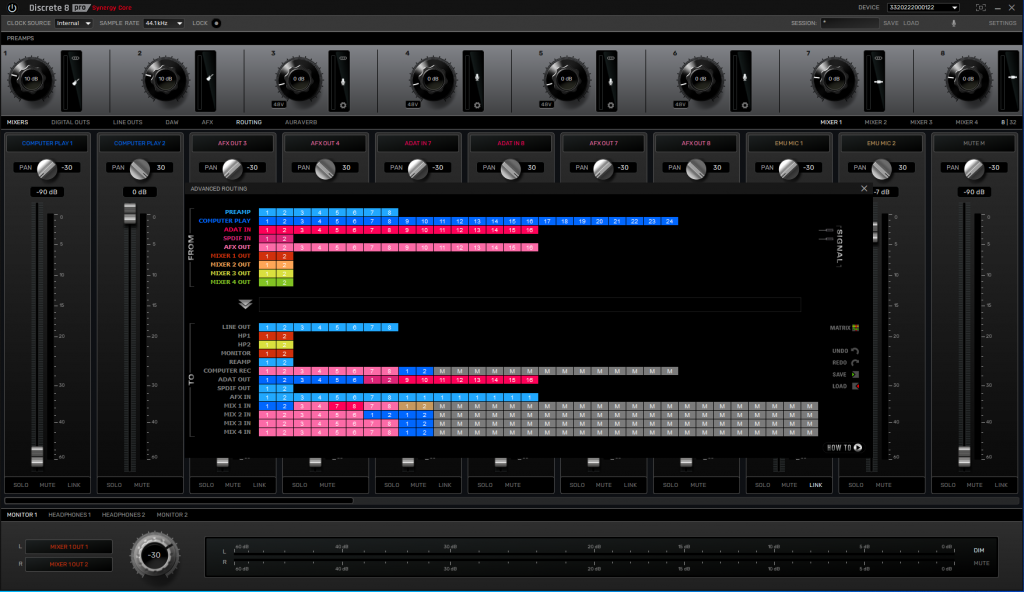 More effects processing with Synergy Core
The new Discrete Pro interfaces feature updated onboard real-time processing capability, with the onboard FPGA and DSP chips containing the processing power of a complex multi-rack setup – enabling users to load effects on up to 16 channel strips.
Users can start producing with the 37 included effects immediately after activating the device – and there are more than 60 available for additional purchase on the Antelope Audio software store.
Availability
Discrete 8 Pro Synergy Core is available now from dealers worldwide as well as AntelopeAudio.com, with Discrete 4 Pro Synergy Core to follow soon.
Key Features
Antelope Audio is a leading manufacturer of high-end professional audio equipment. Founded in 2004 and reinventing the industry with its flawless master clock technologies and versatile multi-channel interface solutions, the company has been steadily expanding its portfolio over the years under the guidance of visionary engineer and CEO Igor Levin. Antelope Audio's products offer the best of both analogue and digital technologies. The company's customers include GRAMMY® award-winning sound engineers, top-tier producers, world-class artists, and some of the most renowned recording, mastering, and post-production facilities around the globe.