SANTA MONICA, CA • June 22nd, 2022
Antelope Audio, a leading manufacturer of professional audio production tools including audio interfaces, modeling microphones and reference clocks, as well as the Synergy Core analog-modeled effects, is proud to introduce a major addition to the functionality set of the Galaxy 32 Synergy Core – surround and immersive audio monitoring control and speaker calibration functionality.
This addition to the flagship interface allows its users to configure and control a surround/immersive monitoring setup of up to 16 channels, or 9.1.6 Dolby Atmos. Comprehensive speaker calibration makes room correction easier, while the monitoring control functionality increases the ease-of-use of the entire system and speeds up workflow.
The Galaxy 32 Synergy Core becomes the perfect interface for any surround or immersive audio setup – from studio use such as music mixing and mastering, film, TV, game and VR
audio production, to live use utilizing multi-channel speaker array sound systems for venue PA use, theater and performance spaces, art installations and sound diffusion performances among others.
Broad compatibility via full I/O access
The full connectivity of the interface is available for surround monitoring, allowing seamless integration into any facility. Up to 16 channels from any source, or combination of sources, including Thunderbolt playback, Dante, MADI, HDX, ADAT, SPDIF or analog line- level audio can be processed and monitored via any output or combination of outputs – hardly any setup configuration is left unaccounted for!
More than 23 format variations supported
Seamless setup of a wide range of formats, all the way from stereo and 2.1, up to Dolby Atmos 9.1.6 at the top, is available via the new Surround section of the software control panel. SMPTE and film path orders can be selected to easily match the incoming monitoring signals and apply adjustments, with configuration presets available for storing and recalling settings. Besides the 23 preconfigured setups, any other channel/object/scene-based format or speaker configuration within the 16-channel limit can also be configured when utilizing the flexibility of the interface's signal routing matrix.
Powerful monitoring control built-in
The speaker layout visual representation acts not only as your way of accessing the selected speaker's settings but also allows mute and solo functionality. Directly above them pre- or post-processing metering is available for the respective channels which follow the same order, labeling and color coding. Main volume adjustment for the selected speaker configuration is of course available, alongside dim and mute functionality. The interface's front panel encoder knob can now be used to adjust this volume level as well.
Comprehensive speaker calibration capabilities
Each of the sixteen supported channels utilizes an 8-band parametric equalizer and up to 100ms of delay per channel for speaker tuning, room and distance correction adjustments. Color coded graphs show the applied EQ settings, crossover filters and resulting output, for each speaker. Per channel level adjustments are also available, as well as phase invert. Global "lip-sync" delay is also available, with an additional 100ms, offsetting all speakers.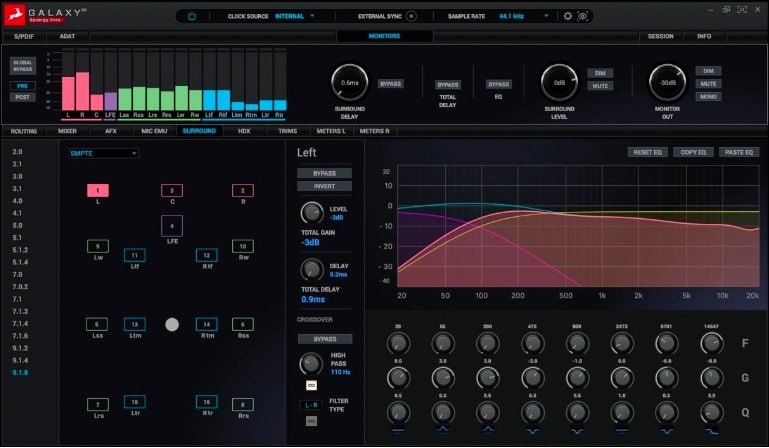 Bass management enables low-frequency content monitoring
Flexible crossover filters on each speaker channel allow for sending low-frequency information to the LFE channel, to facilitate mixing on monitoring setups lacking full-range speakers across the setup. Comprehensive settings such as filter type, order and cutoff frequency are available for the respective low-pass and high-pass cross over filters, which are all visualized in each channel's EQ graph. To-LFE send levels are configured via a separate mixer window, with the option to send these low-passed signals before or after the channel's EQ as well as mute, solo and bypass options. These settings can be individual per channel or linked as required.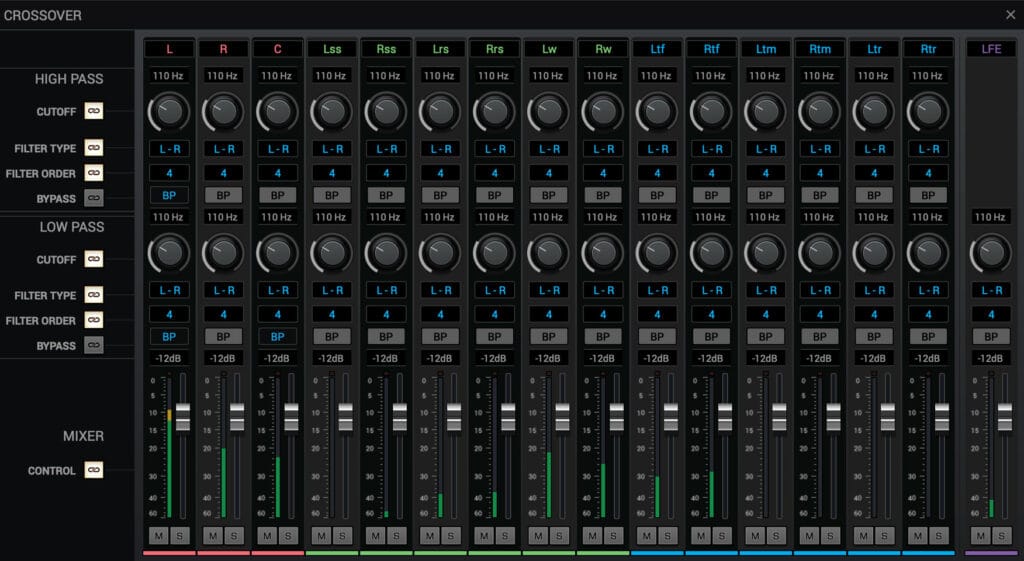 Key Features
Wide

compatibility,

both

setup

and

format

wise

Any

combination

of

the

interface's

Dante,

MADI,

HDX,

ADAT,

SPDIF

and analog I/O is available

23

formats

with

path

order

selection

readily

available,

including

2.1,

5.1,

7.1 surround sound and 5.1.2, 7.1.4, 9.1.6 Dolby Atmos to name a few

Any

remaining

audio

format

and

speaker

configuration

is

also

possible

up

to the 16-channel limit
Monitor

controller

functionality

for

improved

mixing

workflow

Color-coded

speaker

selection

with

mute,

solo

and

metering

functionality

Main

speaker volume

level

available

via

front

panel

encoder
All

16

available

monitoring

channels

support

the

following:

8-band

EQ

with

cut

and

shelf filters for

the low

and

high

bands

Level

trim

from

–60dB

to

+16dB,

with

one

decimal

place

accuracy

available

Up

to

100ms

delay

for

calibration

purposes,

with

one

decimal

place accuracy available

Phase

invert

Processing

and

crossover

bypass

buttons;

copy,

paste

and

reset

EQ

buttons

Global

"lip-sync"

delay

for

the

main

output,

with

up

to

100ms

available

with one decimal place accuracy as well

Bass management functionality via a dedicated mixer window, providing cutoff

frequency,

filter

type

(Butterworth

or

Linkwitz-Riley),

filter

order

and bypass for the high-pass and low-pass crossover filters. Per-channel level controls for sending low-passed signals to the LFE channel are available, with mute and solo functionality.
Availability
The new surround and immersive audio functionality will become available to new and existing Galaxy 32 Synergy Core users via a free firmware and software update, on 22 June 2022. For more information, contact your local Antelope Audio dealer or visit antelopeaudio.com
Learn more about the Galaxy 32 Synergy Core: https://en.antelopeaudio.com/products/galaxy-32-synergy-core/
Antelope Audio is a leading manufacturer of high-end professional audio equipment. Founded in 2004 and reinventing the industry with its flawless master clock technologies and versatile multi-channel interface solutions, the company has been steadily expanding its portfolio over the years under the guidance of visionary engineer and CEO Igor Levin. Antelope Audio's products offer the best of both analogue and digital technologies. The company's customers include GRAMMY® award-winning sound engineers, top-tier producers, world-class artists, and some of the most renowned recording, mastering, and post-production facilities around the globe.
© 2022 Antelope Audio