Composer/violinist on leaving his mark on classical instrumentation and bringing "musical spice" to every composition with Igudesman Solo Violin
Berlin, Germany, March 23, 2022— 
Aleksey Igudesman
 has made his mark on music as a true polymath with a signature blend of instrumental skill, inventive compositional sense, and sly humor. In addition to exploring his unique cocktail of creativity through his own work, he is also a first-call violinist for composers such as Hans Zimmer and Ennio Morricone and has appeared on the soundtracks of  films such as Sherlock Holmes, The Road to El Dorado, Spanglish, and Inferno. Seeking to test the limits of his 'mad man' mentality, Igudesman partnered with sample library developers 
Orchestral Tools
 to create 
Igudesman Solo Violin
 – a collection designed to bottle a completely unique set of intense and unusual sounds on the violin that could only be produced by Igudesman himself.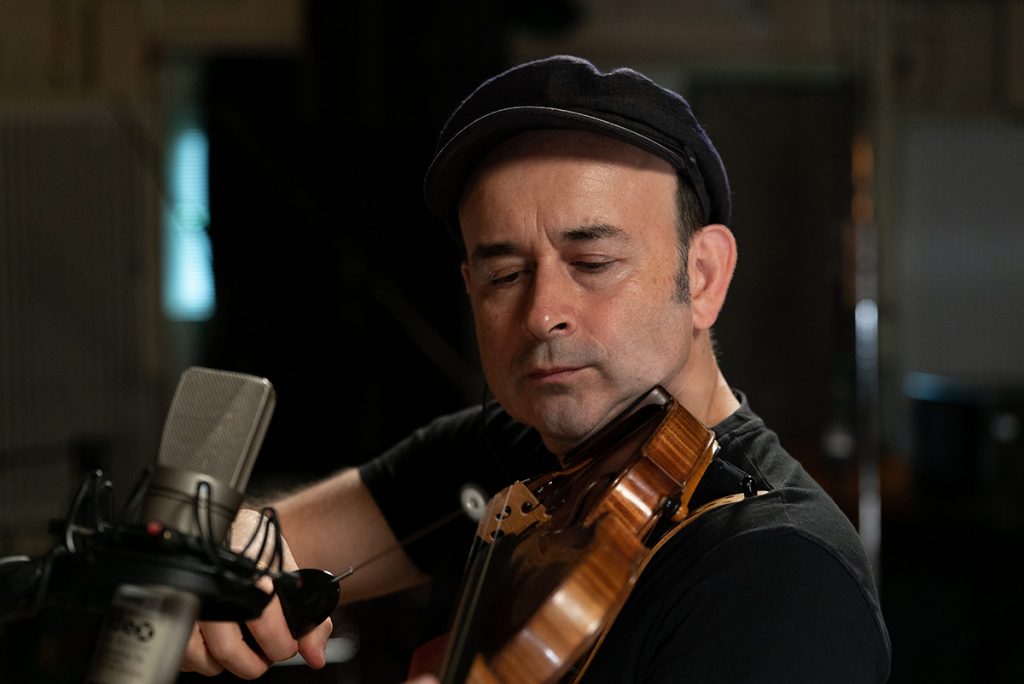 Approaching music with adventure and playfulness
Initially beginning his journey on the violin as a young child, Igudesman rapidly developed an affinity for the instrument and a desire to push the boundaries of how it was traditionally played. This led him to develop an approach that took on his wide-ranging musical interests and allowed him to inject more of his own personality into his playing. "Regardless of where you go in the world you will hear people playing the same instruments, but often they approach them very differently based on their own traditions," he said. "Seeing that fascinated me and encouraged me to approach the violin with a sense of adventure – how could I emulate and adapt my style to take on more of what I was hearing?"
"At the same time I have always explored ways of trying to make it sound like other instruments – how to make it sound like a distorted electric guitar for example, but also still a violin? It's a fascinating experiment that I've been exploring my whole life."
In addition to his restless creativity, Igudesman has also made humor an integral part of his instrumental identity. Far from simply being an irrepressible jokester, however, he sees this desire as a way to make his music have a more affecting range of emotional colors and appeal to a wider audience. "The dark and the light truly matter when it comes to music – you have to have the whole palette to represent everything we love in life," he explained. "The beautiful thing is that when you bring fun and humor to music, it requires no translation. It can be truly international."
"When you bring all of these elements together, you get something truly unique and inspiring," he continued. "That's what we were after with Igudesman Solo Violin – a way to bring a unique voice to a violin library that could be edgy and different, but could inspire anyone creatively."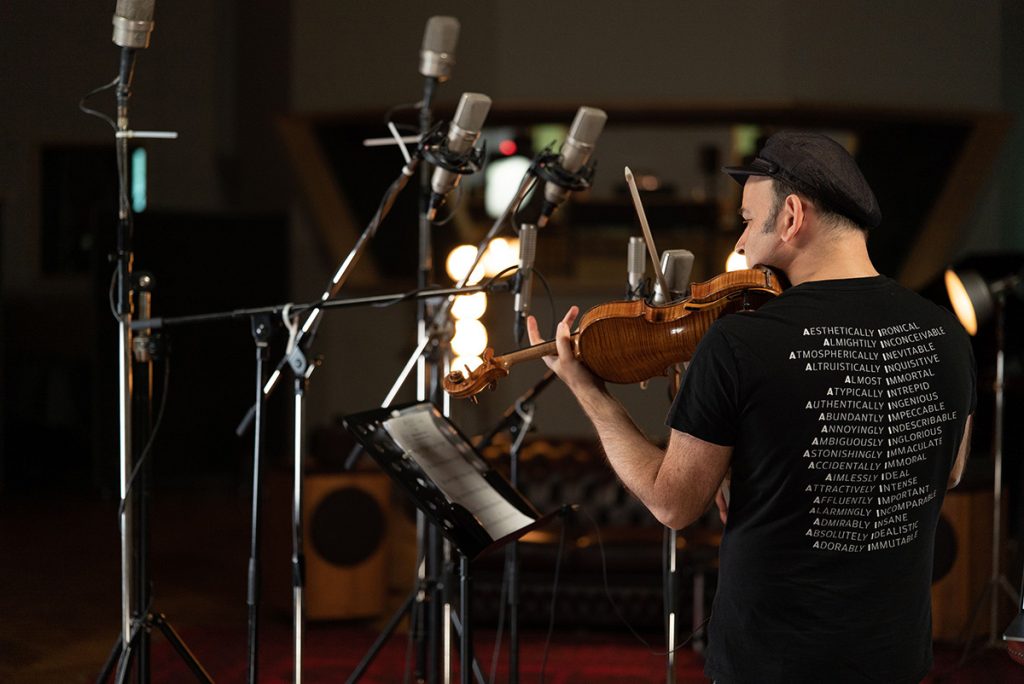 Capturing intensity at the Teldex Scoring Stage
Igudesman has been a longtime user of Orchestral Tools libraries for his compositional work and says that it was natural to partner with them to approach his unique vision for the violin. Seeking to capture the extremes of his technique with the utmost attention to nuance and detail, he found passionate collaborators in the Orchestral Tools team. "You can feel the quality and care that go into their libraries," he said. "They are all passionate madmen who want to explore, and that passion was utterly infectious when we undertook this project!"
The library was recorded over several months at the Teldex Scoring Stage in Berlin. Igudesman pushed himself to physical extremes for the project to ensure that he was capturing the level of emotional intensity required in the performances – creating dozens of unique sounds. Although the performances could be taxing at times, he says that the effort was required to bring life to the sounds in his head. "It was crazy at times, but you can't fake intensity," he explained. "You want those intense emotional colors, and now we have them. You can hear that passion in the recordings and I can't imagine a better place to have done them."
"Capturing everything you need for a sample library is no easy task, especially one as unique and interesting as this," said Orchestral Tools CEO Hendrik Schwarzer. "It was truly inspiring to collaborate so closely with Aleksey and see him bring his passion and intensity to every performance in the studio."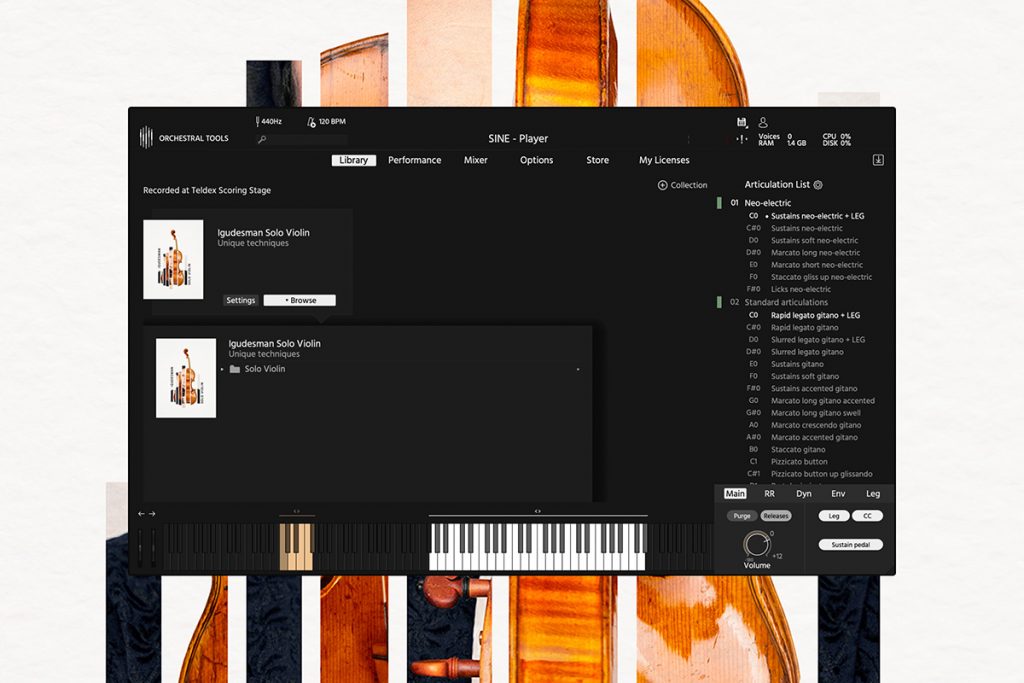 A touch of inspiration
Igudesman sees the new library as something of an instrumental spice rack – a set of unique musical flavors designed to inspire creativity. Although the flavors may seem extreme at first, he says, sometimes that's what may be required to take a composition in a bold new direction. "Sometimes you just need a touch of inspiration to get messy and creative with music," he said. "It can be that small detail that adds grit and realism to a more standard instrumental track, or it can be the basis of something totally wild and new. That's what's so exciting to me about it."
"These sounds allow you to explore some impossible possibilities on the instrument," he concluded. "You can hear that lineage of inspiration in all of this and I can't wait to hear what it inspires in others."
For more information about Aleksey Igudesman, please visit: https://www.alekseyigudesman.com/
For more information about Orchestral Tools and Igudesman Solo Violin, please visit: https://www.orchestraltools.com/store/home
About Orchestral Tools
Orchestral Tools makes premium-quality sampled instruments for professional composers. Notable libraries include the Berlin Series, Metropolis Ark, Tallinn, Tom Holkenborg's Brass and Percussion, created in collaboration with composer Tom Holkenborg, and Phoenix Orchestra, created in collaboration with composers Harry Gregson-Williams and Richard Harvey. Originally founded in 2005 by Hendrik Schwarzer, Orchestral Tools operates internationally from its base in Germany, with offices in Freiburg and Berlin.